New digiLED screen installation at FC Start, Norway
Jun 4th, 2007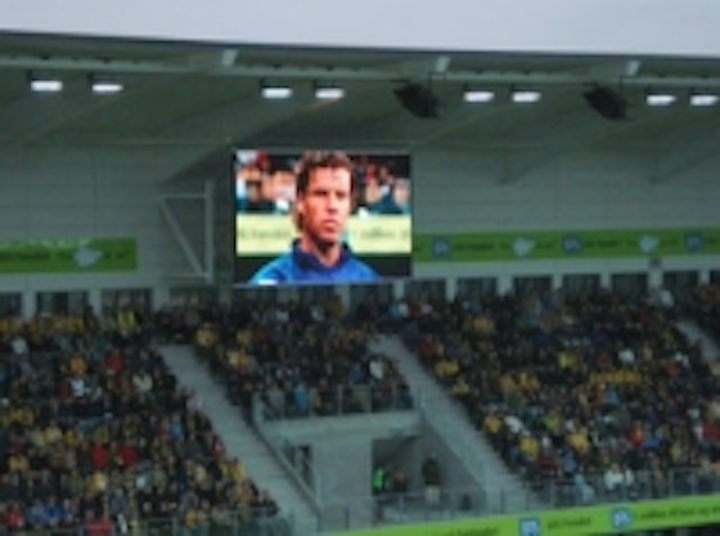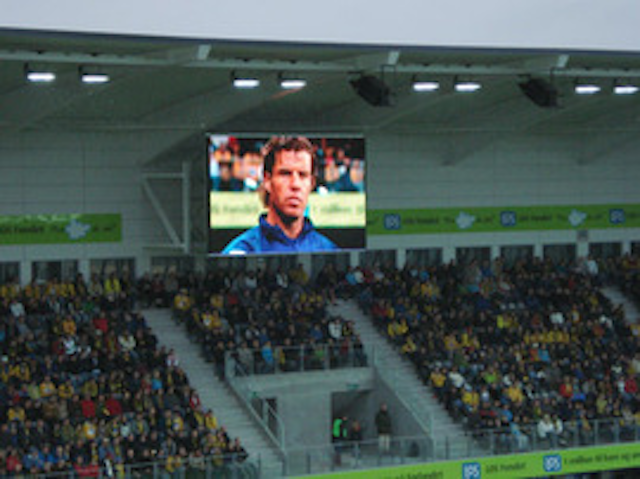 Date Announced: 04 Jun 2007
Massteknik, Scandinavia's leading AV rental and installations integrator installed two digiLED LED video screens at FC Start's new stadium in Kristiansand, Norway.
Screen details
2 widescreen displays each measuring 7m high x 4 m wide (28m2) were installed at either end of the stadium using digiLED's latest effective resolution digiLED d12 modules. The digiLED d12 module offers a 25mm physical, 12.5mm effective, pixel pitch. The bespoke modules were specifically designed to suit FC Start's stadium, maximizing the screen size in the available space. Measuring 1 m wide x 1 m high x 0.140 m deep, the 7 x 4 module configuration provides a screen with an effective resolution of 560 x 320 pixels.
Application
The digiLED d12 screens are controlled by Omnivex Director feeding live camera, graphics and other sources to the screens. The Ominvex system, located in the control room, connects to the screens via fibre optic cables.
The screens are mounted on steel structures designed and built by Massteknik. Once the screen supports were in place, the digiLED modules were easy to install and installation was completed in just one day.
Space limitations, in terms of the size of screens the stadium could accept, might have meant that image quality could have been compromised. However, digiLED's effective resolution technology increases the total pixels available for processing by a factor of four. As a result, from comparatively low physical resolution screens, FC Start's fans now experience a visual feast of detailed video images, graphics and text.
Customer Quotes
"FC Start and the fans are delighted with the new digiLED screens. These screens are a cost effective solution for stadium owners who are concerned about price but who don't want to compromise on quality. The digiLED screens offer just that. What's more, working with a manufacturer that has such vast experience in the stadium & arena market is always a bonus" Kenneth Paterson, Managing Director, Massteknik
About digiLED
Manufacturers and suppliers of the new digiLED range of LED video screens and scoreboards, the people behind digiLED product range are some of the most experienced in the business. Its highly skilled team have been instrumental in identifying the market needs, sourcing the right product in China, with Asia based experts on the ground to oversee testing and manufacture of the digiLED product range.
The result is digiLED can offer a full range of indoor and outdoor LED screens and technology to suit all applications from football stadiums and concerts to innovative lighting applications for state of the art installations. The product range is based on unrivalled value but incredible quality at very competitive prices.
Contact
digiLED
E-mail:info@displayled.com
Web Site:www.digiLED.com