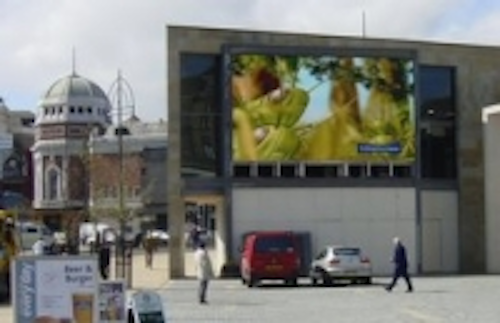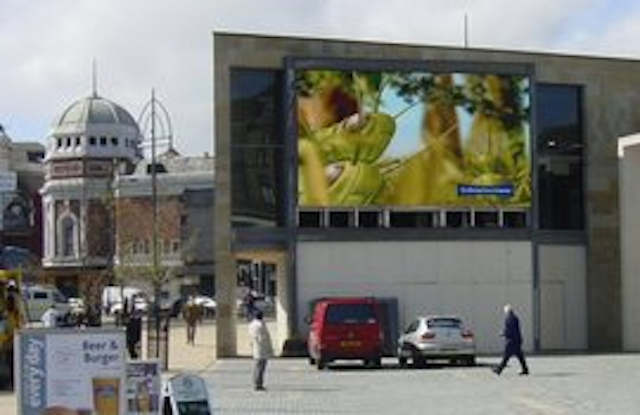 Date Announced: 14 Jun 2007
An impressive Lighthouse LED screen is installed in the centre of Bradford in the UK as the centrepiece of the city council regeneration project.
Purchased by the council from a local supplier, The Music Company (TMC), the LED screen is in the city's Centenary Square and is the focus of attention across the newly developed leisure area with cafes, restaurants and shops. The display comprises 8x6 panels of Lighthouse P16 16mm LED screen, giving an overall screen size of 8.1m wide by 4.5m high.
The project is allied to the BBC public space broadcasting network to provide some of their live events content. It also shows a high percentage of relevant local arts material, reflecting the wide range of cultural influences and ensuring that the installation benefits the entire community.
The screen features processing by Lighthouse's proprietary X-drive Pro, LIP-DX and automatic brightness control.
"TMC's work ethic is to provide a solution that not only performs as per the specification, but also serves as an example of our attention to details," says Martin Tarpy of TMC. "With that in mind, we have designed and fabricated an aluminium extrusion subframe that replaces the usual cumbersome steelwork. This brings many benefits, ensuring that the installation and operation of the Lighthouse screen is extremely easy to manage."
"We have been associated with Lighthouse Technologies for many years, but this is the first project of this magnitude that we have been awarded the contract for. The 16mm screen is perfect for the site, as Lighthouse continues to be innovative and is100% dedicated to the technologies involved, the 16mm screen is the obvious choice."
Lighthouse Technologies Limited is a leading LED technology developer, manufacturer and global supplier of state-of-the-art LED modular video panels, which can be assembled into large scale video screens for indoor and outdoor use.
Contact
Olga Kwan/Anita Leung Lighthouse Technologies Limited, Suites 531-537, Building 2, Hong Kong Science Park, Shatin, N.T., Hong Kong. Tel: 852 2192 1688 Fax: 852 2423 1062
E-mail:info@lighthouse-tech.com
Web Site:www.lighthouse-tech.com