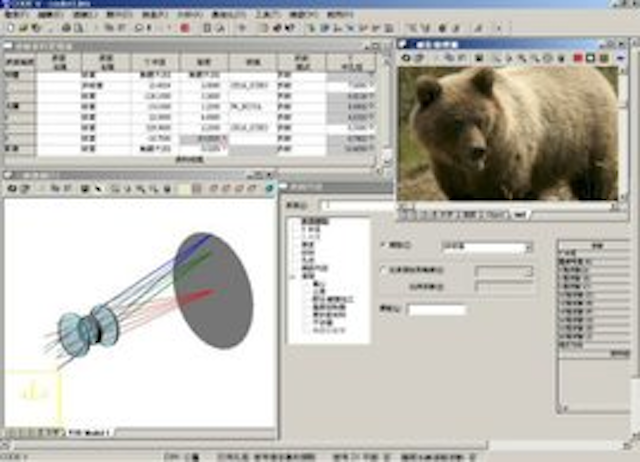 Date Announced: 06 Sep 2007
The newest release of CODE V® optical design software from Optical Research Associates (ORA®) delivers features to improve both the modeling and optimization of optical systems. In particular, CODE V 9.8 builds on the success of the recently introduced diffraction-based image simulation feature by allowing macro access to the simulated image pixel data.
A broad range of built-in macro functions for manipulating this data enables users to perform actions such as combining multiple images (for example, separate red, green and blue channels), adjusting gamma, or compensating for known detector characteristics. Users also can extract various parameters of the simulated image, including color and luminance values.
The optimization capabilities of CODE V have also been extended to account for the effects of manufacturing tolerances, thus allowing the designer to create more tolerance-insensitive design forms. Specifically, a new macro function that accesses the program's Fast Wavefront Differential Tolerancing capability (the TOR analysis feature) enables the designer to optimize for best fabricated performance, rather than simply best nominal performance.
CODE V 9.8 delivers all these features to a broader worldwide audience with additional language options. For example, the entire CODE V user interface can now be accessed in simplified Chinese, traditional Chinese, and Korean. Key documentation is also now available in these languages.
With nearly 45 years of success as an industry leader, Optical Research Associates (ORA) is committed to delivering innovative solutions to the optics industry. With its CODE V and LightTools® software products, ORA is the world's leading developer of optical software. ORA is also the largest independent supplier of optical design and engineering services, with more than 4,500 completed projects since the company was founded in 1963.
Contact
David Brown, Vice President of Sales and Marketing, Optical Research Associates, Pasadena, CA, USA Telephone 626 795-9101 FAX 626-795-0184
E-mail:info@opticalres.com
Web Site:www.opticalres.com