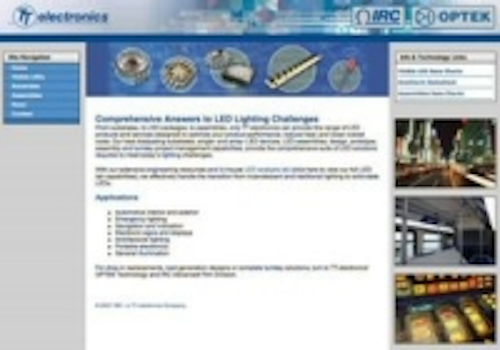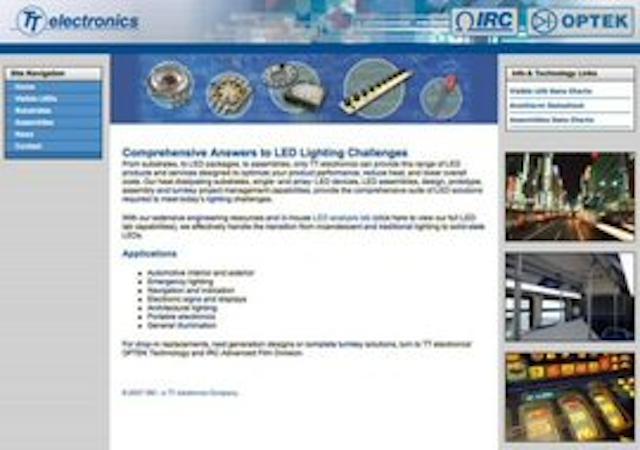 Date Announced: 12 Sep 2007
-- Lighting website aids designers in conversion to LED technology; details LED products and assembly capabilities…
CORPUS CHRISTI, TX and CARROLLTON, TX — Providing design engineers with a comprehensive guide to LED products, technologies and design services, TT electronics' IRC Advanced Film Division and OPTEK Technology have developed an LED microsite, showcasing their broad range of solutions to solid-state lighting challenges.
"By developing LED products in concert with OPTEK, we are able to provide lighting designers and engineers with a comprehensive, one-stop-shop for all of their lighting needs," said Steve Wade, director of sales and marketing for IRC's Advanced Film Division. "This website details not only our extensive line of discrete LED components, but gives customers insight into our capabilities as designers and IRC's substrates and assemblies as well."
IRC and OPTEK also offer an LED design kit, containing several LED assemblies, to help engineers get started with their solid-state lighting designs.
"We developed this website as a comprehensive design resource to help our customers compile the information they need on LED discretes and assemblies to convert to the latest technology," said Alan Bennett, vice president of sales and marketing for OPTEK Technology.
"The gaming and vending machine markets have realized the benefit of converting to solid-state lighting, and customers in other markets are beginning the transition as well. This website gives them a starting point for understanding what we offer in products and engineering expertise."
"Lighting engineers realize that when they make the conversion from traditional incandescent or fluorescent lighting to solid state technology, there are numerous challenges to address, and OPTEK has the expertise coupled with IRC's product offering in substrate technology to address those challenges," Bennett continued.
IRC and OPTEK's broad product offering includes visible LED components, thermal management substrates, as well as both standard off-the-shelf and custom LED assemblies. The solutions are ideal for a wide range of lighting applications, including backlighting, general illumination, and indication.
For more information on IRC and OPTEK's LED lighting products and solutions, please access the Web site at http://www.ttlighting.com.
For additional information, please contact TT electronics IRC Advanced Film Division at 361-992-7900; via mail at 4222 S. Staples St., Corpus Christi, TX 78411; or e-mail at afdsales@irctt.com; or contact OPTEK Technology at 972-323-2200, via mail at 1645 Wallace Drive, Carrollton, T.X. 75006, or e-mail at visibleLED@optekinc.com.
In Europe, contact JP Delaporte at info@optek-europe.com or call +1-972-323-2333. In Asia, contact T.H. Swee at thswee@optekasia.com or call +852-9190-4641.
IRC Inc. is a leading international manufacturer of advanced film, metal glaze and wirewound resistive products with facilities in Corpus Christi, Texas, Boone, N.C., Smithfield, N.C., and Barbados.
OPTEK Technology is a leading manufacturer of standard and application-specific sensors using infrared, visible, magnetic and fiber optic technologies focused on applications in office machines, industrial equipment, encoders, automotive electronics, military and high-reliability applications, and medical diagnostic equipment. Headquartered in Carrollton, TX, the company is ISO/TS16949:2002 and BS EN ISO 9001:2000 certified, as well as ITAR registered. OPTEK Technology was acquired by TT electronics in December 2003
TT electronics plc is a global electronics company manufacturing a broad range of advanced electronic components, assemblies and sensor modules for the automotive, industrial, telecommunication, computer and aerospace markets.
Contact
Steve Wade, Director Sales & Marketing IRC AFD, Inc. 361-985-3140 steve.wade@irctt.com Alan Bennett, VP Sales & Marketing OPTEK Technology 972-323-2200
E-mail:abennett@optekeinc.com
Web Site:www.ttlighting.com