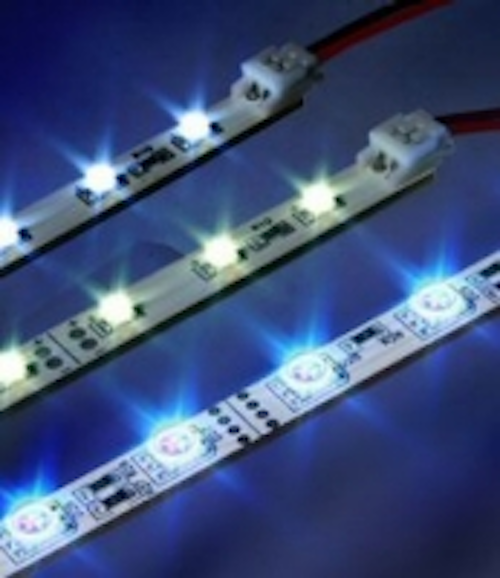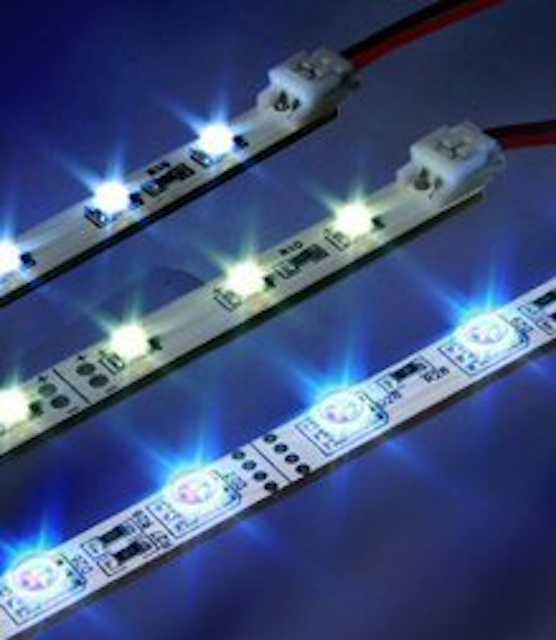 Date Announced: 28 Sep 2007
PACOIMA, CA -- JKL Components Corporation today released a new line of PCB-strip mounted LED's. They can be used as a complete strip or cut into 10 separate smaller 3-chip boards. The LED modules can be ordered pre-cut to specified lengths.
The devices run on 12 VDC, have a 120° viewing angle, and run at a working current of 200mA. Each LED is spaced an inch apart; they are ideal for interior cove, signage, architectural, emergency and amusement applications that require a low profile solution.
An RGB model is also available, which is tunable to achieve a controllable spectrum. It can be operated by controlling electrical current to vary intensities of three color chips in the same package. The boards are RoHS compliant, vibration and shock resistant, high-brightness and energy efficient. On-board connectors are available on both ends of the strip to allow for series-mounting for easy installation. Pricing is available on request.
The LED bars available are PL-0707-02, warm white (3500 K); PL-0707-03 cool white (7200 K), and PL-0707-04, controllable RGB.
JKL Components Corporation offers solutions that encompass a wide variety of lighting technologies, including LED, CCFL, ultraviolet, incandescent and gas-filled lighting. JKL is registered ISO-9001.
Contact
Dave York, Sales Manager of JKL Components Corporation, 13343 Paxton Street, Pacoima, California 91331. Tel. 818 896-0019 Fax 818 897-3056
E-mail:sales@jkllamps.com
Web Site:www.jkllamps.com