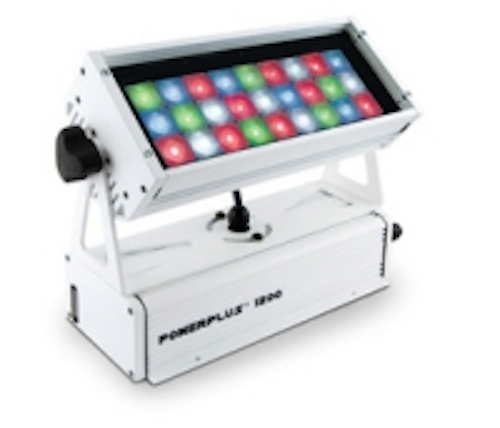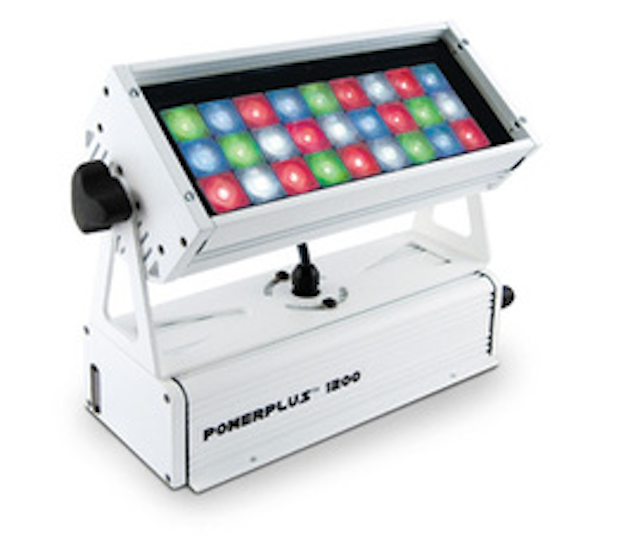 Date Announced: 28 Sep 2007
*** Offers 4.3 billion colors and 16.7 million white tones
Irvine, CA – Developed primarily for color wash applications, the PowerPlus™ 1200 RGBW LED fixture uses ColorGlo driver technology in a mixed configuration of Red, Green, Blue and White high power LEDs to produce 4.3 billion colors and 16.7 million white tones.
This extensive color spectrum provides designers and lighting directors with a virtually unlimited palette of colors and whites without gels, dichroics or mechanical parts.
The PowerPlus 1200 combines performance and application flexibility with over 1350 IES documented fixture lumens using 14° or 28° spot lenses and secondary lenses for spread and diffusion. It is designed to install and operate like conventional fixtures with direct connect line voltage and DMX using no external power supplies or interfaces.
The PowerPlus 1200 is the first of the new PowerPlus series of LED fixtures designed and manufactured by California based J&J Electronics using its ColorGlo closed-loop current drive methodology.
Presently, the fixture is primarily being specified and installed in color wash applications where high maintenance HID, incandescent and fluorescent fixtures have been used. Building exterior spot and wide flood-light washing, interior spot and wash effects, and retail and museum display lighting are among the varied applications for the PowerPlus 1200. It has the performance and features suitable for many architectural and entertainment lighting applications.
For more information on ColorGlo products and solutions, please visit www.colorgloledlighting.com or call 800.735.4553.
About J&J Electronics, Inc.
J&J Electronics, Inc., a California Corporation since 1982, designs, engineers and manufactures the ColorGlo line of solid-state LED lighting solutions. Its Industrial Lighting Division offers products and system solutions that are designed for architectural, entertainment, retail, exhibit, display, and specialty lighting applications.
J&J Electronics and its logo are the exclusive property of J&J Electronics, Inc. Irvine, CA. ColorGlo, IntelliGlo and PowerPlus are trademarks of and manufactured by J&J Electronics, Inc. All rights reserved. All other marks may be the property of their respective titleholders.
Contact
J&J Electronics, Inc. 35 Hammond; Irvine, CA 92618, USA Telephone: 949.455.4460.
E-mail:info@colorgloledlighting.com
Web Site:www.colorgloledlighting.com