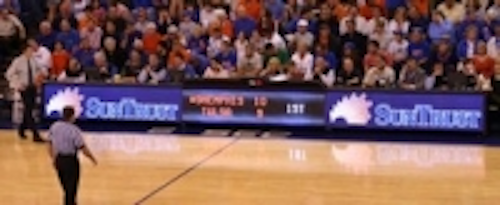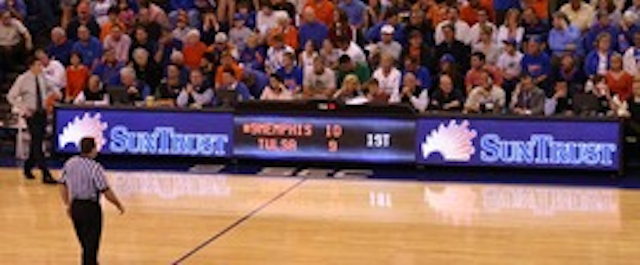 Date Announced: 28 Sep 2007
BROOKINGS, S.D. – Over the past few years an increasing number of universities and college facilities around the country have upgraded their arenas with Daktronics (NASDAQ – DAKT) scoring and display products.
Among these, Daktronics digital LED courtside scorers' tables stand out as some of the most innovative and exciting technologies available in college athletics.
Last year, High Point University in High Point, N.C., improved their Millis Center with the addition of four Daktronics digital courtside displays.
"The tables have enhanced the atmosphere for our fans and student athletes," said Ryan Tressel, Assistant Athletic Director for Facilities and Operations at High Point. "Fans are taken aback by the tables, as they create an exciting atmosphere. We still haven't touched a huge chunk of what they can do for us."
In addition to the installation at High Point, Daktronics has installed digital scorers' table displays in several other major university arenas. The University of Florida, University of Cincinnati, University of Dayton, and South Dakota State University are just a few of the institutions that have taken advantage of the Daktronics digital courtside solution.
These unique displays not only entertain and inform fans with live updates and state-of-the-art graphics, but also save money for the university. Instead of designing, purchasing, and installing new printed graphics or installing separate displays for statistical information, schools can update any aspect of their display immediately and cost-effectively.
"The displays give the arena a powerful, sophisticated look," said Jason Dunn, Assistant Director of Corporate Relations at the University of Dayton. "They have also allowed us to generate additional revenue through advertising opportunities for corporate sponsors."
Daktronics digital courtside displays are also the official scorer's table of the NCAA Men's and Women's Final Four® Championships. Daktronics displays have enhanced the biggest tournament in college sports since 2006.
"Fans at the events really enjoyed the extra information and entertainment value the courtside displays provided," said LJ Wright, Director of the Division I Men's Basketball Championship. "This technology offers outstanding viewing angles and visibility for fans, both at events and watching on television. Student-athletes, as well as the fans, enjoyed the added information and entertainment the system brings."
The list of customers asking for Daktronics courtside digital LED tables continues to grow. Recent orders include the University of Georgia, University of Tennessee, University of Wisconsin, Texas Christian University, Central Michigan University and Kansas City's new Sprint Center. When integrated with an existing Daktronics scoring system and DakStats® software, courtside displays can show real-time statistical data during basketball games and other sports events. Features for all models include removable padding, a collapsible wood grain table with folding legs, convenience receptacles, wheels with locking castors, and storage for control equipment. The models can also be latched together to create a court-long display of graphics, video, and advertising.
About Daktronics
Daktronics is recognized as the world's leading provider of full-color LED video displays. Daktronics began manufacturing large screen, full-color, LED video displays in 1997. Since then, over 3,700 video-capable displays have been sold and installed in sports, entertainment and commercial facilities around the world.
Contact
Tel. +1 (605) 697-4300 or toll-free (800) 325-8766
E-mail:sales@daktronics.com
Web Site:www.daktronics.com