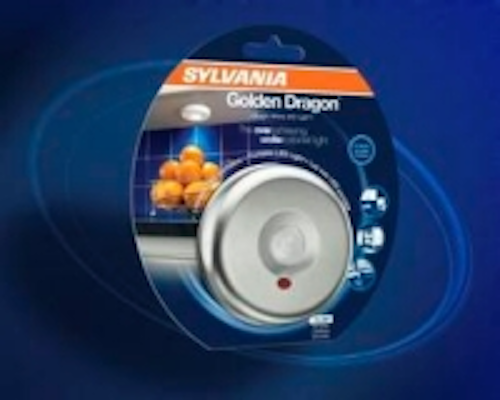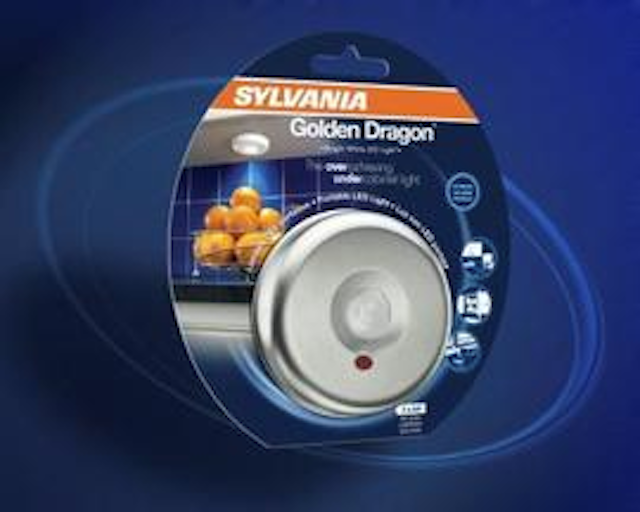 Date Announced: 27 Nov 2007
Santa Clara, Calif. – OSRAM Opto Semiconductors announced today that its high-performance Golden DRAGON® LED will be used in the latest addition to OSRAM SYLVANIA's popular DOT•it® line of consumer products.
DOT•it® Golden DRAGON®, the over-achieving under-cabinet light, is a wireless, super-bright LED light designed to brighten up even the darkest of places.
Available in white, stainless steel and black, the SYLVANIA Golden DRAGON® emits a bright halogen-like color temperature, and projects 30 times more light than conventional push-on lights.
"Since its introduction in 2003, the Golden DRAGON® LED has been a breakthrough product for OSRAM Opto Semiconductors," Ellen Sizemore, director, LED/IR marketing, OSRAM Opto Semiconductors Inc., said.
"By using the Golden DRAGON® to create the next generation of its DOT•it® line, OSRAM SYLVANIA has found a perfect home for this technology," she added.
Only 1.8 mm in height, the Golden DRAGON® LED uses OSRAM Opto Semiconductors' proprietary Thinfilm/ThinGaN® technology to emit maximum light from a chip-sized area.
The lead-free LED has an efficiency range of 40-80 lm/W for white, and an extremely long lifespan exceeding 50,000 hours, creating a product which is both energy-efficient and economical.
The DOT•it® Golden DRAGON® light takes the concept of using a "light-touch" to a whole new level with its new infrared motion sensor. A simple wave of the hand in front of the light turns on its high-light setting. A second wave will activate its low-light setting, and a third wave will turn the product off. Each setting has an auto-off 60-minute timer so owners never again need worry about leaving the lights on.
"The auto-off feature is a simple, practical solution and will extend battery life", stated Laura Peach, product marketing manager, OSRAM SYLVANIA. "Working together with OSRAM Opto Semiconductors to create the SYLVANIA Golden DRAGON® light has enabled us to bring this truly unique product to the lighting marketplace."
"LEDs are the next generation of lighting technology. Because of their small size, long lifespan, and bright light, they offer an environmentally preferable alternative to many traditional lighting solutions," added Sizemore.
Even outside the cabinets and closets, uses for the DOT•it® Golden DRAGON® light are limitless. Whether used in a garage, a shed, in an RV or on a boat, this super bright LED lights fits in just about anywhere.
To learn more about OSRAM Opto Semiconductors' Golden DRAGON® LED, please visit http://www.osram-os.com/dragon.
For more information on the new SYLVANIA DOT•it® Golden DRAGON® and the entire DOT•it® line of products, please visit www.sylvania.com.
About OSRAM Opto Semiconductors:
OSRAM Opto Semiconductors GmbH of Regensburg is a wholly owned subsidiary of OSRAM, one of the two leading lighting manufacturers in the world. It offers its customers solutions based on semiconductor technology for lighting, sensing and visualization applications. The company employs more than 3,600 people worldwide and operates sites in Regensburg (Germany), Santa Clara (USA) and Penang (Malaysia). Sales for the fiscal year ending September 2006 totaled more than EUR 500 million. For more information, visit www.OSRAM-os.com.
About OSRAM SYLVANIA:
OSRAM SYLVANIA is a leader in lighting solutions and specialty products that feature innovative design and energy saving technology. The company sells products for homes, businesses and vehicles primarily under the SYLVANIA brand name, and also under the OSRAM brand. Headquartered in Danvers, Mass., OSRAM SYLVANIA is the North American operation of OSRAM GmbH, a wholly owned subsidiary of Siemens AG. For more information, visit www.sylvania.com.
Contact
Anne Guertin OSRAM SYLVANIA/978.750.2225
E-mail:anne.guertin@sylvania.com
Web Site:www.sylvania.com