PID keeps fit with VersaPIXEL effect
Nov 8th, 2007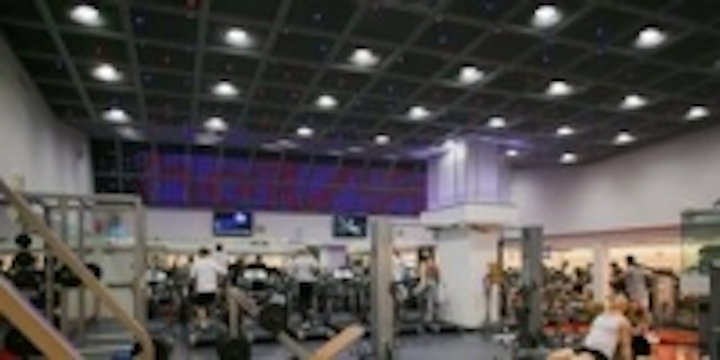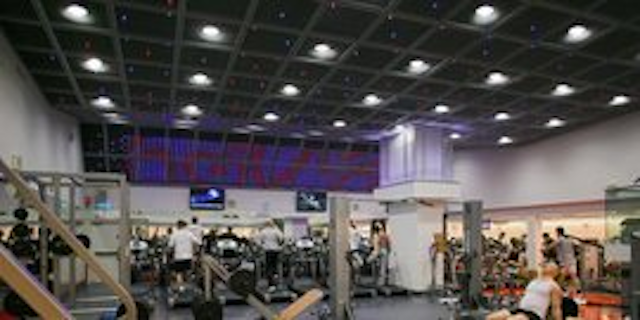 Date Announced: 08 Nov 2007
Projected Image Digital (PID), working closely with architectural lighting design practice Indigo Light Planning, has specified and installed a spectacular Element Labs VersaPIXEL ceiling effect for the house gymnasium of a leading investment bank in London's Canary Wharf area.
PID supplied 1500 25mm square Versa PIXEL's, a VersaDRIVE C1 driver and a, Pharos LPC1 architectural lighting controller for the project, which was co-ordinated for them by Sam Douglas.
PID also designed and manufactured custom steel mounting brackets for the VersaPIXEL's which are installed in the room's ceiling panels, and created 17 special clips of digital content, working to a brief from Indigo's Paul Nulty and gym staff.
The content includes athletic-themed figures running, skipping and rowing, a heart trace graphic equalizer effect etc., plus a selection of more ambient, 'mood' style clips like clouds and flocks of flying birds.
Paul Nulty's brief from project managers Logitek was to transform the former car parking space in the building's basement into a vibrant, funky, inspirational relaxation and work-out area for staff.
He, PID and a team from Bennett's Interior Design all collaborated to help achieve this.
Indigo has designed both pixilated video screens and gymnasium lighting schemes before, but this is the first time that Nulty has fully integrated a large digital lighting effect into one of his designs in this way.
"It was a right-time-right-place situation" Nulty explains, "We were speaking to Noel Brassey of Projected Image Digital generally regarding available products including the sort of faceted surface effects that can be created with VersaPIXELs, and we were looking for a strong concept to produce some real dynamics in the space. From there, we seized the opportunity of creating a modern digital lighting feature using VersaPIXEL".
Nulty also wanted to ensure that the gym area was completely different in feel to the rest of the building.
He adds that Indigo was very impressed with the options offered by the product, and also with the quality of service and installation, plus the knowledge and detail available from PID.
The shape of the 'front' end of the gym (a 'stepped' space that has been scooped out from the former car parking decks) immediately lent itself to being fitted with some sort of visual feature, says Nulty, with most of the work-out machines are lined up to face this.
The pitch of the VersaPIXEL ceiling varies across its entire surface area and starts above the first row of gym machines where it is a sparse 1,000mm. This gradually increases in density until the ceiling drops vertically, creating a wall of pixels at a 125mm pitch.
The content has been specifically programmed so each clip plays back across the sparse area first, moving across the ceiling until it finally appears on the higher density area where it has the most dramatic impact.
PID produced drawings and visualizations as the content creation process was developed, in addition to a full full-scale on-site mock-up in front of the client and all the design teams. This was then signed off by the client.
The installation process was co-ordinated for PID by lead engineer Rob Smith and Sam Douglas.
The 1,500 Versa PIXEL's are controlled from a VersaDRIVE C1 controller. The C1 is connected to 11 PSUBB units, connected and addressed via a 6 pin Element Labs data cable leading back to a number of Pharos PHUB32s each of which connects to up to 32 VersaPIXEL's.
The video content is stored on the VersaDRIVE C1 which is then triggered by the Pharos architectural control unit, which was timeline programmed to fit the gym's opening hours.
In charge of content was PID's Digital Services Manager Nev Bull using After Effects. The design team saw an initial preview, fed back comments and then a final list was agreed upon. Each clip is tailored to suit the pixel pitch of the screen, offering a wide variety of visuals including rainbows, spirals, Tetris space invaders, graphic equalizer effects, runners, clouds, weather symbols, lines and rings, birds, stars, heart traces, flying boxes, water ….. plus a retro 1970's clip.
PID's David March says, "Developing the concept with Paul and the design teams and being involved in the entire process, right from mock-up to completion, has been very rewarding for us".
Everyone – Indigo, Logitek, Bennett Interior Design – and the end client are all delighted with the results. The gym is in constant use and appreciated by many of the bank's hard-working employees.
Contact
David March on 020 8840 5885
E-mail:louise@loosplat.com
Web Site:www.pi-digital.co.uk