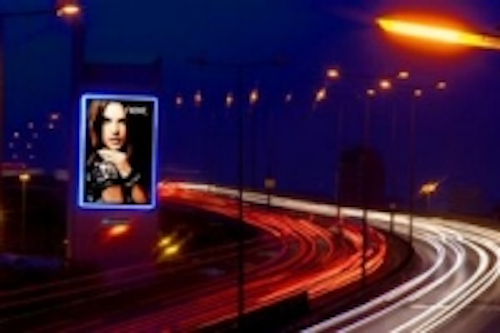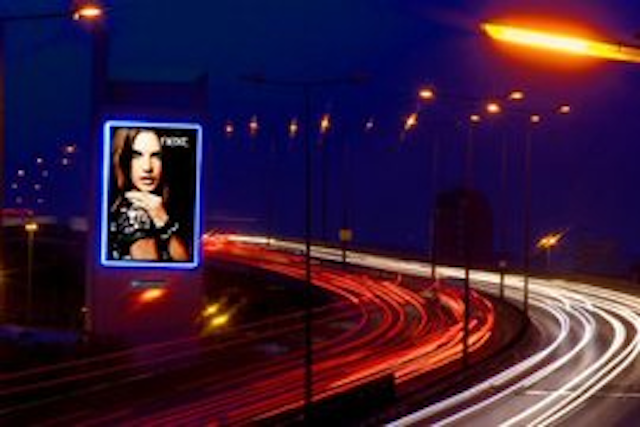 Date Announced: 08 Nov 2007
A glowing halo of light that can be remotely tuned to any one of one billion hues to complement a client's advertising creative or branding has been installed at Clear Channel Outdoor's new flagship North London Tower.
The halo, which is operated remotely from Clear Channel's headquarters in Golden Square, London, is created by 3,000 LEDs grouped into tri-colour pixels. Each of the thousands of LEDs can be individually programmed so the halo can be set to display a single colour, a colour gradient or even one colour melting into another at different times.
According to Pip Hainsworth, Marketing Director at Clear Channel Outdoor: "The unique combination of the vivid array of LEDs and diffusing filter, produces an effect that will simultaneously reinforce a company's corporate image and beautifully frame its creative. Following 12 months of research and development, the finished product displays a range of effects unrivalled in Europe."
The 'halo' effect on Clear Channel's North London Tower maximises the impact for any brand advertising on the UK's new mega-structure - the first and only architecturally-designed Tower targeting North and North West London, with two faces of 7.5m x 5m.
The North London Tower achieves more than 4.4 million fortnightly impacts (source – UK Department for Transport) and is in proximity to the M1 motorway, Brent Cross Shopping Centre and Wembley Stadium. Clients who have already booked campaigns for the east and west elevations of the tower include HBOS, Next, Channel 5, IKEA and Nivea.
The North London Tower complements Clear Channel's existing towers on the M4 and A40 Westway and forms part of Clear Channel Outdoor's Pinnacle portfolio – the number one collection of premium sites in the UK.
Contact
Clear Channel Outdoor
E-mail:info@clearchanneloutdoor.com
Web Site:www.clearchanneloutdoor.com