Element Labs Stealth LED displays add glamour to Take That tour
Nov 27th, 2007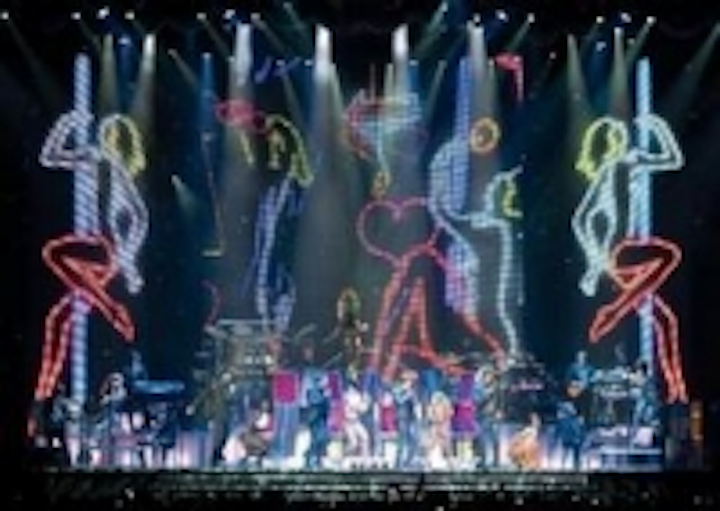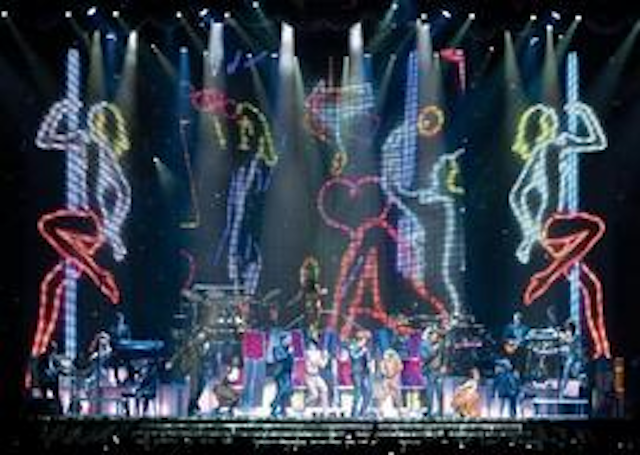 Date Announced: 27 Nov 2007
-- Element Lab's popular Stealth 2.5 LED display, renowned for its rapid deployment capabilities, was chosen to add glamour to Take That's break-neck European tour.
LONDON - On October 12th, Take That's 'Beautiful World' tour kicked-off with its first sold-out concert in Belfast. Making sure fans were treated to the night of their lives, Take That added glitter and glam to the show with state-of-the-art Element Labs STEALTH™ LED displays totaling 250 square meters, which act as backdrops to the band's high energy performance.
The STEALTH LED display, supplied by rental company XL Video, consist of 3 columns that are used as two columns of 16 panels wide and 25 panels high on either side of the stage, as well as one column centre-back of 19 panels wide and 25 panels high.
The STEALTH LED solution was chosen over other LED products available on the market today because not only can it compete with the best in terms of image quality (displaying incredibly smooth video that remains consistent regardless of the angle at which the display is viewed), it also offers a crucial advantage no competitor can match: it's renowned fan-fold capability, which makes for rapid deployment and transportation.
TT Video Production team Andy Tonks and Richard Shipman conceived and designed a unique way of exploiting the Stealth fan-fold capacity to enable the 200m2 to be rigged at the speeds which Production Manager Chris Vaughan demanded. Dollies housing the processors allow for the screens to be hung and tested as they are rigged, greatly reducing the need for stage hands.
Rene De Keyzer of XL Video summarizes the challenge: "With today's hectic touring schedules, it is no longer enough for an LED display to look great on stage. Of course it has to offer great image quality, but it should also be built to do the job - as fast and efficiently as possible. With Element Lab's STEALTH display we knew we could offer Richard the most efficient LED solution available on the market.
"The fact that the system was already designed to facilitate fast rigging and de-rigging made it the obvious solution to which we could add our custom-made dollies. Fan-folding the STEALTH onto our dollies meant that Take That's displays were de-rigged in less than half an hour, which in turn leaves the back of the stage open much sooner for the rest of the load-out."
Nils Thorjussen of Element Labs adds: "This project illustrates exactly the type of collaboration we want to foster with both the designer and the rental company. We don't want to approach the industry with 'take it or leave it' display solutions We want our clients to be able to brainstorm with us and use and adapt our solutions to best serve their specific needs. That's when this industry is at its most creative and the achievement at its most rewarding!"
About Stealth
Since its initial release in 2006, the STEALTH™ modular video display system has quickly become the industry standard for lightweight, portable video displays. Robust yet lightweight, STEALTH can be assembled into extremely large displays whether flat or curved, horizontal, or vertical. Minimal framework provides an entire structure with virtual transparency. The STEALTH system has proven itself in demanding rental applications such as concerts, car shows, special events, and more.
The STEALTH system is comprised of modular panels, integrated power and data distribution, rigging hardware, and video processing. The panels are 40 cm square, weigh less than 1 kg (3 lbs), and contain 56 pixels on a 25 mm pitch. The latest version of the STEALTH system, STEALTH 2.5, has a very flat LED panel, which ensures it displays incredibly smooth video that remains consistent-regardless of the angle at which the panel is viewed.
In November 2006, Element Labs was awarded the "Live Design International Product of the Year Award" for its STEALTH™ LED Screen at the LDI 2006 exhibition held in Las Vegas, Nevada.
About Element Labs
Element Labs, Inc., headquartered in Austin, Texas with offices in Germany and the UK, is a global leader in design, manufacturing, and support of cutting-edge LED video technology to the entertainment, architectural, and signage industries. Their award-winning products and customized solutions give designers the freedom to innovate and realize their creative visions.
Contact
Claas Ernst, Element Labs GmbH Tel: +49 5331 905 660
E-mail:claas@elementlabs.com
Web Site:www.elementlabs.com