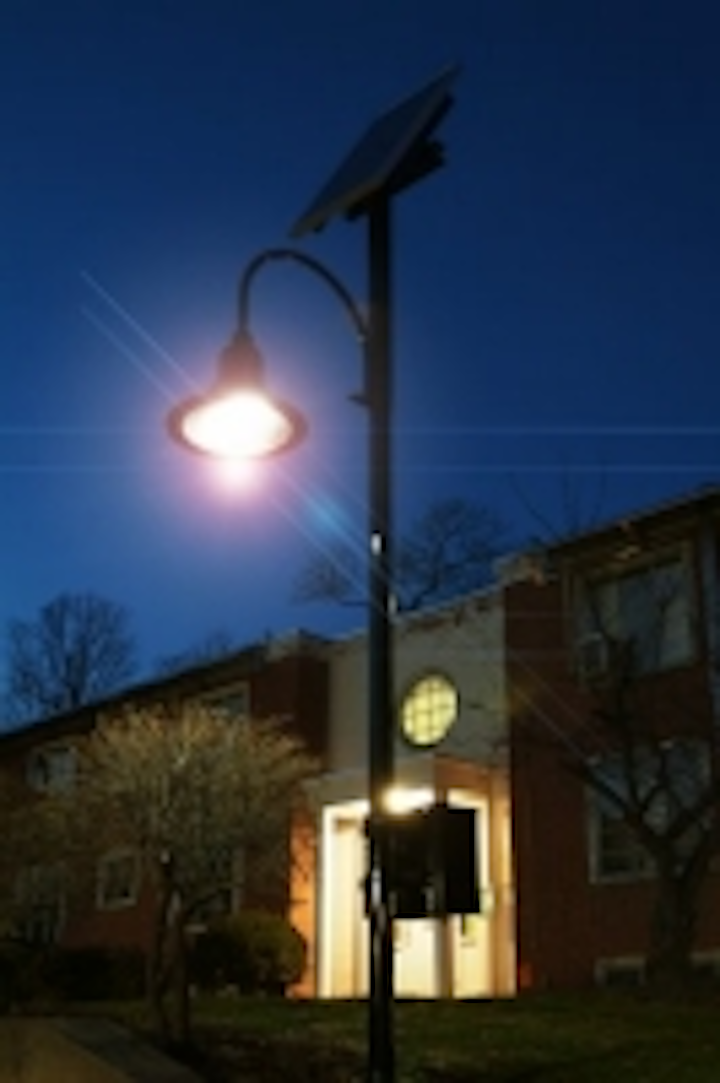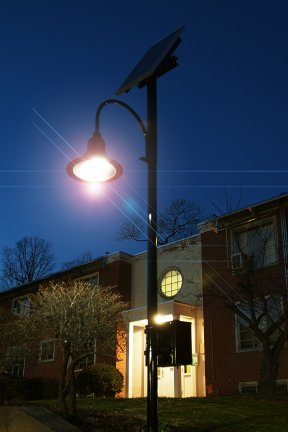 Date Announced: 17 Jan 2007
Framingham, MA. -- As part of the largest photovoltaic system in the Ivy League, Sunlight Solar installed SolarOne® Solar Powered LED Pathway lights that line the sidewalk in front of Fisher Hall at Yale University.
Each is light is a complete, autonomous system that includes SolarOne's MC2 technology, ensuring that lights remain on even during foul weather, long winter nights and electric grid failures. The path lights also incorporate high quality, Hadco decorative lighting fixtures.
This project is in response to the Climate Change Action Plan 2005, a Connecticut state initiative modeled after the Kyoto Protocol. The initiative's goal is to reduce greenhouse gas emissions to 1990 levels by the year 2010 with an additional 10% decrease by 2020. Fisher Hall will serve as the original model of Yale's commitment to innovative green building design on university campuses nationwide.
According to Navigant Consulting's 2002 National Lighting Inventory and Energy Consumption Estimate, stationary outdoor lighting energy represents eight percent of the entire lighting market. SolarOne estimates that a single incandescent fixture averages 4,000 lbs of green-house gas emissions per year. This does not take into account savings of avoided emissions by increased pedestrian traffic and fewer maintenance visits due to higher reliability of lamps. Finally, LEDs are directional and therefore can be used with very little light pollution. Besides the environmental benefits of SolarOne Lighting, these lights provide the added security of remaining active during power outages and shortages.
Ilze Greene, Director of Sales and Marketing comments, "SolarOne Lighting is not only a practical application for renewable energy, but also demonstrates Yale's commitment to the environment in a highly visible way."
About SolarOne Solutions, LLC
SolarOne® lights operate independent of the electric grid, relying on a solar panel for their power source. This ensures that they will remain lit, even during grid-connected power shortages. Additionally, their independent power source enables them to be sited flexibly and installed easily, without incurring the significant expenses of trenching and repaving. SolarOne Solutions offers SolarOne® overhead lights for pathways, sidewalks, parking lots, and bus shelters.
About Sunlight Solar Energy (SSE), Inc.
Sunlight Solar Energy (SSE), Inc., is one of the leading photovoltaic design and installation corporations in the US and has approved contractors under energy fund photovoltaic programs in 5 states. Quoting complete "turnkey" solar photovoltaic installations, including all paperwork, necessary permits, taxes, interconnection agreements and renewable energy credits or "green tags" contracts, SSE operates out of both Milford, CT and Bend, OR on a full time basis and operates a seasonal office Quartzsite, Arizona serving recreational vehicle solar customers.
Website: http://www.sunlightsolar.com
SolarOne is a registered trademark of SolarOne Solutions - All Rights Reserved
Contact
For further information on SolarOne® visit www.solarone.net, e-mail at info@solarone.net or call Toll Free 877-527-6461.
E-mail:igreene@solarone.net
Web Site:http://www.solarone.net