XL Video and Barco add volume to music installation
Jan 25th, 2007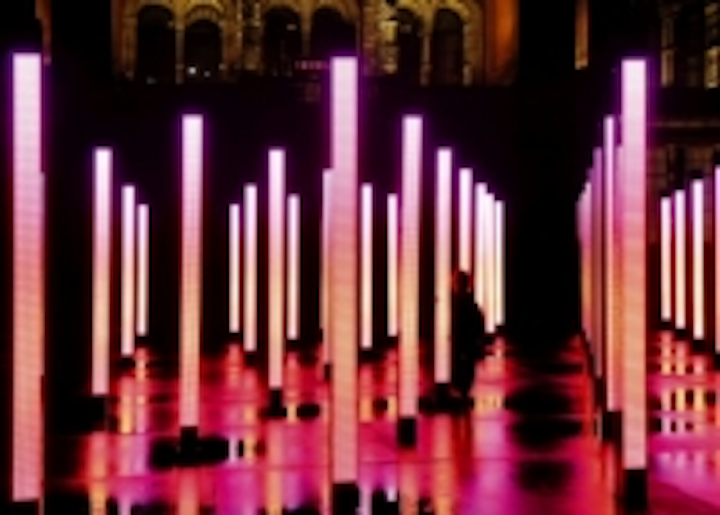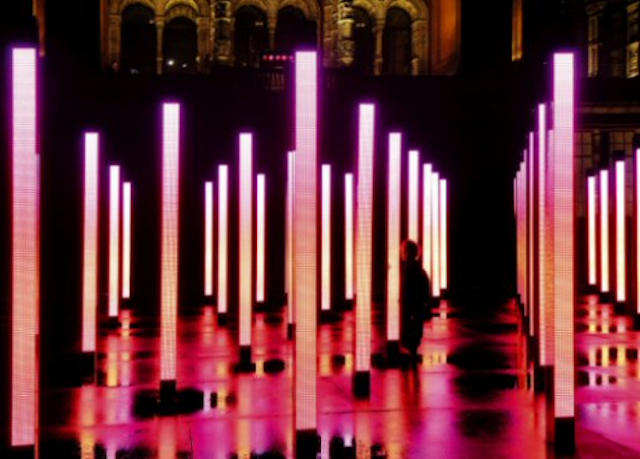 Date Announced: 25 Jan 2007
XL Video has supplied design collective United Visual Artists (UVA) with Barco O-Lite modules for their critically acclaimed interactive music installation, 'Volume' at the V&A Museum, London.
The work was commissioned buy the V&A as part of the Playstation Season, and is a collaboration between UVA, Robert Del Naja (3D of Massive Attack) and his long-term co-writer Neil Davidge (as part of their music production company, one point six).
Staged in the V&A's John Madejski Garden, the O-Lite is arranged into 46 columns mounted on 6 x 7 grid, each column consisting of 24 O-Lite modules stacked on top of one another. These measure 2.5 metres in height by 12 centimeters wide, and the columns are placed 2 metres apart, each with a speaker on top.
UVA's Ash Nehru explains, "We've worked with XL in the past, and they have always been excellent, so were an obvious choice to supply the hardware and support.". The project was handled for XL by Phil Mercer, who says, "It's very exciting being involved with highly stimulating, provocative experimental digital art like this. It's interesting, completely different and great fun to be working with UVA".
Each of the speakers emits a separate sound giving 46 channels of computer controlled audio. The 46 columns create a volumetric screen – as opposed to one on a flat plane.
The columns are all mounted on a stage, with the wiring and electronics and electrics hidden beneath. Visitors walk into the space, and at the top of the courtyard is a camera that tracks their movement as they pass through the installation.
The music track (written by one point six) comprises 46 different instruments, each instrument is sent to a different column speaker, and as people approach the columns they activate an audio trigger that plays the instrument routed to that speaker together with a video image that sends ripples and patterns through the O-lite. As they move away, the area then goes dark.
Each note of music causes a line or a shape to appear on the video, so both sound and visuals are controlled in real time by viewers experiencing the work, and the music is rearranged as people move around the space.
Video is generated in real time using custom visual synthesizer modules which run within UVA's bespoke Dragonfly 3 software (which was also used to control elements of U2's live video). Audio control is via a Macintosh computer running a bespoke version of Logic software. The column enclosures and risers were fabricated by Lite Structures.
Contact
XL Video UK Tel. +44 (0)8702 202623 or check
E-mail:louise@loosplat.com
Web Site:http://www.xlvideo.tv