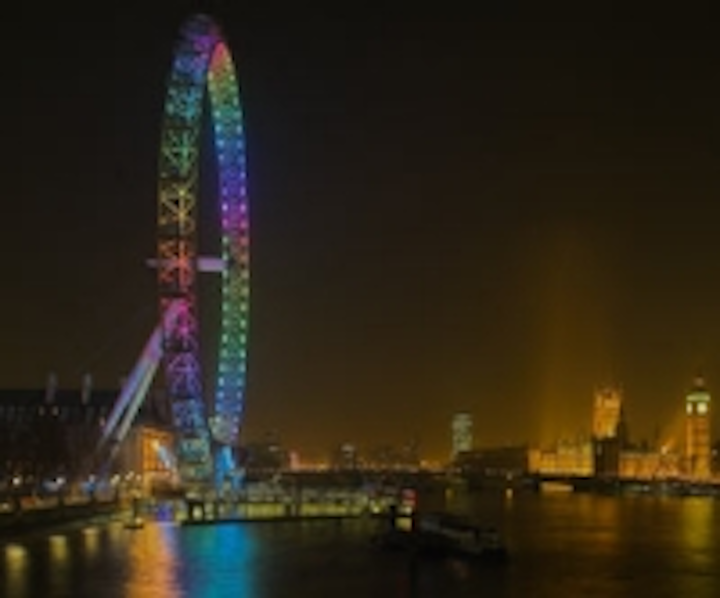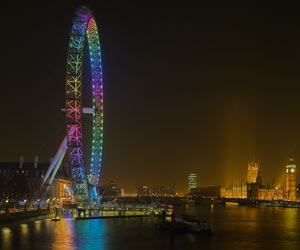 Date Announced: 10 Jan 2007
-- Retrofits the British Airways London Eye with a Low-Maintenance LED Lighting System for Vibrant Visual Effects
BOSTON -- Color Kinetics Incorporated (Nasdaq: CLRK - News), a leading innovator of LED lighting systems and technologies, today announced the unveiling of its latest international landmark installation, the British Airways London Eye. Named the "World's Leading Attraction" this year by the World Travel Awards, the London Eye is the world's tallest observation wheel at 450 feet high, and is the newest in a growing number of high-profile destinations to undergo a complete lighting overhaul with Color Kinetics' LED lighting technology.
"The London Eye has become a 21st Century symbol for Britain, and it's a thrill to see this long-planned project come to realization. We've achieved an ambitious goal in bringing dynamic, visually appealing color to the structure while at the same time eliminating the maintenance costs and requirements of the previous fluorescent system. We're extremely pleased with the results, and believe Londoners and visitors alike will agree," said Kevin Dyer, Head of Technical Operations for the British Airways London Eye.
Situated on the South Bank of the River Thames and often called the "Gateway to London," the London Eye is visited by more than 10,000 people daily. It was previously lit by fluorescent tubes that proved costly to maintain, and required the manual installation of gels to produce colored light for special events.
Color Kinetics was approached to replace this system with an LED-based alternative. Approximately 640 ColorCast® 14 units were supplied, installed and programmed by UK-based Architainment Lighting Ltd. and Lighting Technology Projects. Each unit may be individually programmed to generate millions of colors that are seamlessly produced by Chromacore® technology, as opposed to the use of colored gels. This technology gives the London Eye the cost- effective ability to display precise colors for corporate clients and special occasions, while predominantly displaying white light.
"Internationally recognized installations have become one of the benchmarks that define Color Kinetics' market success, and we're honored to put our signature on an iconic structure like the British Airways London Eye," said Bill Sims, President and CEO, Color Kinetics. "This project reflects an accelerating trend as maintenance-intensive lighting systems are displaced by LED alternatives -- first in applications of color and increasingly in the use of white light. Though six years away, we can envision the Eye playing a colorful, welcoming role when London hosts the 2012 Olympic Games."
Today Color Kinetics' lighting systems are installed in many notable sites in and around London. These include Victoria Plaza, Berkeley Homes Tower at Tabard Square, Plantation Place, Great Ormond Street Hospital, City Place House, 27 Knightsbridge, and Millennium Square at Bristol Harbour.
The newly Color Kinetics-illuminated London Eye is visible from more than a mile away. Because Color Kinetics' lighting systems are compatible with the industry-standard DMX protocol, the ColorCast 14 units integrate seamlessly with two Pharos LPC2 controllers, enabling the creation of dynamic light shows on demand. The rugged, exterior-grade units incorporate Powercore® technology to directly accept line voltage, eliminating the need for external power supplies and easing installation.
About Color Kinetics
Color Kinetics Incorporated (Nasdaq: CLRK - News) transforms environments through new, dynamic uses of light. Its award-winning lighting systems and technologies apply the benefits of LEDs as a highly efficient, long lasting, environmentally friendly, and inherently digital source of illumination -- reinventing light itself as a highly controllable medium. Color Kinetics also enables widespread adoption of LED lighting through OEM and licensing partnerships in diverse markets. The company is headquartered in Boston, MA with offices in the UK, China, and Japan. More information is available at www.colorkinetics.com.
Chromacore, ColorCast, Color Kinetics, the Color Kinetics logo, and Powercore are registered trademarks of Color Kinetics Incorporated. All other trademarks mentioned are the property of their respective owners.
Contact
Color Kinetics Incorporated
E-mail:info@colorkinetics.com
Web Site:http://www.colorkinetics.com