Hadco and SolarOne Solutions Announce Joint Development of Solar Light
Jan 23rd, 2007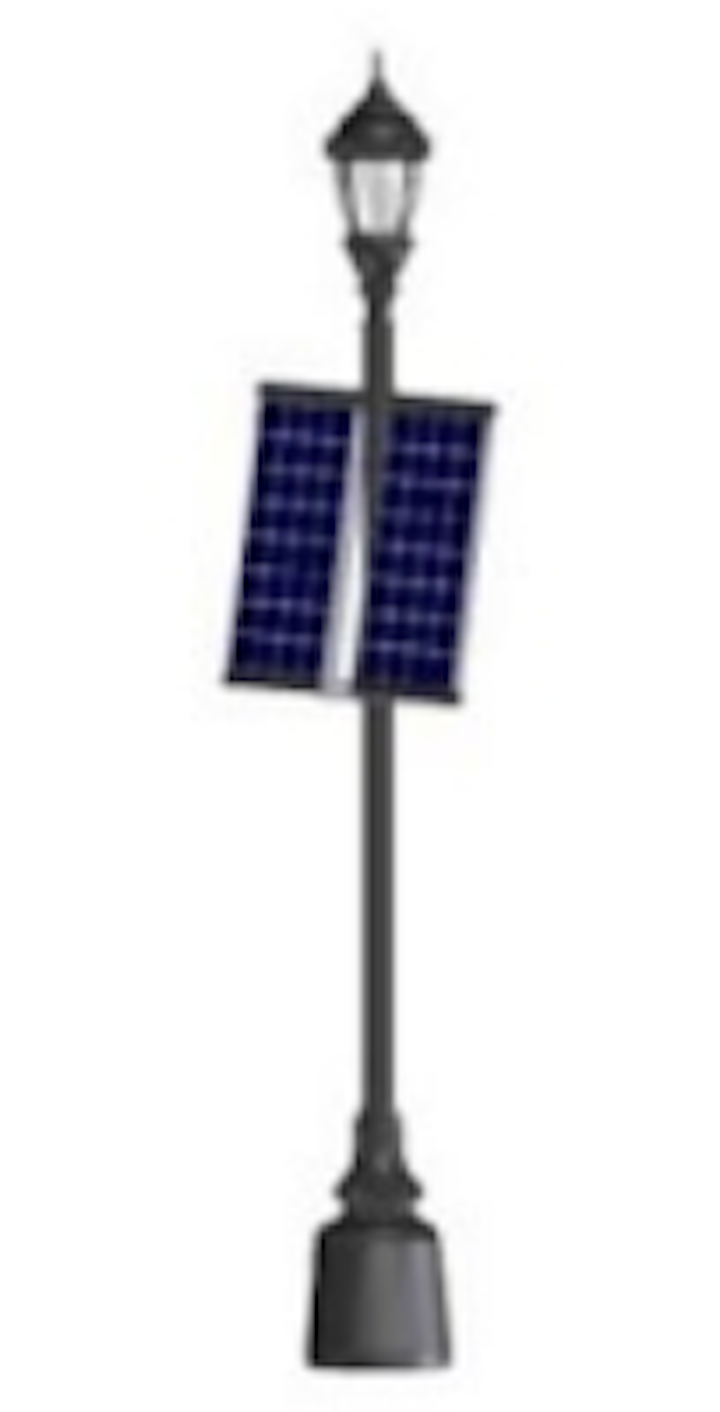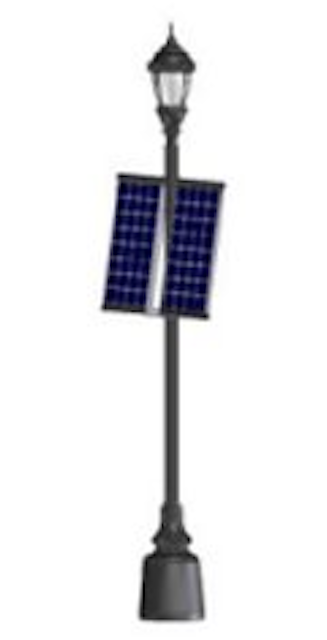 Date Announced: 23 Jan 2007
January 23, 2007. Hadco of Littlestown, PA and SolarOne Solutions of Framingham, MA announce the joint development of a solar powered post top style lamp for decorative lighting applications. This lighting system seamlessly integrates state-of-the art photovoltaic power and LED lighting technology managed by SolarOne's intelligent MC2 controls into a classic Hadco Hagerstown fixture reminiscent of 19th century gas lamps. The result is a stylish street light that operates independently of the electrical grid.
The lighting system will first be displayed on February 3rd at the Sullivan Renaissance Conference and Expo held at the Bethel Woods Performing Arts Center in Bethel, NY.
This system was designed to address objections of those architects and planners who consider decorative lighting systems powered by bulky solar panels and batteries as aesthetically unappealing. Increases in LED and solar cell efficiency combined with refinements in control technology enable SolarOne's system to produce dramatically more light for longer periods of time for given solar panel/battery dimensions.
"SolarOne's system appears to have reached the cross-over point to bring these elements in at sufficient size to be readily integrated into our standard lighting package and look like they belong," said Hadco's General Manager, Chris Hammelef. "Un-tethered from the grid… who knows where the new markets for our lights will come from," he added.
With heightened attention to security, aging infrastructure, 24/7 globalization and increasing population, demand for outdoor lighting is expected to accelerate. A major barrier to this market expansion is access to power, which typically requires major investment in trenching and wiring. In many instances, solar power can overcome this issue.
Each solar powered lamp will offset an estimated 4,000 lbs of green house gases annually, while providing the peace of mind that it will be operational, even during disasters and emergencies when the grid may be down. SolarOne's President/CEO Moneer Azzam said, "In this effort, Hadco is doing much more than working with a new technology. As an electrical equipment manufacturer, the company is embracing a brave new approach, where the power supply is integral to its system. We are extremely pleased to be working with such a forward-looking company."
The functional prototype of the lighting system will first be unveiled at the Sullivan Renaissance Conference and Expo. Beautification grant applications for 2007 will be available, as well as resources and workshops for the many volunteers. The theme of this year's conference is "From Soul to Solar: Inspiration, tools and resources to make a difference in your community". Sullivan Renaissance is a not-for-profit organization dedicated to beautifying Sullivan County, a once thriving section of mid-state New York nestled in the Catskills.
Sullivan Renaissance Steering Committee Chair Sandra Gerry said, "We are excited to be able to provide a setting to make these tools and resources available to our volunteers. Solar powered street lamps represent an opportunity for communities to make connections between beautification and environmental issues."
Contact
About Hadco® Lighting Founded in 1954, HADCO is considered one of the premier manufacturers of commercial decorative and landscape lighting equipment in North America. The company is a subsidiary of the Genlyte Group. Additional information about Hadco is available by visiting our website at www.hadco.com, or by calling us at (800) 331-4185. Contact your Hadco representative about specifications and ordering information for this custom product. About SolarOne® Solutions SolarOne Solutions provides simple and effective autonomous solar powered solutions for high value commercial applications. The company developed its patent-pending MC2 Control Technology to power its HL (High Lumen) LED lamps for general outdoor illumination purposes with unparalleled efficiency and reliability. For further information on SolarOne® visit www.solarone.net, e-mail us at info@solarone.net or call Toll Free (877) 527-6461. About Sullivan Renaissance Sullivan Renaissance provides communities with seed money to compete in a beautification contest, while building a sense of pride and spirit in the community. Sullivan Renaissance is a program of the Beaverkill Foundation with support from the Gerry Foundation. For more information, visit www.sullivanrenaissance.org or call (845) 295-2445.
E-mail:igreene@solarone.net
Web Site:http://www.solaronesolutions.com