American Bright introduces comprehensive line of LED based LCD Backlights
Jan 24th, 2007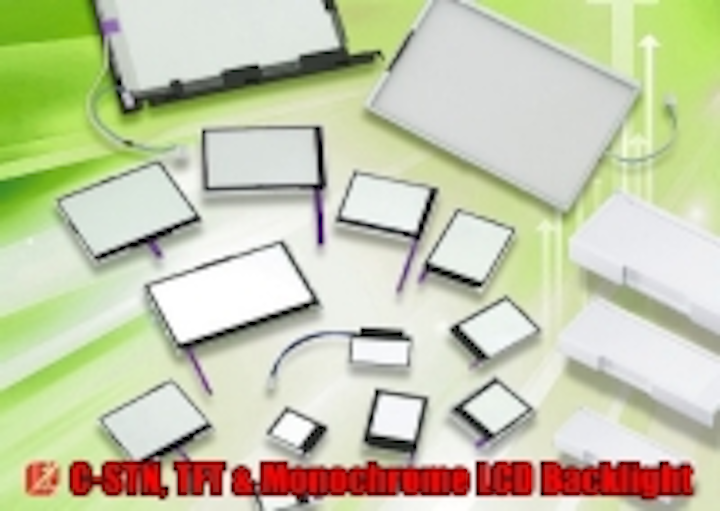 Date Announced: 24 Jan 2007
American Bright Optoelectronics Corporation announces the introduction of a comprehensive line of LED based LCD Backlights
American Bright brings industry leading LED technologies to the LCD Backlighting market with a broad line introduction of STN, TFT and Monochrome compatible standard backlights.
Chino, Ca. January 23, 2007 – American Bright Optoelectronics announced today the introduction of a full line of LCD Backlights based on their industry leading LED technologies. Backlights that meet the needs of STN, TFT and Monochrome LCDs are available in a wide range of sizes and interface characteristics. Quarter VGA (QVGA) sizes down to dual and single character sizes have been tooled to provide designers an unparalleled level of flexibility and design freedom.
Backlight modules are available for standard character displays in most common sizes in a wide variety of colors as well as backlights designed to provide maximum brightness and contrast for graphic display modules. Modules utilize both edge light technologies and light bank technologies that will provide designers the appropriate level of uniformity for the application they are designing for. Backlights for battery powered and handheld devices such as PDA, wireless communication, GPS and test instrumentation take advantage of the lower power consumption and uniformity. While consumer grade interfaces such as thermostatic controls, household appliances, SOHO (small office/home office) equipment and security system interfaces will benefit from the high quality to low cost ratio.
"American Bright has been providing LCD backlighting solutions to individual customers on a custom basis for many years," commented George Lee, American Bright Optoelectronics President and CEO. "After careful research and analysis, we decided that the integration of our backlighting technologies is an American Bright core competency and should be made available as a standard product line."
Where a standard off the shelf backlight solution is not possible, American Bright provides custom backlight design and manufacturing services. Using state-of-the-art computer aided design tools American Bright can help designers develop the ideal backlight solution for their application. American Bright has successfully provided backlighting products for a wide segment of the Electronics Industry including consumer products, industrial control, dispensing and metering industries.
American Bright maintains a talented staff of industry veterans in their Chino, California headquarters to help designers define their project scope and secure a competitive quotation. Please contact the factory for further information toll free at 1-888-533-0800, or visit American Bright online at www.americanbrightled.com.
About American Bright Optoelectronics
American Bright Optoelectronics is a subsidiary of Taiwan-based Bright LED Electronics Corporation, a recognized leader in the research, engineering, manufacturing and marketing of LED components to major markets worldwide. Formed as the marketing organization for the Americas and Canada in 1995, American Bright has enjoyed sustained growth while introducing several innovations to a wide variety of markets.
Conscious of their global responsibility to the environment, the majority of products are produced with lead-free, RoHS compliant materials and processes. Bright LED Electronics and American Bright Optoelectronics are ISO9001:2000; ISO 14000: 2004 and TS16949 certified.
Contact
For more information or to receive a catalog, contact American Bright Optoelectronics Corporation 13815-C Magnolia Ave., Chino, CA 91710 Tel: (909) 628-5050 Fax: (909) 628-5006 Toll Free (888) 533-0800
E-mail:info@americanbrightled.com
Web Site:http://www.americanbrightled.com