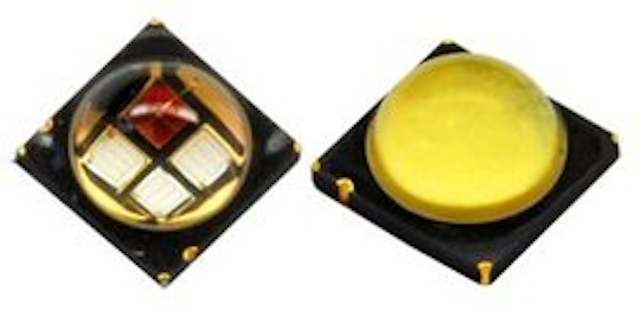 Date Announced: 19 Aug 2007
LedEngin unique design enables ultra small packages with industry leading luminous output and power density. Typical production luminous efficacy for white is 80lm/W @ If = 350mA, laboratory results exceed 100lm/W @ If = 350mA.
LedEngin LZ series offers 3W, 5W, 10W and 15W LED products. LZ series have maximum continuous current ratings up to 1,500mA.
LedEngin proprietary materials and manufacturing processes deliver 90% lumen maintenance after 100,000 hours when driven at nominal power.
LedEngin products use glass lenses and special optical grade silicone gels that are insensitive to conditions of extreme heat, humidity and UV light. LZ series products passed the most stringent industry reliability tests; Wet High Temperature Operating Life (WHTOL) tests (85ºC/85%RH/1050mA) up to 4000 hours and Autoclave testing per JESD22 A-102-C Condition D (135ºC/168hrs/100% RH/2 ATM) without any effects of browning, crazing or bubbling, thus enabling extreme stable performance on critical optical properties such as luminous flux and color. These achievements significantly surpass any available high power LEDs on the market.
LZ series white products use a LedEngin proprietary phosphor technology that thermally insulates the phosphor layer from the LED die. This technology not only eliminates temperature hot spots in the phosphor layer, thus preventing phosphor browning, it also provides a very consistent white color distribution across the viewing angle of the LED.
The 10W package is also available with RGB colors. Each color is individually addressable and uses LedEngin state of the art binning scheme for flux, color and Vf, allowing for precise tuning of any x-y point in the color gamut.
LZ series product features make it ideal for applications where space is limited, highest lumen density are required, color control is desired and extreme long term reliability is a must.
LedEngin LZ series are in popular demand for applications such as general lighting, street lighting, full color architectural lighting, entertainment lighting, shop lighting, stage & studio, portable lighting, medical, dental and industrial curing.
Package Options
• LZ 3W & 5W package dimensions are 4.4mm x 4.4mm x 3.1mm.
• LZ 10W & 15W package dimensions are 7.0mm x 7.0mm x 4.1mm.
Wavelength Options
• Single-Wavelength options: White, UV, Blue, Dental Blue, Green and, Red
• Tunable Multi-Wavelength options: RGB, Dental Blue + UV, custom options
Typical production luminous flux levels
• White; 3W package: 140lm@700mA/2.3W
• White; 5W package: 180lm@1000mA/3.6W
• White; 10W package: 430lm@700mA/9.5W
• White; 15W package: 550lm@1000mA/14W
• UV; 5W: 1000mW@1000mA; 10W: 2.6W@700mA
Other features
• Maximum junction temperature: 150ºC
• 8000V Class 3B ESD rating per JEDEC Standard, JESD22-A114D (HBM)
• IPC/JEDEC Moisture Sensitivity Level 2 (1year floor life)
• 6x Lead Free reflow solderable
• RoHS compliant
About LedEngin, Inc.
LedEngin, Inc. develops and manufactures industry leading high-power LED components and solid-state light engine modules for variety of applications. Its patent pending unique technologies in thermal management, stress management, optical design, and manufacturing processes deliver LED components and subsystems with industry leading performance enable emerging applications to reach volume production quickly.
Contact
LedEngin, Inc. +1 408 492 0641 or +1 408 492 0620
E-mail:info@ledengin.com
Web Site:www.ledengin.com