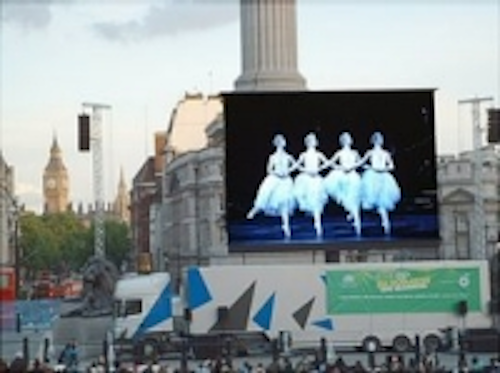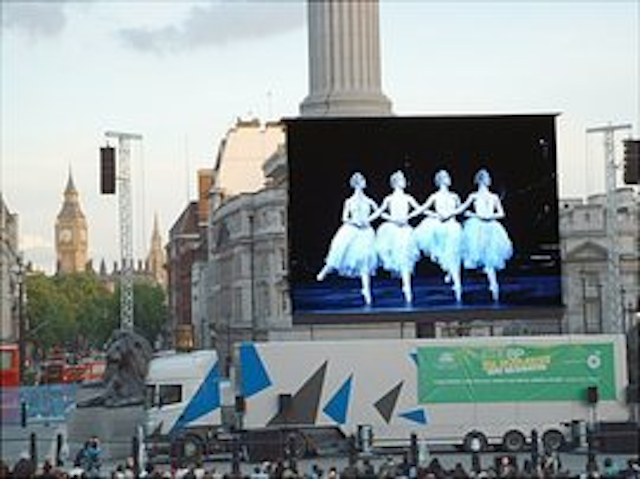 Date Announced: 02 Aug 2007
-- Massteknik debuts its new Diamond Vision screen in Trafalgar Square.
The latest addition to Massteknik's fleet of mobile LED video screens made its London debut at the end of May.
The new Mitsubishi Electric Diamond Vision OD12 relayed live images from the Royal Ballet's performance of Swan Lake to an audience of thousands gathered in Trafalgar Square.
The screen was one of eleven systems provided by the Swedish company for the BP Summer Big Screens programme – a series of free outdoor events up and down the country. This year was the fourth year the company has provided large screen video systems for the Trafalgar Square venue.
Massteknik's new Diamond Vision screen is one of the largest high-resolution mobile video screens in Europe at over 70 square meters. Widely used across Europe, Mitsubishi Electric's 12mm OD12 screen has proved an extremely popular all-round screen technology in both modular rental format and fixed installation.
Delivered just one week before its appearance in London, Massteknik's new Diamond Vision screen has already appeared at the GP Live racing at Donington Park, horse racing at Goodwood and several other high-profile public events as far apart as London and Gothenburg.
Massteknik operates 14 mobile screens around Europe, providing systems for a wide variety of prestigious events such as the Formula One Grand Prix, various motor shows, television shows, film festivals and concerts. The company has also provided large screen video systems to every Olympic Games since 1998.
Christopher Milnes, managing director of Massteknik UK, commented, "We are delighted with the new Diamond Vision system. It has performed extremely well at today's event. Diamond Vision has an excellent reputation for quality and reliability, and the OD12 in particular is a very versatile screen, which is obviously an important quality to have in a rental system."
Commenting on their choice of Diamond Vision, Christopher continued, "As well as it's excellent image quality and contrast, we were especially impressed with Diamond Vision's long-term performance: Being a tried and tested technology, we can have a great deal of confidence that screen uniformity and light output will remain good over a long period of time. A system like this is a significant investment, so build quality and longevity are very important factors in our ability to generate a return on that investment."
Contact
Steve Halliday, Managing Director Mitsubishi Electric Europe Tel: +44 (0)1689 896466
E-mail:info@diamondvision.nl
Web Site:www.diamondvision.nl