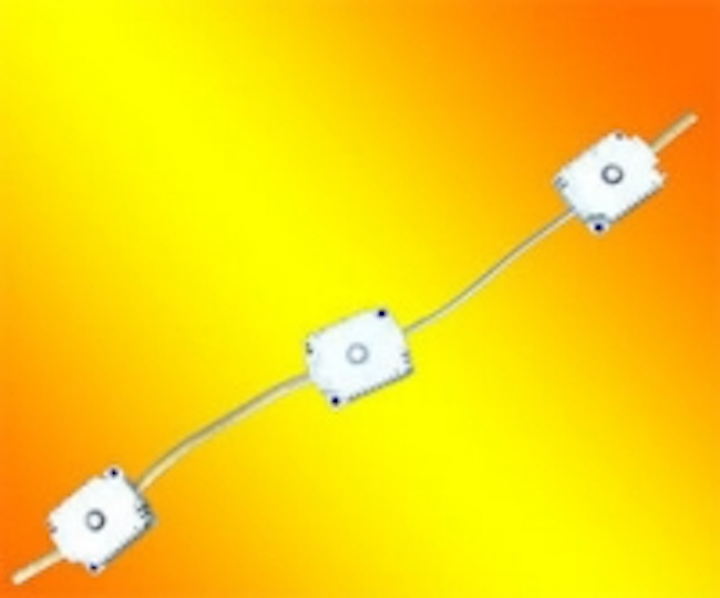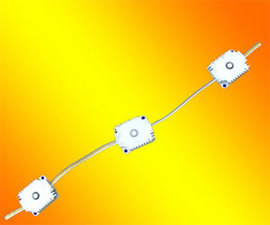 Date Announced: 28 Aug 2007
ATG Electronics® Xmodules™ are easy to configure and may be employed for countless proposes such as lighting channel and reverse-channel letters, signs, displays, under-the-counter lighting, architectural applications, emergency exit lighting and entertainment venues.
Sealed weather-resistant construction makes these lights suitable for indoor and outdoor applications. The impermeable construction and insulated wires prevent moisture and dust from entering the housing and affecting the electronics. The hard-wired connection between LED modules results in outstanding reliability in outdoor applications. Xmodules are easy to install. Each module may be fastened to a surface with either double-sided tape or with two screws per module.
Solid-state design renders LEDs impervious to shock, vibration, frequent switching and environmental extremes. With an average life span of 100,000-plus hours (11 years), LED lamps operate more than 20 times longer than the equivalent incandescent lamp! Savings from reduced maintenance costs and downtime quickly return the capital investment expenditure! LED lamps produce almost no heat and require 80% - 90% less operating power than equivalent incandescents, making them as friendly to the environment as they are to the operating budget.
Features and benefits:
-High power LEDs, with chips from NICHIA or OSRAM, with high brightness and light efficiency.
-Colors available with Red, Yellow, Blue, Green White and Warm White.
-With IP68 protection degree, the waterproof module can operate normally in cloudy, rainy and snowy weather conditions.
-With 3M double-sided sticking tape for easy installation.
-Operating life up to 100,000 hours; no maintenance; low heat; low energy consumption.
-Three modules per row, with 3.6W power consumption, 12VDC working voltage.
-36 pcs modules per string, every 3 pcs per cut.
About ATG Electronics Inc
ATG Electronics, Inc., established in 1999, has been dedicated to design, produce, distribute and license lighting emitting diode (LED) controllable digital decoration and illumination lighting systems.
Contact
ATG Electronics Inc. ---Light your world, color your life. International Sales Department Tel: +86-21-58355963 Fax: +86-21-58355965
E-mail:sales@atgelectronics.com
Web Site:www.atgelectronics.com