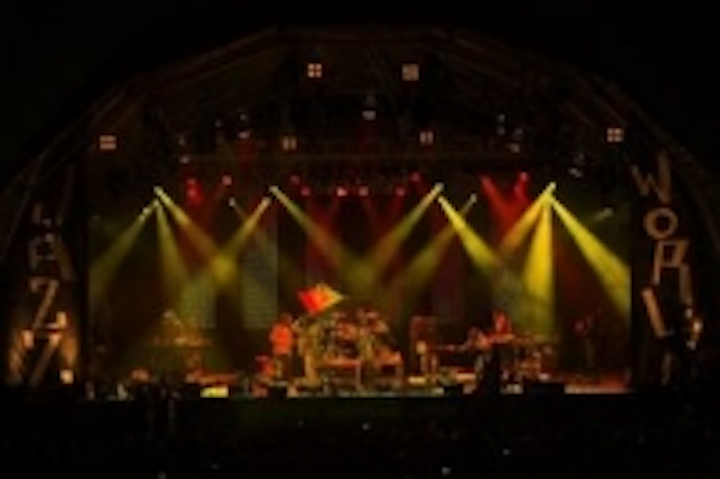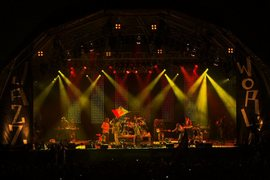 Date Announced: 09 Aug 2007
DPL Production Lighting Ltd used Chroma-Q™ Color Web 125 and a Hippotizer media server to provide a high resolution visual effects backdrop for the Jazz World Stage at this year's Glastonbury Festival.
DPL is one of the first UK production companies to purchase the new 125mm version of the popular LED webbing system and has used it on a number of events since adding the panels to its rental stock. The company provides its production and lighting design services to a broad client base which includes the architectural lighting, concert, fashion, multi-media and corporate events sectors.
Owner Darren Parker had already taken a large quantity of Chroma-Q™'s Color Block multi-purpose LED fixture into rental stock for use on various projects, so decided to investigate their Color Web when he needed to source a video-based, easily configurable LED display surface.
Darren needed a high resolution visual effects backdrop to use as part of his production lighting pitch for the Jazz World Stage at Glastonbury, so after seeing the Color Web in the press and on TV, he contacted Chroma-Q™ exclusive distributor A.C. Lighting to arrange a demo.
He commented: "I was amazed that I could still see the Color Web in daylight after walking about 175 metres away from it, so knew it would be ideal for the all-day lineup on the stage."
Featuring 64 colour mixing LED cells with a pitch of 125mm for double the resolution per square metre compared to the original 250mm version, the new Color Web 125
offers increased flexibility and improved results for displaying more detailed video content.
Darren pitched his idea to the festival using the Color Web 125 and won the contract to supply all production lighting, rigging and trussing for the Jazz World Stage.
The Color Web was configured as 6 separate 5m long backdrops spaced evenly apart upstage and controlled by a Hippotizer media server connected to a lighting console, which was fed a wide variety of high resolution custom and library video clips and still images. Content included geometric and abstract images, wavey lines and flame effects.
DPL busked the Color Web video feed for nearly all performances throughout the 3-day music festival, for artists including Damian Marley, Rodrigo y Gabriela, Corinne Bailey Rae, Fat Freddy's Drop, AIM, Gus Gus, The Bees, Guillemots and Amp Fiddler. They also ran the web and moving lights during several guest LD slots on the generics for artists including John Fogerty.
DPL owner Darren Parker commented: "The Color Web was brilliant. Because it works as a lighting fixture we were able to trigger video content from the console and really easily colour match it with the moving lights and generics to get some great overall looks. It's a very simple but effective solution for dressing the stage."
The Chroma-Q™ Color Web is designed and manufactured by Artistic Licence and distributed worldwide by A.C. Lighting. Please include this statement in any Color Web editorial published.
Chroma-Q™ Color Web is licensed by Artistic Licence, Color Kinetics and Nexxus Lighting.
Contact
International Sales Enquiries: please contact A.C. Lighting Ltd. on +44 (0)1494 446000. North American Sales Enquiries: please contact A.C. Lighting Inc. on +1 (416) 255 9494, email northamerica@aclighting.com.
E-mail:sales@aclighting.com
Web Site:www.aclighting.com