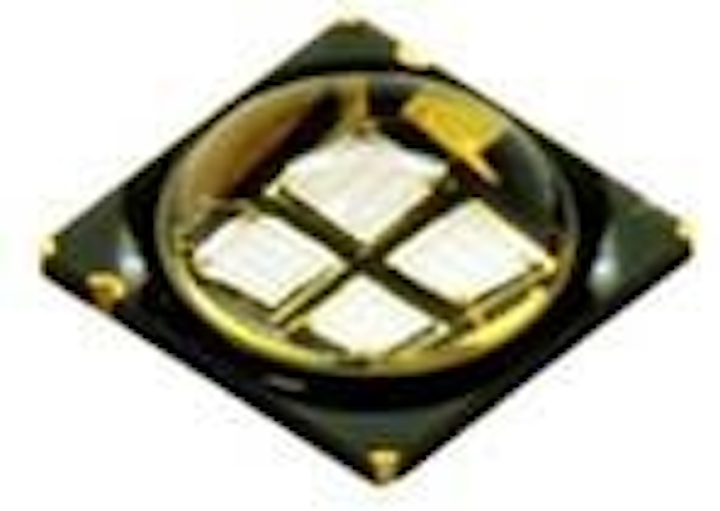 Date Announced: 09 Aug 2007
LedEngin, Inc. announces production release of its next generation 5W Ultra Violet (UV), 10W UV and 15W UV and multi-wave length UV based products
-- Worlds highest radiometric flux density UV-based products enable a variety of new applications)
Santa Clara, CA. — LedEngin, Inc. today announced production availability of its 5W, 10W and 15W UV based multi-wave length products. The UV wavelength of these products ranges from 390nm to 410nm. LedEngin's patent pending surface mount ceramic package and glass lens has been designed to provide for unparalleled optical and thermal performance while meeting the industry toughest reliability standards.
All UV products have passed 168 hours of Autoclave (121°C, 2ATM, 100% RH) and 1000 hours of Wet High Temperature Operating Life (WHTOL) test (85°C/85%RH/1A). Since the Autoclave test standard is considered to be the most stringent qualification test for medical applications, LedEngin UV based products now enable a variety of applications to include LED based dental curing, teeth whitening, forensic, sterilization and other industrial curing applications.
The 5W package (LZ1-00UA05) emits typically 0.9W, the 10W package (LZ4-00UA10) typically 2.2W and the 15W (LZ4-00UA15) typically 3.0W of radiometric power, setting new industry records for UV LED products. In addition to the UV products, LedEngin 10W package (LZ4-00D110) can be tuned to offer variable wavelengths between UV (390nm to 410nm) and Blue (457nm to 470nm) wavelength ranges.
The LedEngin 5W product is ultra small (4.1mm² x 3.1mm) and therefore provides the highest power densities in the industry. Its small size provides more design freedom for medical and portable applications for example when the light source requires to be mounted into the tip of a dental wand. This product is also available on a Miniature MCPCB (d=11mm) for easy heat sinking.
The LedEngin 10W multi wavelength product (LZ4-00D110) allows controlling multiple wavelengths for example when different dental curing materials require different mixes of wavelengths and radiometric flux. The radiometric power performance and optimal peak wavelengths of this product are matched to the response curves of many dental resins, resulting in a significantly reduced curing time. This product is also available on a Standard MCPCB.
The LedEngin 15W product generates the industries highest flux per package. The products one-of-a-kind design allows the package to be mounted directly onto a heat sink eliminating the need for a MCPCB. The elimination of the MCPCB interface significantly reduces the system thermal resistance allowing drive currents of 1A generating unprecedented flux levels.
We are excited to enable a host of applications requiring ultra high power UV based LED lighting" said David Tahmassebi President and CEO of LedEngin. "Traditional UV lamps are bulky; expensive with short life span requiring UV bulbs to be replaced often. LedEngin new UV and multi-wave length UV is making headway in medical, portable and a host of others applications. We look forward to supporting our customers in this new endeavor." added Tahmassebi.
About LedEngin, Inc.
LedEngin, Inc. develops and manufactures industry leading high-power LED components and solid-state light engine modules for variety of applications. Its patent pending unique technologies in thermal management, stress management, optical design, and manufacturing processes deliver LED components and subsystems with industry leading performance enable emerging applications to reach volume production quickly.
Contact
Leonard Livschitz Tel. +1 408-492-0622
E-mail:info@ledengin.com
Web Site:www.ledengin.com