Polymer Optics Ltd Colour Mixer Optic goes Universal
Mar 2nd, 2007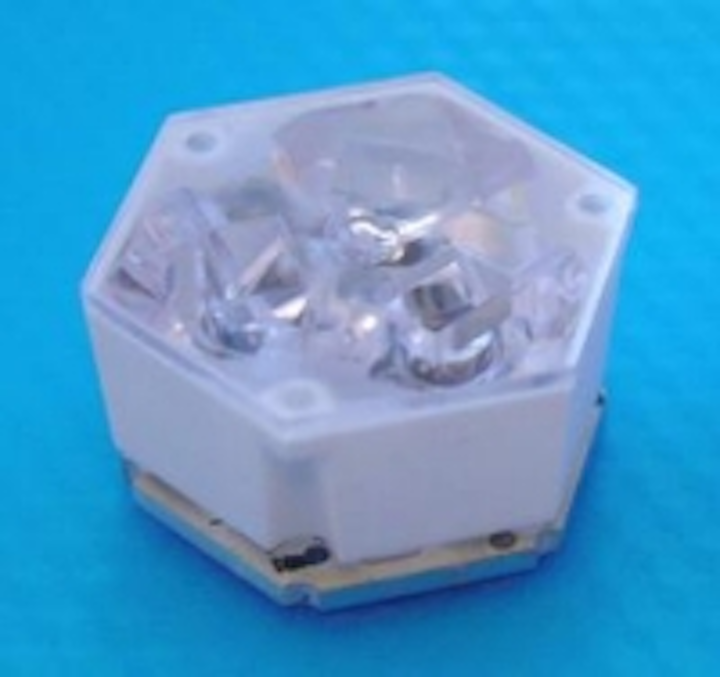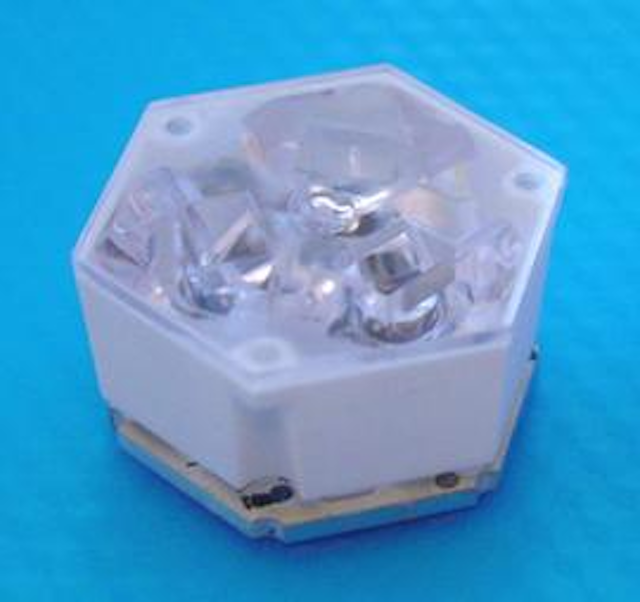 Date Announced: 02 Mar 2007
The revolutionary Colour Mixer Optic from Polymer Optics Ltd (POL) mixes red/green/blue LED combinations to achieve a narrow 6° beam and through its patented prismatic light mixing system, delivers a homogenous output close to its exit aperture.
Designers can now have a proper close colour mix helping achieve even wall wash tones and reduced multi-colour shadow affects. The Colour Mixer range also has a selection of snap-on converter plates: to soften the beam; hold diffractive light shaping diffuser and colour filters; or convert the beam to a 25° or 6°x25° beam profile.
The optic is now available for universal compliance with all leading LED types with versions available for use with all Luxeon devices, Osram Dragon, Cree, Seoul Semiconductor, Edison and most other leading manufacturers.
With the assistance of Universal Science Ltd., a metal core printed circuit board (MCPCB) is available from POL, together with thermally conductive "Bondline Tape" adhesive and a thermally matched heat sink. This allows customers to rapidly test and incorporate the POL Colour Mixer technology into their products.
The POL Colour Mixer range has also been designed with product integration in mind, such that the beam converter optics provide a flange feature for a variety of bezels and housings to mount onto. The bezels can be provided by POL by low cost precision laser cutting, or can be simply manufactured by the end user to suit their final luminaire assembly.
POL, the first optical European Certified Lumileds/Future Electronics Luxeon Solutions Partner, has led the way in many innovations enabling the use of the Luxeon LED product range. POL has been design products around the Lumileds LED devices since year 2000, using the early "Barracuda" devices before they were launched as the now well know Luxeon range.
POL have continued to successfully design with the Luxeon devices for a wide variety of applications such as: colour signalling; entertainment lighting; close packed arrays of medical illumination; display backlighting and mobile telephone camera flashes.
POL is also achieving similar success within the "LED Light for You" Osram partner network, helping to produce some very innovative down-lighter products.
Contact
Chris Ferrari - Commercial Director Polymer Optics Limited 6 Kiln Ride, Wokingham, Berkshire RG40 3JL, England Tel/fax: +44 (0)118 989 3341
E-mail:info@polymer-optics.co.uk
Web Site:www.polymer-optics.co.uk