ANC Sports LED display enhances game day experience for Tigers fans
Mar 29th, 2007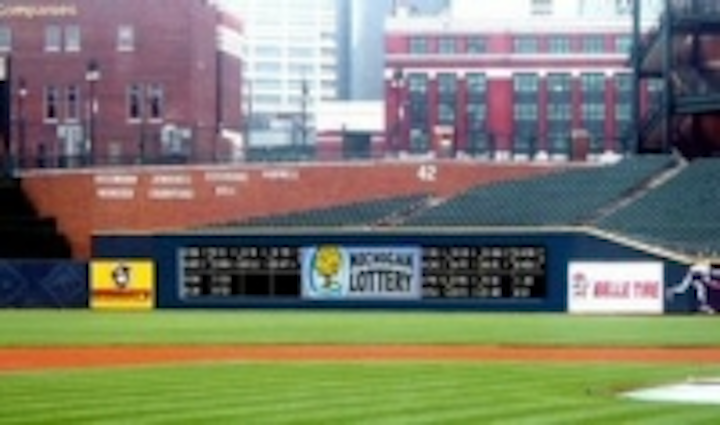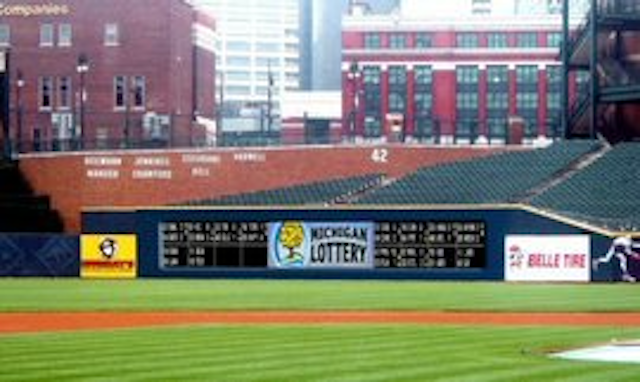 Date Announced: 29 Mar 2007
The Detroit Tigers will defend the American League Championship in front of a new state-of-the-art signage system at Comerica Park that will bring to life the ballpark's fascia and outfield wall with full motion video and real-time statistics.
ANC Sports Enterprises today announced a multi-year agreement with the Detroit Tigers to supply and control a 25mm SMARTVISION® light emitting diode (LED) signage system. Beginning with the 2007 Major League Baseball season, Comerica Park will feature a video board in the outfield wall, over 900 feet of animated fascia signage and an additional matrix display on the centerfield scoreboard.
"We strive each off-season to look for ways to improve the Comerica Park experience for our fans both on and away from the field," said Tigers' Senior Vice President of Business Operations, Duane McLean. "ANC Sports innovative signage and software solutions will create an energetic game day atmosphere, while increasing the impact of our sponsorships programs."
The new signage system will deliver vibrant in-game visuals, team animations, real-time statistics, out of town scores and advertisements. ANC will create captivating sponsor and team content, as well as statistical templates for the entire signage system while controlling event visuals through its VisionSOFT operating system. ANC's Data Interface Solution (DIS) will allow the VisionSOFT software to display real-time statistics or out of town scores in conjunction with sponsor or team messages.
"The Detroit Tigers have one of the most storied histories in Major League Baseball and we are excited to begin a long-term partnership with the organization," said Jerry Cifarelli, president of ANC Sports Enterprises. "We look forward to utilizing the flexibility of our technology to enhance the event experience at Comerica Park for Tiger fans while creating new opportunities for the team's corporate partners."
LED technology will highlight three sections of the fascia on the lower tier suite level, animating both the right and left field lines with full motion team graphics, player information and advertisements. The electronic outfield wall will highlight approximately 6½' by 67' and replace the scoreboard embedded in the right-center field, displaying game statistics and out of town scores with the ability to transform into full motion video. The 4' by 53' full color display on the centerfield scoreboard will compliment the existing video screen and matrix displays.
The agreement secures ANC's presence in 16 Major League Baseball stadiums for the 2007 season. In addition to the Tigers, ANC Sports roster of MLB partners includes the Atlanta Braves, Baltimore Orioles, Boston Red Sox, Chicago Cubs, Cleveland Indians, Houston Astros, Milwaukee Brewers, New York Mets, New York Yankees, Pittsburgh Pirates, San Diego Padres, San Francisco Giants, Seattle Mariners, Toronto Blue Jays, and Washington Nationals.
About ANC Sports
ANC Sports Enterprises, LLC, a full service marketing company, specializes in providing complete signage solutions that generate maximum sponsorship and advertising revenue while enhancing the overall fan experience. ANC Sports and its divisions: ANC Technologies, ANC Design, and ANC Marketing, offer Light Emitting Diode (LED), rotational and fixed visual displays; advanced media control systems; signage operation and maintenance; marketing consultation; graphic design; and printing production. ANC Sports provides signage solutions for 150 plus venues/stadiums in North America.
Contact
MICHAEL HOPKINS, Manager, Public Relations, ANC Sports Enterprises TEL .914.696.2100 X139
E-mail:mhopkins@ancsports.com
Web Site:www.ancsports.com