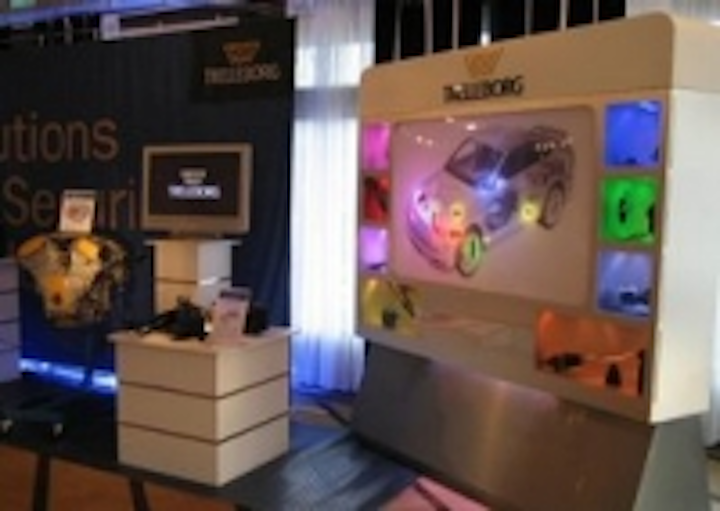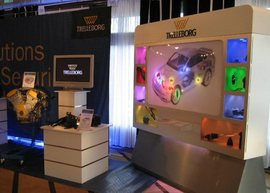 Date Announced: 01 Mar 2007
Product diversity opens opportunities to Exhibition Market
Leisuretec Distribution has supplied Pulsar Chroma LED fittings for a unique interactive exhibition stand for Swedish automotive company Trelleborg. This high-level project utilised LED in an unusual manner, showcasing the products diversity.
Traditionally used in bar, club and hotel installations, Design Company KXK, used the fittings to build a high-tech interactive stand using Pulsar Chroma's & Pulsar control - a unique application opening up design opportunities to the exhibition industry.
The brief from Trelleborg, a World wide industrial manufacturing company producing thousands of components for the automotive and aerospace industries, was to showcase their range of products in a way that people hadn't seen before.
The stand was revealed at Trelleborg's Investors AGM in Stockholm. The key was to be interactive, using LED and innovative technology to bring the stand to life in colour. Eight boxes each containing real product were constructed using technology to enhance the user experience.
"It was a substantial piece of equipment using a clean design," explained KXK designer, Jeremy Aird. "The stand comprised four display boxes each side with a large car graphic in the middle. As the investor pressed each button on an aluminium control panel, the corresponding part highlighted on the graphic and the box highlighted the product in the same colour."
"The Pulsar products we bought in from Leisuretec were ideal for this application," continued Aird. "Because of the flexibility of LED and the Pulsar 0S1 Key Pad unit we decided we didn't need sophisticated computers, but could programme light changes straight into the unit. The effect was very high-end with customer feedback reporting the stand was the highlight of the event."
Following the AGM the stand has been shipped to Trelleborg's Head Office and placed in their reception for continued use.
Contact
For further information of images, contact Anna Morgan, Media Ink PR T: +44 (0)7909 905 882 / mediainkpr@onetel.com
E-mail:a@b.com
Web Site:www.leisuretec.co.uk