Dialight Introduces Highly Energy Efficient StreetSENSE RS Series LED Roadway Sign Light
Feb 22nd, 2010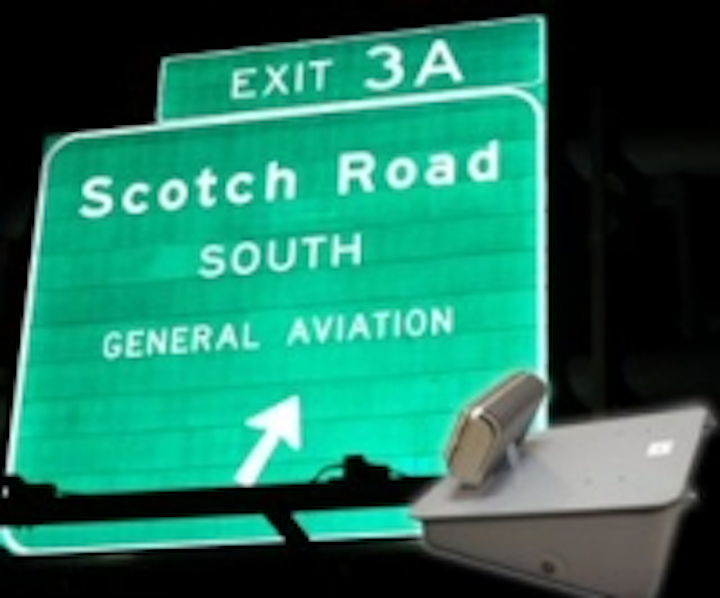 Date Announced: 22 Feb 2010
-- StreetSENSE RS Series effectively directs light where it's needed, reduces energy consumption and dramatically cuts maintenance costs by eliminating the constant replacement of expensive outdated mercury vapor and metal halide fixtures
Farmingdale, NJ –– Dialight (LSE: DIA.L), an innovative global leader in LED lighting technology, today introduced the StreetSENSE RS Series LED Roadway Sign Light, a highly energy efficient "green" solution that provides unmatched quality of light, effectively directs illumination, reduces energy consumption and cost, and dramatically cuts maintenance requirements. The highly efficient, long lasting StreetSENSE RS Series solves the problem that sign owners face of constantly replacing their expensive mercury vapor and metal halide fixtures.
The Dialight StreetSENSE RS Series combines precision optics and the latest in advanced, patent-pending LED technology to meet the most demanding specification criteria for road sign lighting. Designed to easily replace outdated mercury vapor and metal halide fixtures, the StreetSENSE RS Series' ultra-low power consumption delivers 60-70% energy cost savings over the typical 250+W fixtures commonly used for road sign lighting.
Operating on considerably less energy to deliver superior, efficiently directed light makes the StreetSENSE RS Series the optimum cost effective alternative to old fashioned conventional lighting. Its mercury-free, energy-efficient operation is also far more environmentally friendly, reducing CO2 emissions, one of the primary greenhouse gases contributing to global warming.
"Dialight StreetSENSE RS Series introduces a new direction in roadway sign lighting that is highly reliable, effective and low cost to operate as well as extremely energy efficient," commented Roy Burton, president and CEO of Dialight. "With recent government legislation, including the Federal Energy Policy Act and the Energy Independence and Security Act, mandating that mercury vapor lamps and all 150-500 watt metal halide fixtures must be replaced with more energy efficient alternatives, we're confident that the StreetSENSE RS Series is well positioned to emerge as a strong market leader."
The Dialight StreetSENSE RS Series' rugged construction, lamp assembly and housing make these LED fixtures weather and corrosion resistant and impervious to roadway vibration and shock. Their projected service life of ten years, with more than 70% lumen maintenance after 60,000 hours of operation, essentially eliminates the need for lamp replacement. As a result, the StreetSENSE RS Series LED solution is virtually maintenance free. This slashes both equipment and labor costs over conventional lighting systems, and lessens maintenance workers' exposure to risk on busy highways.
Dialight offers complete fixture assemblies for new, retrofit or complete replacement applications including a unique LED retrofit cover assembly kit option that will adapt to most installed conventional fixture boxes. The retrofit makes the conversion simple, fast, easy and low cost.
The Dialight StreetSENSE RS Series 70 Watt and 100 Watt LED fixtures are available in Cool White and Neutral White. The LED fixtures are ETL certified to UL 1598, CSA and compliant to IES standards. The StreetSENSE RS Series is available through Dialight's global network of authorized distributors. Please visit www.dialight.com for more information including IES files and product catalog information.
About Dialight
Dialight (LSE: DIA.L) defines the current state of LED lighting technology with continuous innovations in light output, efficacy and reliability for their complete line of high-specification lighting fixtures specifically designed for industrial, commercial, hazardous location, transportation & infrastructure applications. These results are directly related to the company's ongoing commitment to advancing solid-state lighting products that vastly reduce maintenance, improve safety, ease disposal, and are more environmentally friendly – thereby helping to reduce CO2 emissions, the dominant GHG contributor to global warming. The company is headquartered in the UK with operations in the USA, UK, Germany and Mexico. More information about the company, its LED products and solid-state lighting technologies can be found at www.dialight.com.
Contact
Erin Nemes SS|PR 103 Carnegie Center, Suite 113, Princeton, NJ 08540 (609) 750-1646
E-mail:info@dialight.com
Web Site:www.dialight.com