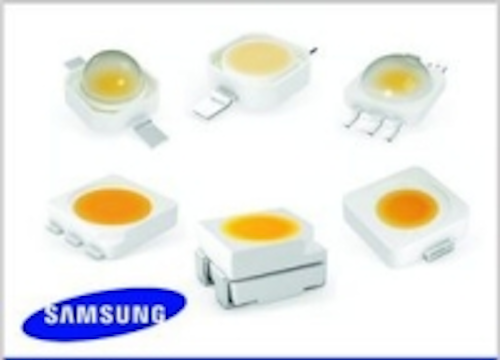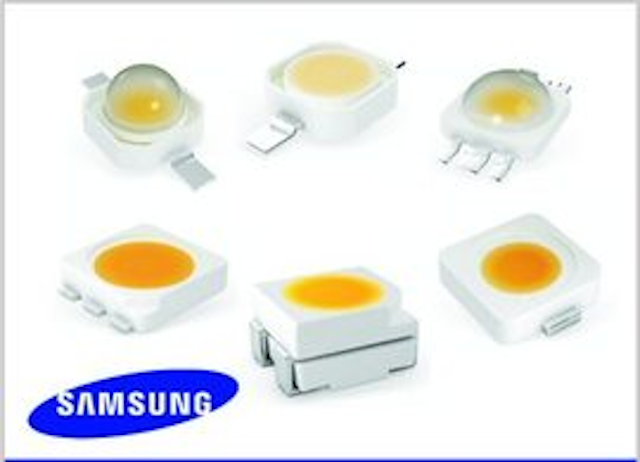 Date Announced: 22 Feb 2010
YEG Opto, the opto electronics division of Young Electronics Group, is pleased to announce their new partnership with Samsung to distribute their range of Medium and High Power LEDs in the UK and Ireland.
Building on their already successful LED manufacturing business, Samsung offer a growing range of medium and high power LEDs for general lighting, street lighting and signage applications. Samsung are transferring their LED manufacturing expertise into the lighting business by utilising their established global facilities (from chip making to the final package) and overall LED know how which have been developed from LEDs for TVs, mobile phones and laptop computers
Samsung's mid power LED range (> 60mA) covers the complete white spectrum from cold to warm white within a tight binning scheme. The performance of the LEDs is furthermore characterised by an excellent thermal resistance and a high lumen to cost output. In early 2009 Samsung released their first 1 Watt chip (90lm).
Divisional Manager for YEG Opto Karen Dixon commented, "We are very excited at this new Franchise opportunity. Samsung are already a global leader in LED manufacturing and the timing is just right for Samsung to bring their expertise to the Lighting LED market.
"We see a massive potential in areas such as VMS, street lighting and florescent replacements in the next five years and the considerable investment Samsung is committing to product development and manufacturing, places them in an ideal position to become a global player servicing and influencing this market. The addition of Samsung LEDs to our range is a perfect compliment to our existing LED suppliers."
YEG Opto specialises in the supply, integration and distribution of LED products and associated components to OEMs and CEMs. Together with their manufacturing partners and group resources, YEG Opto offer a complete package from design-in support to the supply of world leading LED products and associated technologies including Lighting and Indicator LEDs, Drivers and Controllers, Secondary Optics, Thermal Solutions, Sub Assembly Services and Logistics.
Contact
Karen Dixon – Divisional Manager YEG Opto Young Electronics Group Coronation Road High Wycombe, Buckinghamshire HP12 3TA United Kingdom Tel: +44 (0)1494 753500
E-mail:karen.dixon@youngelectronics.com
Web Site:www.yegopto.co.uk