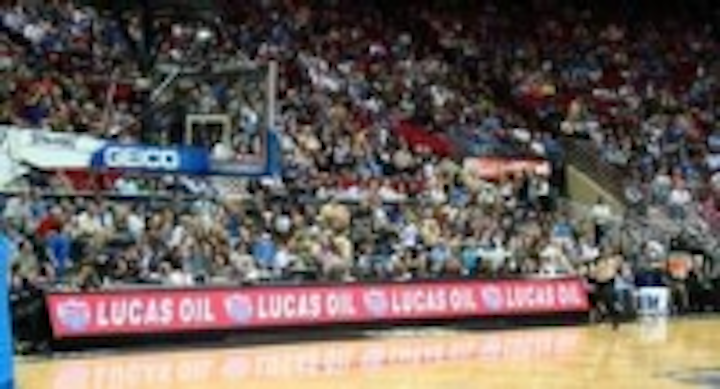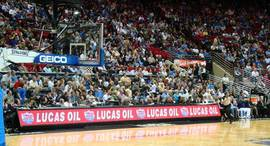 Date Announced: 08 Feb 2010
BROOKINGS, S.D. –– Orlando Magic fans are enjoying a new digital addition at games this season. Daktronics (Nasdaq-DAKT), in partnership with Van Wagner Dorna U.S.A. and the Magic, provided five sections of its popular LED scorer's tables.
The five digital scorer's tables are configured into a single courtside display measuring approximately 48 feet wide, showing crowd prompts, event information and sponsor messages, with the ability to display real time statistics and out of town game scores.
The proven design of the full-color LED tables was modified to meet the National Basketball League's requirements for player safety. Gas-loaded springs incorporated into the updated design allow the entire face of the display to "give" should a player or referee run or bump into the display.
"We feel that LED technology does indeed provide a better in-venue experience for fans with its incredible wide-angle visibility, while also showing very well for the television audience," said Steve Griggs, Executive Vice President of Sales and Marketing for the Magic. "And our corporate partners love the flexibility to change messages quickly and easily, as well as the potential for even greater engagement with fans. We are looking forward to having this kind of display integrated with the rest of the Daktronics LED system in the new building next season."
"The addition of this courtside LED system is an important milestone in the evolution of our relationship with Daktronics and the Magic," said John Haegele, CEO of Van Wagner Dorna U.S.A. "Over the years, Daktronics signage has continued to exceed our expectations with respect to performance and enhanced advertising opportunities for our clients."
About Van Wagner Dorna LLC
Van Wagner Dorna U.S.A., LLC, a wholly owned subsidiary of Van Wagner Communications, LLC, is the pioneer and industry leader of the in-game, perimeter advertising seen on the courts and fields of hundreds of NBA, NCAA and MLB teams. Van Wagner Dorner U.S.A. is headquartered in New York, N.Y. They place brands in front of millions of fans viewing games in-venue and on television. For more information, check out the Van Wagner Dorna U.S.A. website (http://www.vanwagnersports.com).
About Daktronics
Daktronics was recently awarded the contract to provide a large integrated system for the new Amway Center under construction in Orlando. The company currently has scoring or display systems installed at 19 of 29 NBA venues.
Daktronics is recognized as the world's leading provider of full-color LED video displays. Daktronics began manufacturing large screen, full-color, LED video displays in 1997. Since then, over 6,000 large screen video displays have been sold and installed in sporting and commercial facilities around the world. Since 2001, independent market research conducted by iSuppli Corp. lists Daktronics as the world's leading provider of large screen LED video displays. Daktronics designs, manufactures, markets and services display systems for customers around the world, in sport, business and transportation applications. For more information, visit the company's World Wide Web site at: http://www.daktronics.com, e-mail the company at sales@daktronics.com, call (605) 692-0200 or toll-free (800) 325-8766 in the United States or write to the company at 331 32nd Ave. PO Box 5128 Brookings, S.D. 57006-5128.
Cautionary Notice: In addition to statements of historical fact, this news release contains forward-looking statements within the meaning of the Private Securities Litigation Reform Act of 1995 and are intended to enjoy the protection of that Act. These forward-looking statements reflect the Company's expectations or beliefs concerning future events. The Company cautions that these and similar statements involve risk and uncertainties which could cause actual results to differ materially from our expectation, including, but not limited to, changes in economic and market conditions, management of growth, timing and magnitude of future contracts, and other risks noted in the company's SEC filings, including its Annual Report on Form 10-K for its 2009 fiscal year. Forward-looking statements are made in the context of information available as of the date stated. The Company undertakes no obligation to update or revise such statements to reflect new circumstances or unanticipated events as they occur.
– END –
Contact
Mark Steinkamp Marketing Director Daktronics Large Sports Venues 605-692-0200 mark.steinkamp@daktronics.com
E-mail:mark.steinkamp@daktronics.com
Web Site:www.daktronics.com