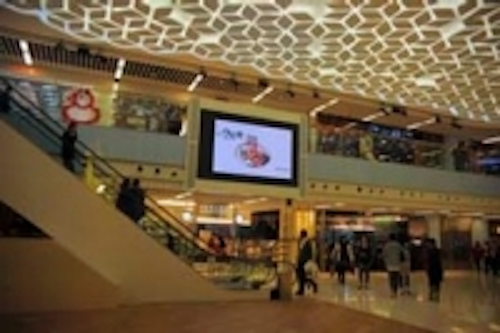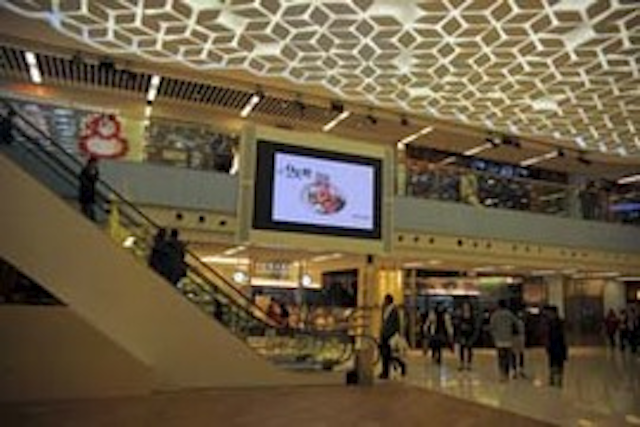 Date Announced: 25 Feb 2010
Hong Kong –– Leading global LED display solutions provider Lighthouse Technologies Ltd. has announced the recent installation of a new 10mm LED screen at the all-new iSQUARE, one of Hong Kong's most luxurious shopping and entertainment destinations. The installation, which has had a dramatic impact on iSQUARE advertising, demonstrates Lighthouse's continued dominance in the digital LED screen market.
Located at the historic 63 Nathan Road in Tsim Sha Tsui, iSQUARE was built to be Hong Kong's premier shopping destination, providing a unique shopping and entertainment experience. iSQUARE chose Lighthouse's P10-FA 10mmFront Access SMD panels for their high brightness and contrast ratios ensuring the screen would be clearly visible in the mall's high ambient light environment.
Comprising 30 panels in a 6 x 5 configuration, the 3.84m (w) x 2.4m (h) screen is situated in between iSQUARE's 3rd and 4th floor concourse, a high traffic area where thousands of shoppers pass through every day. Thanks to its wide 140-degree viewing angles, shoppers will be able to view advertisements and promotional messages, and other important messages from anywhere in the concourse. And, with excellent picture quality, images appear sharper and more vivid, enhancing their appeal. Because the screen is mounted directly to the wall, the P10-FA's front access feature was a necessity for this installation, as it ensures quicker, more convenient maintenance and zero downtime.
"Our latest installation at iSQUARE is another indication of the impact Lighthouse is continuing to create, at premiere locations across Hong Kong," said Peter Chan, Hong Kong general manager at Lighthouse. "This win has given us a great start to the New Year, and by continuing to offer superb visuals, excellent reliability, and outstanding service, Lighthouse is ready to surge ahead in 2010."
~END~
Lighthouse Technologies Limited is a global leader in LED display technology that develops, manufactures, and markets LED video display solutions for multiple indoor & outdoor applications, media and entertainment events, and sports arenas across the globe. With numerous technological breakthroughs to its name, Lighthouse has established itself as a multi award-winning leader in the LED display industry that holds itself to the highest standards of quality.
Founded in 1998, Hong Kong-based Lighthouse has a strong global presence with regional offices in Europe, North and South America, the Asia Pacific and China. Employing the most advanced technology, the highest quality manufacturing facilities, and world-class, round-the-clock technical support, Lighthouse satisfies customers on every major continent, captivating the imagination of millions. For more information about Lighthouse, please visit
Contact
Sarah James Gasoline Media Limited Email: sarahj@gasolinemedia.com
E-mail:info@lighthouse-tech.com
Web Site:www.lighthouse-tech.com