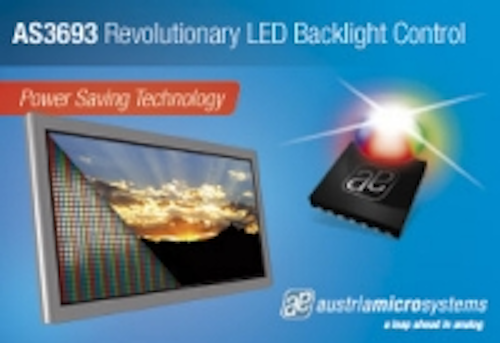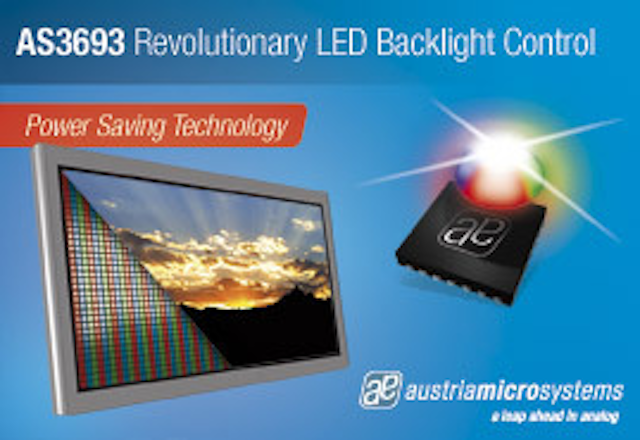 Date Announced: 08 Feb 2010
Unterpremstaetten, Austria, and Las Vegas, NV – January 8, 2010 – austriamicrosystems (SIX:AMS), a leading global designer and manufacturer of high performance analog ICs for communications, industrial, medical and automotive applications, today announced that LG Electronics, a leading provider of LCD TVs, has selected the AS3693A and AS3693B LED driver ICs for TV models being introduced at CES 2010 in Las Vegas.
The innovative AS3693 family helps facilitate extremely flat LCD TVs with the highest possible contrast ratios resulting in outstanding picture quality. A patented power saving technology actively regulates the LED power supply and minimizes power dissipation in the system. This makes very thin flat panel designs possible that are also very energy efficient. In addition, the entire portfolio has the industry's best current accuracy -- to within
+/- 0.5 % -- resulting in excellent brightness uniformity.
"We are very proud of this intense cooperation and are fully committed to delivering best-in-class performance, cost-effective solutions and the most energy efficient technology to LG Electronics. austriamicrosystems' AS3693 enabled LG Electronics to develop a very slim design with superb picture quality while at the same time achieving extremely low energy consumption. We will continuously innovate to further drive product designs in this fast growing market," Markus Luidolt, marketing manager lighting at austriamicrosystems, stated.
A full range of LG Electronics TVs with the latest LED backlighting technology is being presented at CES. They offer picture quality without compromise in energy saving, ultra-slim designs. The AS3693 is optimized to support local dimming backlight for outstanding contrast ratios, and is already adopted in LG Electronics bestselling ultra flat borderless SL9000 and SL9500 TVs.
austriamicrosystems will demonstrate the AS3693 product line including the latest portfolio additions available in QFN, ePQFP and LQFP packages in an off-exhibition suite at the Consumer Electronics Show 2010 in Las Vegas.
For further information on this innovative AS3693 LED driver IC or to request datasheets, please visit www.austriamicrosystems.com/AS3693-LED-Drivers.
About austriamicrosystems
austriamicrosystems is a leading designer and manufacturer of high performance analog ICs, combining more than 27 years of analog design capabilities and system know-how with its own state-of-the-art manufacturing and test facilities. austriamicrosystems leverages its expertise in low power and high accuracy to provide industry-leading customized and standard analog products. Operating worldwide with more than 1,000 employees, austriamicrosystems focuses on the areas of power management, sensors & sensor interfaces and mobile infotainment in its markets Communications, Industry & Medical and Automotive, complemented by its Full Service Foundry activities. austriamicrosystems is listed on the SIX Swiss Exchange in Zurich (ticker: AMS).
Contact
Ulrike Anderwald Marketing Communications Manager Tel: +43 (0) 3136 500 5856 Fax: +43 (0) 3136 500 5420
E-mail:press@austriamicrosystems.com
Web Site: www.austriamicrosystems.com