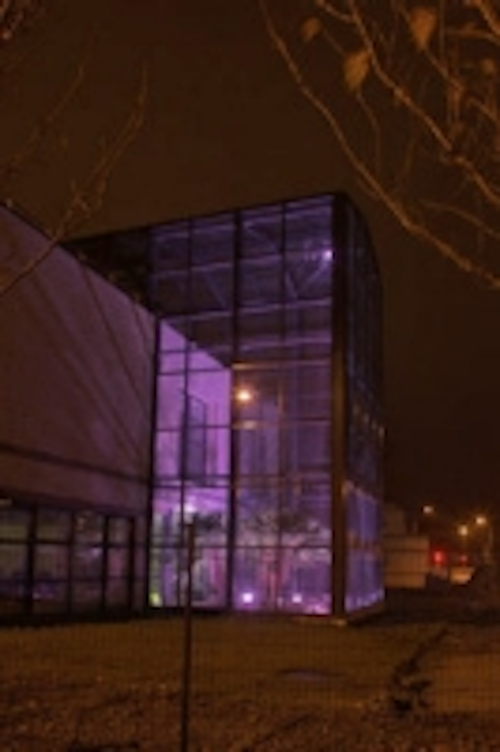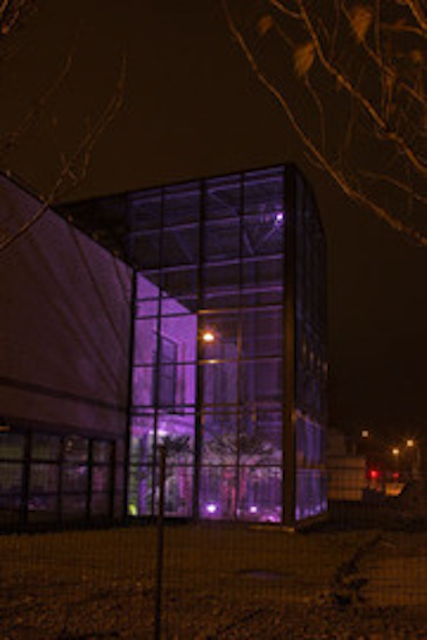 Date Announced: 12 Feb 2010
Anolis ArcSource Outdoor 36 RGB lighting fixtures have been installed in a 'winter garden' feature in the atrium at the newly refurbished and re-opened College Lucie Aubrac in Dunkerque, France - one of the country's first HQE colleges.
Haute Qualité Environnementale (High Quality Environmental) is the standard for green building in France, based on the principles of sustainable development first set out at the 1992 Earth Summit. The standard is controlled by the Paris based Association pour la Haute Qualité Environnementale.
The garden was an integral part of architect Wallyn Sézille Eurl's vision for the re-build, and lighting it enables the space to be enjoyed after dark in addition to bringing an exciting new dynamic to the space. Naturally they wanted to use LEDs for all the energy saving and environmentally friendly properties - low power and maintenance and long lamp life. They also wanted a good quality LED which emitted very smooth colours - so the sleek, homogenised output of the Anolis lightsource was perfect for the job.
It was electrical contractors SET Space Tertiare who specified Anolis. They have used Anolis products on many previous projects and like the reliability and robust engineering.
The fixtures were supplied by Anolis's French distributor, Ambiance Lumiere, via their commercial agent LUMIRU. Ambiance's Patrice Vandenbussche comments, "It is great prestige for Anolis to be chosen for this application and to provide a very neat and attractive solution, and hopefully we will see a lot more of this type of application".
The ArcSource RGB fixtures are mounted on the floor of the garden, which is encased in a large glass conservatory, and forms a beacon of light at night. They are powered by an ArcPower 36 driver and set on a straightforward colour changing chase using the ArcPower's internal programme. This saves the need for a separate controller.
The ArcSource Outdoor 36 fixture delivers an impressive amount of light output, so much so that they only needed 8 fixtures to illuminate the garden and the atrium very nicely. The fixtures are manufactured from 316 stainless steel and have an IP rating of 68. They were chosen for this application because they were among the most powerful RGB fixtures in the Anolis range.
Anolis is becoming an increasingly popular architectural product in France, with installations as diverse as a waste disposal plant, various retail outlets and park lighting.
College Lucie Aubrac is known for its innovative approach to mathematics and science as well as music and theatre.
Contact
For more press info. on Anolis, please contact Louise Stickland on +44 (0)1865 202679/+44 (0)7831 329888 or Email 'louise@loosplat.com'. For more product information and direct contact details, check www.anolis.eu
E-mail:louise@loosplat.com
Web Site:www.anolis.eu