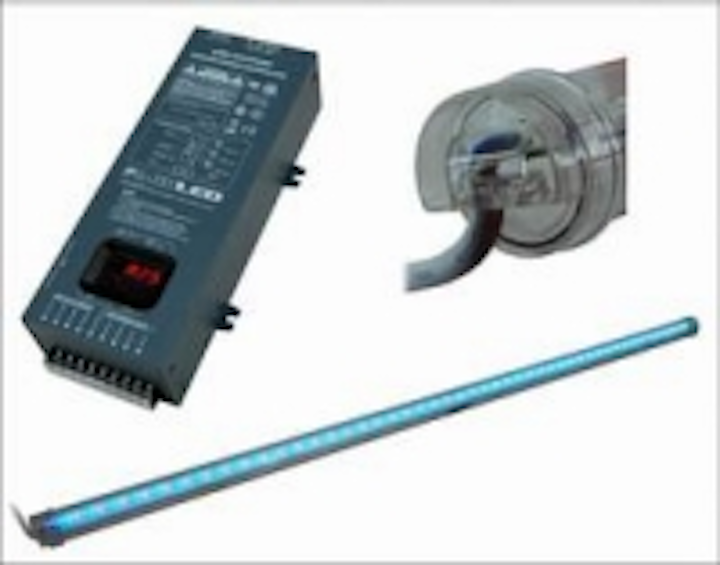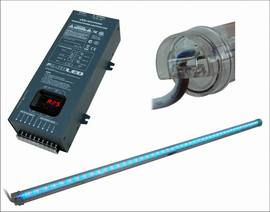 Date Announced: 20 Feb 2010
Multiform Lighting will be releasing the first products in their new AmbiLED range for the architainment marketat the Pro Light and Sound show in Frankfurt, March 24th - 27th.
AmbiStrip - 3C/M
The AmbiStrip is a medium-sized RGB LED strip light, designed to provide colour mixing outline/edge illumination to suspended ceilings, bar counters, frosted glass elements and other indirect lighting applications. Designed to be driven by a 24V constant voltage power suppy like the AmbiLED APS series for control of colour and brightness they use 140 LEDs consuming 8.3W/m.
Available in lengths of 1000, 500 and 250mm to accommodate various mounting setups, the LED strips are housed in a 30mm dia PC tube with moulded end caps allowing tubes to be installed end to end. The AmbiStrips can also be linked using 4 core cable and are supplied with clip-on wall holders for simple installation
AmbiPower - APS060W
The AmbiLED range of LED ambient lighting fixtures is brought to life with power and control via the AmbiPower range of intelligent power supplies. The entry-level model APS060W combines a power supply with DMX-control for distributed RGB LED lighting systems that are centrally controlled. The wall-mount shape and terminal block connections makes this core unit the lighting installer's perfect solution. A single AmbiPower 60W unit can drive up to 7m of AmbiStrip lighting. Using 4 Channel DMX control, the unit includes 19 preset colours and 17 chases for stand alone operation and can also be used with most other 24V RGB LED lighting sources and displays.
Contact
ADELTO Ltd. 14A Unionway Commercial Centre, 283 Queens Road Central, Hong Kong Phone: +852 83406156, Fax: +852 83432209 ADELTO Europe Limited An Fuerthenrode 45a, 52511 Geilenkirchen, Germany Phone: +49 (0)2451 48266-90 Fax: +49 (0)2451 48266-99
E-mail:ips@multiform-liighting.com
Web Site:www.multiform-lighting.com