Traxon XB luminaries line sparkles the West Kowloon waterfront
Feb 9th, 2010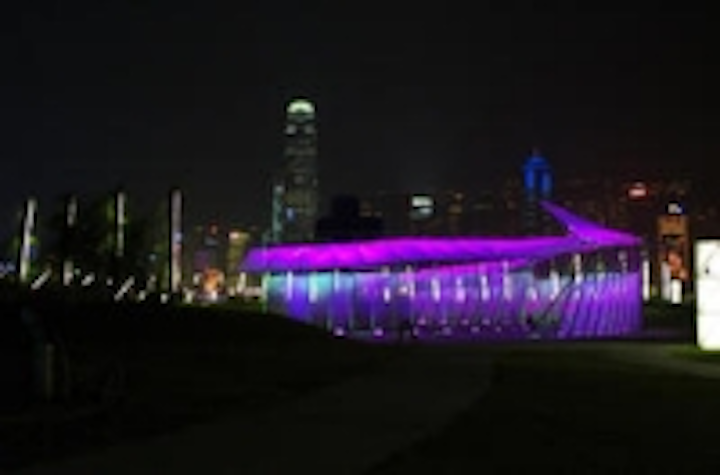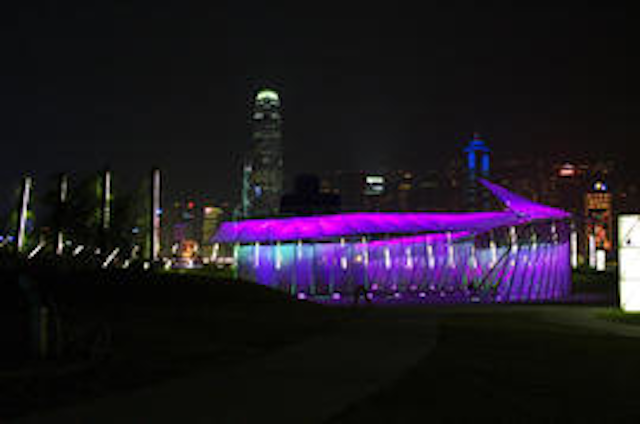 Date Announced: 09 Feb 2010
Traxon Technologies announces its sponsorships of the 2009/10 Hong Kong & Shenzhen Bi-city Biennale of UrbanismArchitecture - "the Biennale", the first world class cultural event of international scale that is taking place in Hong Kong's West Kowloon Cultural District from 4 December 2009 to 27 February 2010. As an official lighting support of the Biennale, Traxon worked in collaboration with the LEDARTIST to bring the exhibit "The Stage" into reality.
"The Stage", designed by actor Daniel Wu and Edward Huang from Drib-design, is an amazing outdoor exhibit which intends to re-contextualize and re-explore the bamboo construction with the goal of creating newfound appreciation, under-standing, and respect towards the unique tradition of Hong Kong. Teddy Lo, Chief Vision Officer of LEDARTIST, integrated more than sixty pieces of Traxon's high brightness Wall Washer Shield XB-36 RGB and Liner Shield XB-27 RGB lighting fixtures into the concept, sweeping the traditional bamboo structure with dynamic and interactive luminous layers. Powered by the LED Engine XB-SD, the installation is controlled by e:cue's powerful Butler XT DMX output device.
According to Teddy, with the use of Traxon's high brightness Shield XB products and an interactive sensory system, the installation provides a compelling lighting platform and visually keeps track of the number of people on "The Stage" at night. The lighting sequence is based on the data accumulated by the digital sensors and human interactions. Providing passersby with a fascinating motion experience, this lighting installation also acts as the background of the performance stage along the West Kowloon Waterfront.
Traxon's Shield XB series features a wide range of available optics, giving extreme flexibility to meet customer needs for both widespread and narrow beams. The range combines all of the advantages of LED lighting over conventional lighting for the majority of commonplace lighting installations, including energy efficiency, reduced maintenance and electricity costs, no UV radiation, durability and long source life. The combination of stylish design and outstanding performance renders Traxon's Shield XB range a reliable solution for any outdoor application where rich washing effects or accent lighting are required.
About the 2009/10 Hong Kong & Shenzhen Bi-City Biennale of UrbanismArchitecture
2009/10 Hong Kong & Shenzhen Bi-City Biennale of UrbanismArchitecture is a cooperative cultural event that is shared by the two cities under a "Two Cities, One Biennale" approach. Completely non-profit and funded by the Home Affairs Bureau, HKSAR Government, the Hong Kong portion of the Bi-City Biennale is aimed at promoting education and public discussion around architecture, urbanism, design and culture in a dynamic exhibition that is free and open to the public, and encourages the active participation of local Hong Kong citizens.(Source: http://www.hkszbiennale.org)
About Traxon
Traxon Technologies Ltd. is a global leader in LED lighting systems offering sophisticated RGB and White solutions for the architectural and hospitality/retail industries. Together with its lighting control brand "e:cue", Traxon provides its customers full turnkey solutions, reaching from the cutting-edge LED lighting systems to the sophisticated large scale control solutions. In March 2009, Traxon Technologies entered into a joint venture partnership with OSRAM, strengthening its position in the market by combining know-how in technology and building on synergies with OSRAM's global presence. With over 3000 worldwide installations Traxon covers various market segments and has the knowledge and experience to improve and illuminate environments of various size and complexity.
Contact
Sheron Lai, International Marketing Assistant Traxon Technologies Ltd., An OSRAM Company 208 Wireless Centre, 3 Science Park East Avenue, Hong Kong Science Park, Shatin, Hong Kong Tel. +852 2943 3488 Direct +852 2943 3411 Fax +852 2480 4460
E-mail:sheron.lai@traxontechnologies.com
Web Site:www.traxontechnologies.com