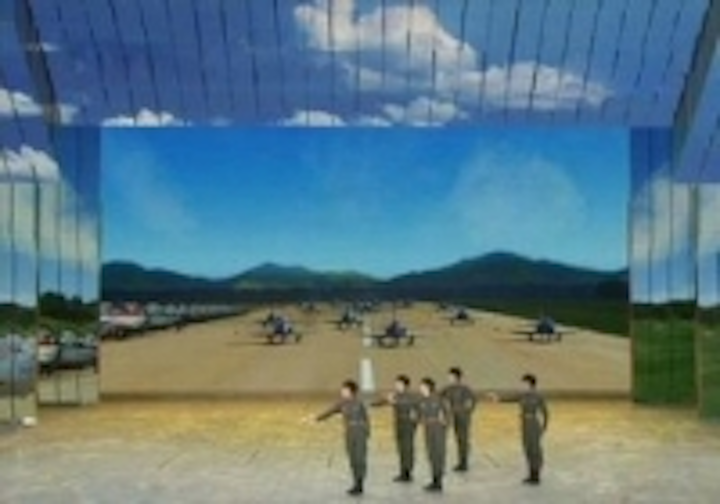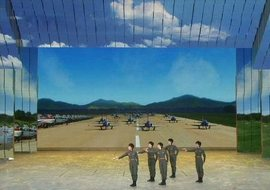 Date Announced: 26 Feb 2010
The spectacular gala event is broadcast annually on the eve of Chinese New Year by state-run China Central Television (CCTV). It is estimated that this year's show, held on 13 February, captured some 96% of the Chinese television viewing audience on the mainland and had more than 700 million-plus viewers worldwide, including large numbers of people watching the show live via the internet.
The CCTV Spring Festival Gala, which has grown into a genuine cultural phenomenon since its inception in 1982, runs more than four hours and features a colorful assortment of diverse entertainment, including pop songs, dances, crosstalk, stage comedies and drama, acrobatics and other folk arts.
For this year's Chinese Spring Festival, CCTV deployed a magnificent High Definition LED backdrop as the show's centerpiece. The LED backdrop, measuring 18 x 9 meters, has a physical resolution up to 2952 x 1440 pixels, while utilizing 820 Barco ILite 6BK tiles, which is the largest indoor LED display in China today. The ILite 6 BK is a 6mm black LED display with excellent contrast and modular design allowing to build up displays in nearly any shape and size. Moreover, four Barco FLM HD20, the 20,000 lumens native HD projectors, were deployed on stage.
In contrast with previous years, HD was the de facto standard for video output in this year's gala. To realize multiple image effects throughout the evening, image processing was driven by Barco's Encore System. Enabled by five Encore processors, the live show blended performance and visual effects seamlessly and in a breathtaking manner for all to enjoy.
When the Asian pop queen Faye Wong sung the song 'Legend', the backdrop was fused with appealing singing so perfect that the audience were fully absorbed in the fabulous imagery. In the crosstalk 'Let Me Fly', the entire setting was bolstered with the large LED display and the audience seemed to be at the flight training field and witness airwomen telling their stories. Furthermore, the truly dazzling 'Sound of Lotus' pushed the show to a climax with fairy lotus pond, fantastic music and graceful dance, while its visual scale and brilliant color effects presented the audience with a 3D encounter along the lines of that experienced with the Hollywood blockbuster movie, "Avatar."
Barco products operated flawlessly throughout the evening and ran safe and stable from the first rehearsal to the live show, once again proving they are the right choice in creating a vibrant, celebratory atmosphere for China's most beloved annual media event.
"We've been cooperating with Barco for a number of years now in producing the annual Chinese Spring Festival Gala," says Huang Gui Jiang, General Manager of HuangKingsmark Event Engineering Co., Ltd. "We have a great deal of trust and confidence in Barco products and solutions as they are incorporated into the gala; that trust is proven right there for everyone to see, as this year's event really captivated viewers, both old and young alike, in an exciting way."
"Barco solutions are the industry standard throughout the world, proving their innovation and reliability again and again across a wide range of event productions," says Deng Bu Qi, General Manager of China Television Technology Development Company. "'Impressive' is the best way to describe this year's CCTV Spring Festival Ceremony. The show as a whole was wonderfully impressive. What's more, Barco products were equally impressive every step of the way."
"Each year the CCTV Chinese Spring Festival Gala aims to creatively do better than the previous year," says Yan Fei, Managing Director of Barco Greater China. "Needless to say, this is a real challenge from one year to the next for everyone involved. Barco brings a great deal of enthusiasm and commitment to this challenge. The show's ever growing popularity and our longstanding cooperation testify to Barco's long-term commitment to the China market in general and our business partners, customers and end-users in particular."
Kingsmark Event Engineering Co., Ltd.
Kingsmark Event Engineering Co., Ltd. is a company specialized in offering high-end audiovisual equipment leasing services. It has provided superior, comprehensive technical services for various industries by leveraging its professional technical prowess and extensive field experience since its inception in 1996. In the 13-year development history, the company has been committed to offering the most advanced audiovisual equipments, stage lighting, event equipments and superior services, accumulated extensive experience in the long run and built excellent AV planning capability and latest equipment facilities. http://www.kingsmark.net
China Television Technology Development Company
Founded in 1993, China Television Technology Development Company is a wholly-owned subsidiary of China International Television Corporation.The company has undertaken lighting and audio production for most CCTV columns, and the typical programs include annual Chinese Spring Festival Galas, CCTV opera, model and young singer contests, and Lucky 52, Star Boulevard and Happy China. Its professional audio OB vehicles were used for many key sports events including The Macao Lusophony Games, FIFA Women's World Cup and Olympic test events.
About Barco
Barco, a global technology company, designs and develops visualization products for a variety of selected professional markets. Barco has its own facilities for Sales & Marketing, Customer Support, R&D and Manufacturing in Europe, North America and Asia Pacific. Barco (NYSE Euronext Brussels: BAR) is active in more than 90 countries with about 3,100 employees worldwide. Barco posted sales of 638 million euro in 2009.
Contact
+32 56 233211 916-859-2500
Web Site:www.barco.com