Ladbrook and Westcotec collaborate on new generation of Electronic Traffic Signs
Feb 16th, 2010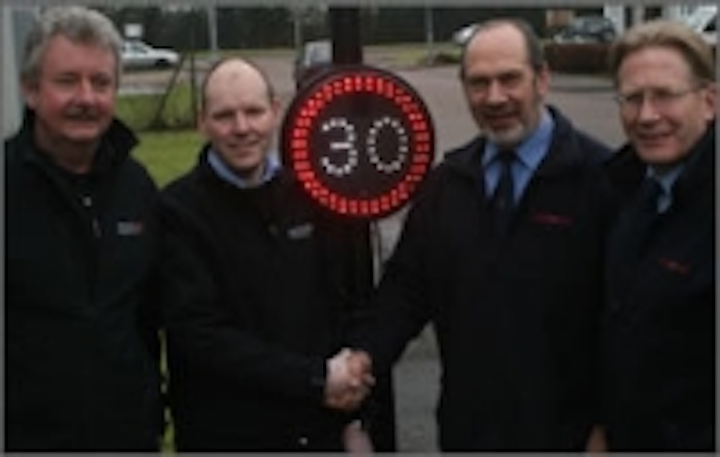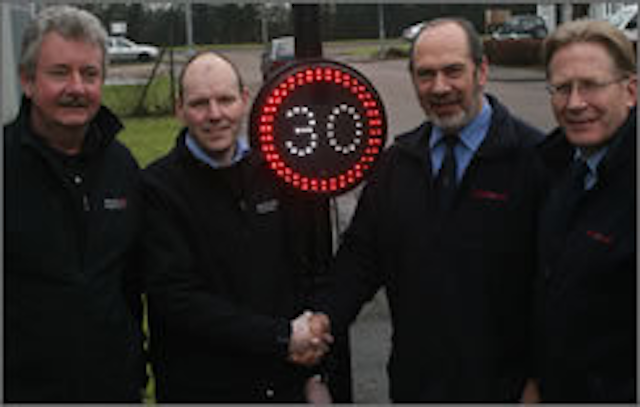 Date Announced: 16 Feb 2010
North Walsham engineering company Ladbrook, and Dereham-based Westcotec have worked together to develop a new generation of electronic road signs that will help reduce accidents and save lives in built up areas. The new sign is called a 'Speed Roundel' and is an unobtrusive compact design that can be attached to streetlights and will illuminate on detection of traffic exceeding the speed limit. These types of signs are proven to not only calm traffic but also reduce fatalities.
"Our new 'Speed Roundel' has many advantages over existing designs," said Phil Hayton, Managing Director of Westcotec. "It is small and discreet when not active but very bright once activated. It is also powered from the electric supply within the street light, ensuring a much lower cost of installation. Another aspect of the design is a lightweight vandal-proof enclosure that will ensure the sign will remain working for many years. In urban areas, these types of signs can have a hard life and be costly to maintain. In view of this we make then as robust as possible and offer a 5 year guarantee."
Although Westcotec are the designer and manufacturer of the new sign, Ladbrook was invited to assist with the development of the new metal enclosure due to their considerable experience in the field of 'metal spinning'. Metal Spinning is a powerful metal forming technique used to create conical and cylindrical shapes. As the metal is spun on a high-speed axis, it is shaped, either by hand or by using CNC controlled tools. An important aspect of metal spinning is that the material hardens as it is worked; this feature of metal spinning enables the manufacture of thinner, yet stronger components.
"We are very pleased to have contributed to this design," said Paul Goodman, Manufacturing Director at Ladbrook. "The enclosure needed to have a pleasant appearance and be light in weight, yet also be very strong and vandal proof. So, the design had its challenges. We are very pleased with the final product, it is very impressive and I am sure it will be a great success."
Westcotec have become a leader in accident reduction technology and have manufactured over 5,000 electronic road signs since 2002. They now employ 14 staff with a turnover of £2.25m and year on year growth of 12%. Their customers include local authorities, airports, British Rail, military camps, universities and ports.
"We expect to ship a lot of the new Speed Roundels said Phil Hayton. "With such a simple installation process, the smaller format and a long working life, we expect to see a high level of demand. This product will bring down the overall cost of accident reduction and we feel sure that will be attractive to local authorities currently trying to manage their budget."
Westcotec expect the new Speed Roundel to be particularly useful as a high visibility 'reminder' in 20 MPH areas.
About Ladbrook
For the past 70 years Ladbrook Engineering & Manufacturing Company Limited have been working with manufacturers around the world, providing them with the best expertise available in the field of pressed metal parts and metal spinning based components. Today, they are able to provide high volume production as well as low volume pre-production and prototype samples. With a capacity for more than 150 million pressed metal parts per year and a broad range of automated machinery, they are well equipped to provide manufacturers with the best of British engineering at world market pricing.
http://www.ladbrook-pressed-metal.co.uk
http://www.ladbrook-metal-spinning.co.uk
About Westcotec
Since 2001, Westcotec Ltd has been at the forefront of the Vehicle Activated Sign industry. Based in Norfolk, Westcotec has grown to become one of the biggest suppliers of quality vehicle activated signs in the country. Using state of the art LED and radar technology, they are able to provide effective solutions to most traffic related safety problems. Through continued development, they have exceeded the latest European performance standards. At the heart of their growth, is a commitment to customer service. Westcotec's aim is to make the whole process of buying a VAS system as smooth as possible. Free advice is always available from their experienced staff. http://www.westcotec.co.uk
Contact
Ladbrook Contact: Paul Goodman p.goodman@ladbrookuk.com Tel: +44 (0) 1692 402156 Westcotec Contact: Phil Hayton Tel: +44 (0) 1362 853124
E-mail:sales@westcotec.co.uk
Web Site:www.westcotec.co.uk