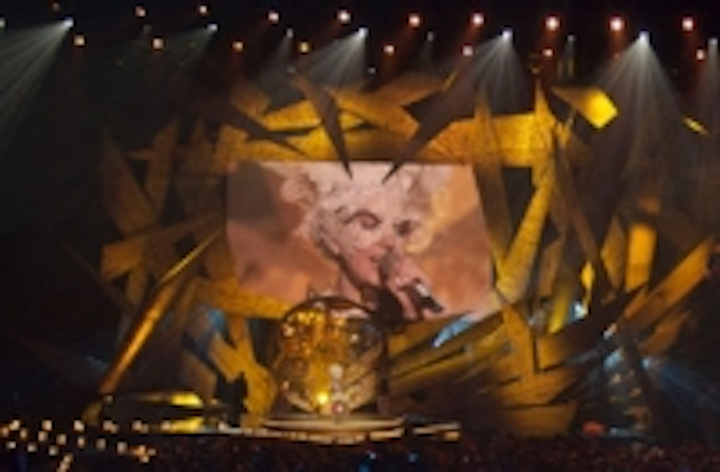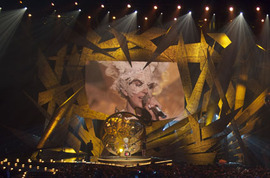 Date Announced: 22 Feb 2010
The glorious., glamorous, glittering 30th anniversary of the annual Brit Awards took place at London's Earls Court on the 16th February 2010, presented by comedian Peter Kay and broadcast live on ITV 1.
XL Video once again provided LED screens, projection, PPU, camera system and playback content management to the show - for the 9th consecutive year.
XL project manager Chris Saunders, who coordinated the camera and playback elements was also clocking up an impressive 16th Brit Awards, working alongside XL's Paul Wood, who managed the screens, projection and specials. Saunders and Wood both work closely with The Brits production team each year, together with lighting designer Al Gurdon and set designer Nicoline Refsing from Stufish, to create a distinctive look and feel for the show.
This year, the central onstage 'artists' screen was made up of 80 square metres of Pixled F11, which returned after leaving such a massive impression last year. This product was specially developed by XL, and has become extremely popular since first appearing on the rental market last year.
The 'presenter's' screen was much larger than in previous years, and constructed from 10 wide x 8 high Lighthouse R7 modules, positioned stage right behind the presenter's area. This gave a much-improved viewing field for the audience.
All screens were fed by XL's new DVI fibre systems, yet another bespoke item built by XL to solve the specific need to deliver a high quality DVI feed in a robust manor to LED screens.
XL also provided special performance video pieces for Cheryl Cole and Robbie Williams. Cole had 120 Barco Mi-Strips inbuilt into the front of her 10 onstage steps, while Williams' set consisted of 1800 X-Spheres, positioned in decreasing sized rectangles as they traveled upstage.
Over and above the standard IMAG projection, XL had a late request to add some scenic projection for Lady Gaga's set, to enhance the dynamics and three dimensional visual aspects of her uniquely abstract performance.
One of XL's HD PPUs was at the core of the live screen IMAG mix, cut by Ollie Bartlett. Based around a Grass Valley HD Kayak mixer and fed by 2 of XL's HD cameras, plus another 7 feeds supplied from the CTV OB, this was directed by Phil Heyes.
Four Catalyst media servers were programmed and run by Richard Turner with playback supplied via 2 Virtual VTR machines, operated by Jonathan Bond.
Artists performing live included Lady Gaga, who won 3 awards and dedicated her performance to late fashion designer Alexander McQueen, Kasabian, Lily Allen, a collaboration between Dizzee Rascal and Florence & The Machine ….. and Robbie Williams … who also walked away with this year's Outstanding Contribution to Music Award.
Contact
For more press info on XL Video UK please contact Louise Stickland on +44 (0)1865 202679 or +44 (0)7831 329888 or Email 'louise@loosplat.com'. To contact XL Video UK direct, call +44 (0)1442 849400 or check www.xlvideo.tv
E-mail:louise@loosplat.com
Web Site:www.xlvideo.tv