LTP designs & supplies lighting scheme for Perryn Road footbridge
Feb 15th, 2010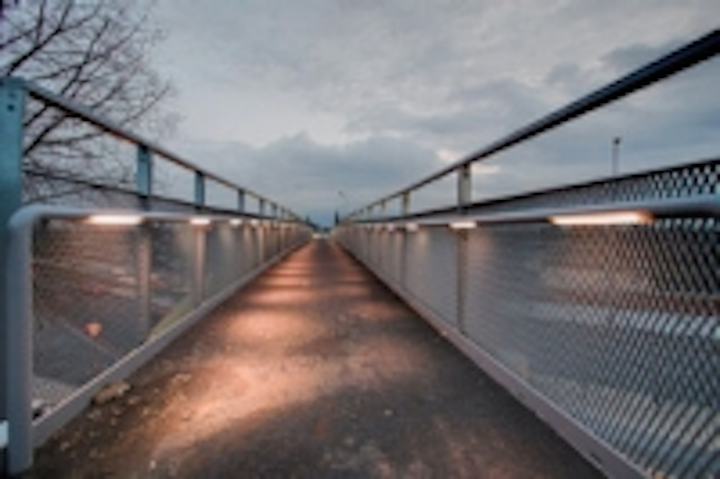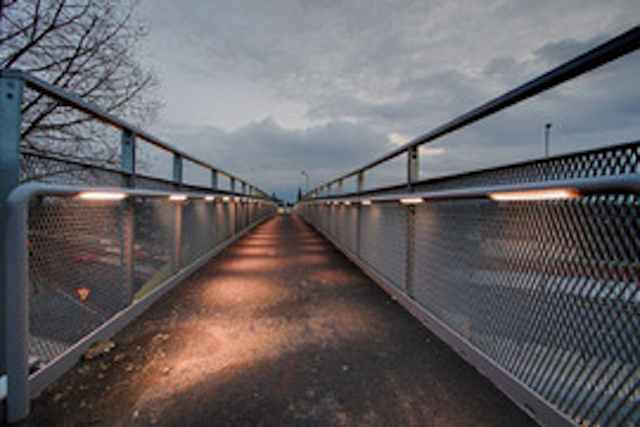 Date Announced: 15 Feb 2010
Lighting Technology projects (LTP) has designed, installed and commissioned an architectural lighting scheme for the new Perryn Road footbridge that traverses the busy A40, one of the main highways into London, UK, from the west of the country.
LTP was appointed as specialist lighting sub-contractors and consultants to SH Structures, who fabricated the 32.6 metre bright yellow single span steel bridge that now crosses the A40 in Acton, London W3. It was part of a major project by Transport For London (TFL) that also replaced the two 1920's Western Avenue road bridges in this area, and was conceived and designed by architects Grimshaws and consulting engineers/architects Hyder Consulting. The main contractors for construction and delivery of the project were Carillion.
The LTP team was led by Terry Reeves and Jonathan Adkins, both of whom have considerable experience in lighting bridges. Reeves comments, "Bridges always require special and individual considerations when key-lighting, involving plenty of creative and practical thought".
The lighting brief for the main bridge span included producing an environmentally friendly, unobtrusive, elegant and safe lighting solution emitting the correct levels of luminosity to meet BS design standards and comply to all the public health & safety regulations.
LTP specified 70 units of the new 400 mm white BWS 520 4 Watt inset handrail LED fixtures from Phillips, 35 of which are used on each side of the structure which straddles the road diagonally. The lighting units also had to be tough, durable and vandal-proof, with no exposed casings. The essential effect is to neatly and nicely key-light the bridge decks for the public without causing any glare or unnecessary distraction to passing motorists below.
It was the first time that Llanelli based LTP and north Yorkshire based SH Structures have worked together, a process that both enjoyed, confirms Carl Horner, SHS's commercial manager and Terry Reeves. The two companies collaborated closely and used sophisticated CAD and 3D viewing software to develop a combination of rigid and flexible stainless steel conduit into which the LED strips lights are ensconced, complete with integral cable routings and duct-ways. This part of the operation was completed at SH's workshop, so when the bridge span was finally installed on site - by crane, overnight - everything was set for the lighting fixtures to be inserted and wired up.
The bridge is serviced by a set of ramps and stairs, both wrapping around its main support columns, allowing full access for anyone needing to use it. These are lit with a series of IK10++ rated fluorescent fixtures as stipulated by TFL.
The bridge structure is constructed from standard mild steel sections and coated with an epoxy glass flake paint system. The decks have an anti-slip floor finish. The total weight is approximately 200 tonnes and the contract value to SHS was £1.36 million.
The Perryn Road footbridge project follows on from other recent high profile bridge lighting schemes supplied by LTP including Tradeston Bridge over the Clyde in Glasgow and the Sidings Bridge near Swansea.
Contact
For more press info, please contact Louise Stickland on +44 (0)1865 202679 or +44 (0)7831 329888 or Email 'louise@loosplat.com'. To contact LTP direct, please call +44 (0)1554 740509 or check www.paigroup.com.
E-mail:louise@loosplat.com
Web Site:www.paigroup.com