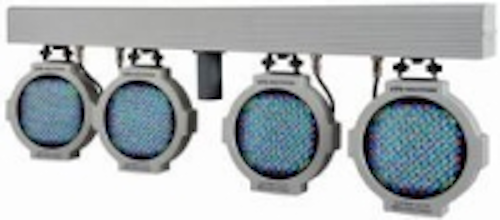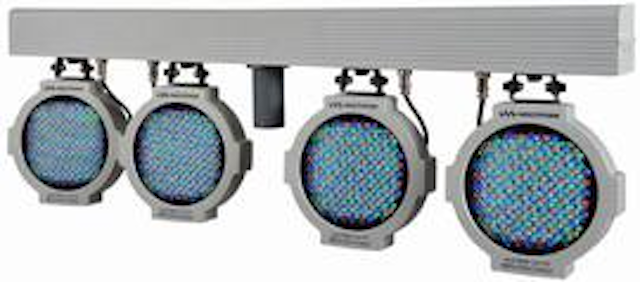 Date Announced: 10 Feb 2010
Providing a budget priced LED stage lighting system for Small Bands, Dance Groups, Exhibition Displays and Mobile DJs the MultiBar comprises 4 MultiSpot Eco RGB fixtures, mounted on a 1m. extruded ali cross bar housing the 16 Channel DMX controlled power supply. With a mains input of 90-250 V 50/60 Hz the Multibar will operate in most countries of the world.
The MultiBar can be mounted on a 35mm dia. tripod stand, or suspended from a truss or lighting bar using a pair of hook clamps. Rugged metal brackets allow each fixture to be tilted and swivelled individually
The sophisticated switched mode power supply has 4 Internal and 3 DMX modes of operation.
FADE (29 selectable fade patterns) - AUTO (33 selectable chase patterns)
COLOR (19 selectable colour presets) - COLOR PATTERN (mixed scene mode with 9 presets)
DMX PRESET (5 DMX channels to remotely control internal presets)
DMX (16 DMX channels to control each luminare via RGB + master/strobe)
SLAVE (12 DMX channels to control each luminaire via RGB)
Situated at the rear is the user interface with 3-buttons, rotary control and a 3 digit LED display. An internal microphone and jack socket for a LC400F foot switch allows on stage sound to light control by musicians. Finally, DMX IN and OUT sockets with switched termination, facilitate easy connection of several MultiBars in Master/Slave operation or control by an external lighting desk.
The MultiBar Eco LS4195 is supplied in a road proof flight case, with compartments for an optional LC400F footswitch and a MultiLED LC300H controller.
Scheduled for release at the Pro Light & Sound show in Frankfurt - March 24th - 27th
the MultiBar will be available from Multiform's distributors in April.
For further information on the MultiBar stage lighting system, please visit our website at www.multiform-lighting.com
Contact
ADELTO Ltd. 14A Unionway Commercial Centre, 283 Queens Road Central, Hong Kong Phone: +852 83406156, Fax: +852 83432209 ADELTO Europe Limited An Fuerthenrode 45a, 52511 Geilenkirchen, Germany Phone: +49 (0)2451 48266-90 Fax: +49 (0)2451 48266-99
E-mail:ips@multiform-lighting.com
Web Site:www.multiform-lighting.com