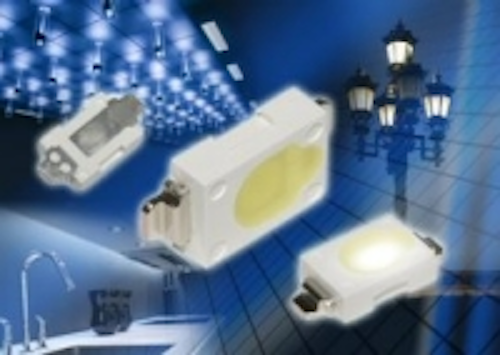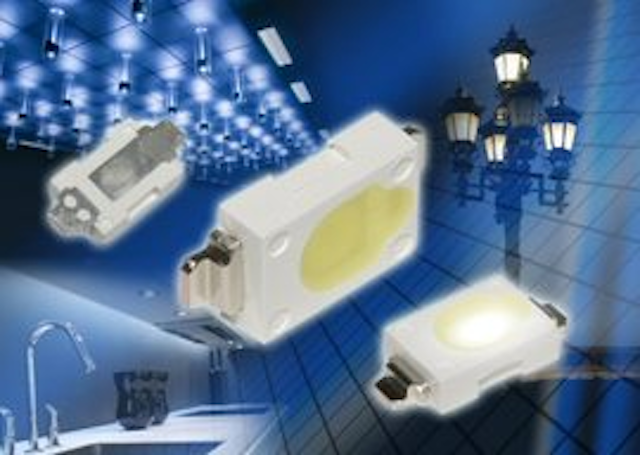 Date Announced: 15 Feb 2010
-- White, warm white and neutral white high brightness LEDs offer solid state alternatives for wide variety of general lighting applications
Düsseldorf, Germany -– Toshiba Electronics Europe (TEE) has announced three new high-brightness, miniature white LEDs that will allow designers to deliver high-efficiency solid-state solutions for a wide range of commercial, residential and industrial lighting.
With a drive current of 350mA, the new TL12W03-D white, TL12W03-L warm white and TL12W03-N neutral white LEDs deliver high typical luminous flux ratings of 90 lumens, 75 lumens and 100 lumens respectively. As a result they offer high-efficiency, high-reliability alternatives to incandescent, fluorescent and halogen bulb technologies in general lighting designs.
The new LEDs are supplied in miniature surface mount packages with dimensions of just 10.5mm x 5mm x 2.1mm. All of the devices will operate at temperatures between -40ºC and 100ºC, making them suitable for both indoor and outdoor lighting applications.
As with other models in Toshiba's LED family, the package technology has been designed to ensure a low thermal resistance. This ensures improved heat dissipation characteristics, which simplifies thermal management in the target lighting design.
All of the new LEDs are rated for a maximum forward current (IF) of 500mA and a typical forward voltage (VF) at 350mA of 3.3V. Maximum power dissipation for the LEDs is rated at 1.95W.
About Toshiba
Toshiba Electronics Europe (TEE) is the European electronic components business of Toshiba Corporation, which is ranked among the world's largest semiconductor vendors. TEE offers one of the industry's broadest IC and discrete product lines including high-end memory, microcontrollers, ASICs, ASSPs and display products for automotive, multimedia, industrial, telecoms and networking applications. The company also has a wide range of power semiconductor solutions. TEE was formed in 1973 in Neuss, Germany, providing design, manufacturing, marketing and sales and now has headquarters in Düsseldorf, Germany, with subsidiaries in France, Italy, Spain, Sweden and the United Kingdom. TEE employs approximately 300 people in Europe. Company president is Mr. Hitoshi Otsuka.
Toshiba Corporation is a world leader and innovator in pioneering high technology, a diversified manufacturer and marketer of advanced electronic and electrical products spanning information & communications systems; digital consumer products; electronic devices and components; power systems, including nuclear energy; industrial and social infrastructure systems; and home appliances. Founded in 1875, Toshiba today operates a global network of more than 740 companies, with 199,000 employees worldwide and annual sales surpassing US$73 billion.
For more company information visit Toshiba's web site at www.toshiba-components.com.
Contact
Toshiba Electronics Europe, Hansaallee 181, D-40549 Düsseldorf, Germany Tel: +49 (0) 211 5296 0 Fax: +49 (0) 211 5296 792197
E-mail:discrete-ic@toshiba-components.com