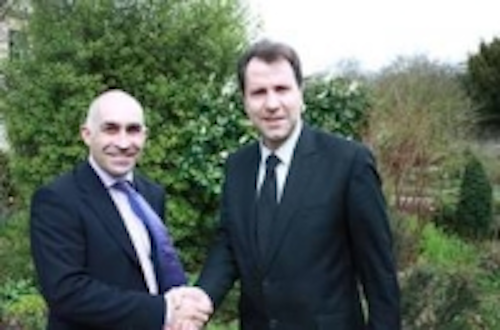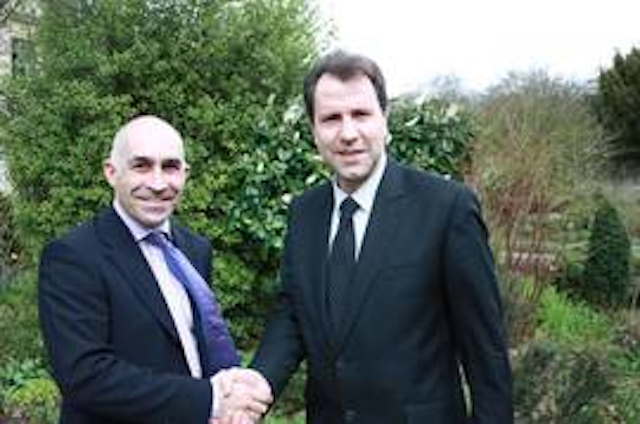 Date Announced: 20 May 2010
EXCLED MEETING WITH ENVIRONMENT MINISTER DAN NORRIS.
Excled Sales Director recently met Environment Minister Dan Norris to introduce the company, the benefits of LED lighting technology and to talk about a new commercial SOLARA 600 x 600 panel lighting solution.
Excled Ltd. are a UK based lighting company who specialise in LED lighting solutions. In an effort to educate people about the benefits of LED technology, and their place in a commercial environment they recently met with UK Environment Minister Dan Norris.
After running through the company history and the technical benefits of LED Technology, John spoke specifically on one of the company's new core products, the 600 x 600 SOLARA lighting panels. Designed to replace standard florescent lighting applications, these panels offer substantial savings to both a companies electrical expenditure (they can cut electricity costs by up to a third!) and can also make a dramatic impact on their carbon footprint, fitting ideally within government legislations to reduce environmental emissions.
'We are excited about launching these products into the market place as we believe strongly that they are the way forward for commercial companies looking to cut their electrical and carbon output.'
-John Harris, Sales Director
Dan Norris described the product as something that 'every business should be aware of.' Although relatively in its infancy for this type of application, LED technology has been around since 1907 and is rapidly advancing year on year. Excled work in partnership with their factories and development teams to make sure that they source only the highest quality lighting applications, by doing this they can also ensure that they bring these to the UK market at a competitive and realistic price.
'I was very impressed with the technology I have seen here today! I am equally as impressed to hear how LED products (and in particular the SOLARA panels) can offer substantive savings to a company financially as well as environmentally. As Environment Minister I have been extremely keen for individuals and companies to change from traditional incandescent light sources to more environmentally friendly options. Having heard about the potential savings involved, everyone should be seriously looking at the kind of products Excled have demonstrated to me today.'
-Dan Norris, Environment Minister
Excled launched the lighting panel into the UK market in 2009 and have already supplied various NHS and commercial establishments. Pleased with the products success they are keen to further roll this out to other organisations throughout the UK in 2010/2011.
'At Excled we believe strongly in products that contribute towards a greener world but understand that this must not come at a cost to product efficiency. Thankfully this is not the case with our SOLARA panel. We know how increasingly important it is for companies to abide to new government legislations and are excited to launch a product that easily aligns itself with this.'
-Gemma Bradbury, Marketing Executive
To find out more information on how these SOLARA panels will benefit your organisation please visit our website
www.led-lightbulbs.co.uk, email sales@led-lightbulbs.co.uk or alternatively contact Customer Services on 01453 756361.
Excled (trading as LED Lightbulbs) is a UK based company specialising in LED lighting technology.
With a vast portfolio of lighting products, we are experts in our field and skilled at providing
bespoke lighting solutions.
Contact
Gemma Bradbury, Marketing Executive Tel: 01453 756361
E-mail:gemma.bradbury@led-lightbulbs.co.uk
Web Site:www.led-lightbulbs.co.uk