Marl Citizen LED beats fluorescent on efficiency
May 10th, 2010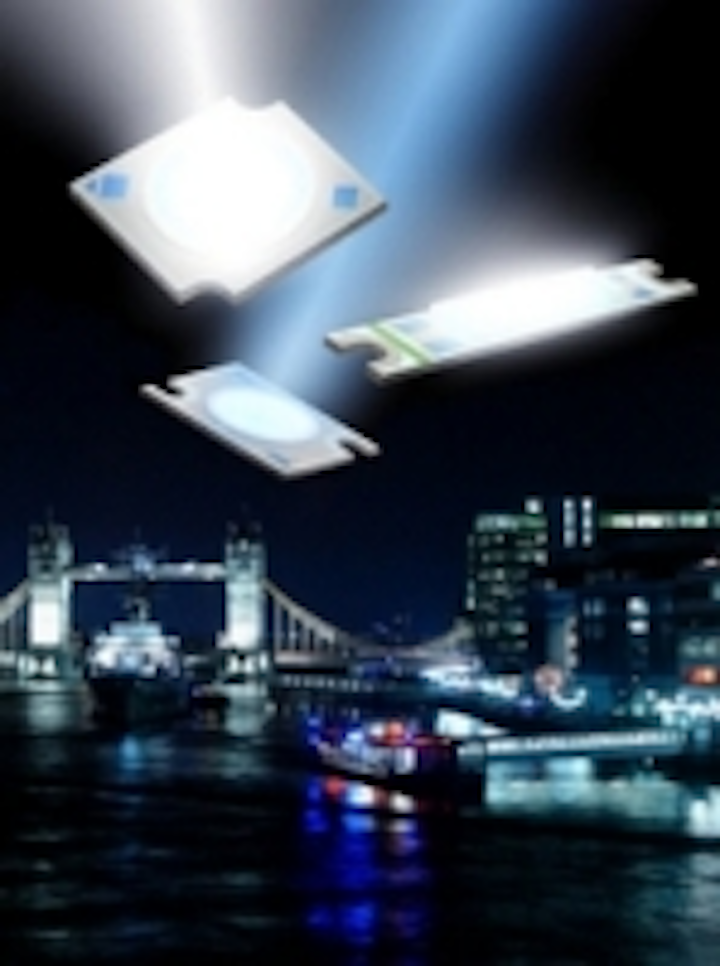 Date Announced: 10 May 2010
Ulverston, UK -- New low-watt Citizen LED light engines from Marl enable the creation of replacements for fluorescent strip lights – offering well over 25% better efficiency and at least four times longer lifetimes. An array of five of the chips matches the light output of a 1.2W fluorescent tube.
According to Marl, the announcement means LED lighting is now the low energy lighting of choice – a position held by fluorescent technologies for some time. "With the announcement of the latest generation of Citizen devices LED lighting is more efficient and longer lasting than any other lighting technology, and can match the light output of all but the most specialist lights," commented Marl Managing Director Adrian Rawlinson. "It is also more robust than fluorescent, and eliminates the risk of broken glass tubes coated with poisonous phosphorous based chemicals."
The highly flexible chip-style packaging for these Citizen devices lends itself to the creation of a host of innovative lighting effects. They can be mounted to form circles, squares or other shapes as well as in linear arrays. Like all LED lighting, the new Citizen CL-824 series delivers directional illumination in a downward cone over a 120° arc. This eliminates wasted light.
Available in the UK from Marl, Citizen CL-824 series LEDs are ultra-compact high efficiency devices in a robust chip-type packaging. A linear array with certain chips can deliver a final efficiency of 74 lumens per Watt – compared with around 56 lumens per Watt from a typical fluorescent fitting. Rated life for the LED chips is 40,000 hours, compared to 10,000 hours for a standard fluorescent tube.
A new catalogue has been launched enabling easy browsing of the extensive range of Citizen LED light engines available from Marl Optosource. To download, please visit: http://www.leds.co.uk/pdfs/citizencatalogue-issue1.pdf
About Optosource
Marl Optosource is one of the UK's leading distributors of LED components. Optosource offers privileged access to the product portfolios of the world's leading optoelectronic manufacturers, and can offer a complete one-stop solution to any visible opto electronic component requirement. The new website contains a detailed database on all LED components and accessories including heatsinks, drivers and lenses. Please visit: www.optosource.com.
About Marl
Marl has specialised in the design and manufacture of visible LED indication and illumination components and systems for over 35 years, to customers in the electronic, power generation, defence and telecommunications industries. Its highly trained and experienced team of over 100 design and manufacturing specialists operate from a dedicated technology park in Ulverston, England and stand ready to offer its customers a solution to any requirement. They are able to offer a range of standard products, customised to suit individual projects, or even design a specific component from scratch. Marl is a quality company. It is registered to BS EN ISO 9001:2008 standard and fully RoHS and WEEE compliant.
Photo caption: The new low watt Citizen CL-824 series of LED light engines are available from Marl and offer 25 per cent better efficiency and at least four times longer lifetime than fluorescent strip lights.
Contact
For more information, please contact: Marl International Limited, Marl Business Park, Ulverston, Cumbria, LA12 9BN, UK. Tel: +44 (0)1229 582430; Fax: +44 (0)1229 585155 Email: marketing@marl.co.uk; Website: www.leds.co.uk Press Contact: Peter van der Sluijs Neesham Public Relations Tel: +44 (0) 1296 628180 Email: peterv@neesham.co.uk
E-mail:marketing@marl.co.uk
Web Site:www.leds.co.uk