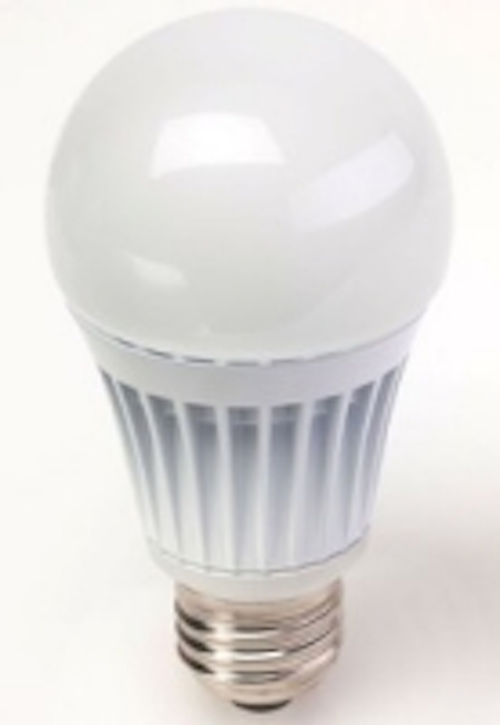 Date Announced: 11 May 2010
First LED Bulb to Achieve 50 Percent More Lumens at Half the Price of Competing Products
New Technology Paves the Way for Highly Efficient, Affordably Priced and Environmentally Responsible Lighting
Satellite Beach, Florida -– Finally, an LED light bulb that delivers high quality lumens at an affordable cost. Starting today, homeowners can lower energy cost without sacrificing light quality by installing The Home Depot's new proprietary ECOSMART LED light bulbs.
By revolutionizing the science of light, Lighting Science Group Corporation, a leading American maker of LED-based lighting, has produced for The Home Depot the first affordably priced, yet highly efficient 9 watt A19 LED bulb that is a smart choice to replace traditional 40 watt incandescent bulbs and compact fluorescent lamps ("CFLs").
The ECOSMART LED bulb's retail price is $19.97, compared to over $50 for other LED bulbs, uses approximately 80% less energy than a 40 watt incandescent light bulb and is expected to last more than 22 years.*
Built in the USA, the ECOSMART A19 LED bulb is the first in a full line of ECOSMART LED products made by Lighting Science Group that will be available exclusively in The Home Depot stores this year.
Independent tests show that the lumen output of the A19 ECOSMART LED bulb is unrivaled, outperforming similar products by 25-30%. The ECOSMART LED bulb is dimmable, available in the familiar A19 light bulb shape, and more energy efficient than an equivalent CFL. Furthermore, unlike CFLs, the ECOSMART LED bulb contains no mercury, is completely recyclable and offers outstanding light quality.
"We believe the ECOSMART LED bulb is the highest quality and longest lasting light bulb on the market—at a very affordable price," said Jorge Fernandez, Merchant-Electrical, The Home Depot. "If one of our new ECOSMART light bulbs is installed in a newborn's room today, it will probably not have to be replaced until the child is ready to graduate college! The ECOSMART LED light bulb represents a huge cost savings to the consumer, both in terms of the reduced use of electricity coupled with savings on replacement costs versus traditional bulbs. At The Home Depot we are committed to providing our customers with innovative merchandise that delivers value and everyday low price."
In most home applications, consumers are expected to save $155 in energy cost over the life of the product and the bulb will pay for itself in less than two years from energy and replacement savings alone.** Furthermore, to ensure consumer confidence and reliability, an independent testing lab approved by the U.S. Department of Energy's CALiPER program has validated the performance of the UL-listed ECOSMART LED bulb.
"The ECOSMART LED bulb is a significant leap forward from Thomas Edison's 130 year-old invention," said Zach Gibler, Chief Executive Officer, Lighting Science Group Corporation. "Consumers now have the freedom to switch to an environmentally friendly and energy efficient lighting solution without sacrificing light quality. Lighting Science Group is proud to be the technology provider behind The Home Depot's ECOSMART lighting products, and deliver an American solution for our energy and environmental challenges."
The A19 ECOSMART LED bulb is available on Home Depot's website (www.homedepot.com) and in stores nationwide.
About The Home Depot
The Home Depot is the world's largest home improvement specialty retailer, with 2,245 retail stores in all 50 states, the District of Columbia, Puerto Rico, U.S. Virgin Islands, Guam, 10 Canadian provinces, Mexico and China. In fiscal 2009, The Home Depot had sales of $66.2 billion and earnings from continuing operations of $2.6 billion. The Company employs more than 300,000 associates. The Home Depot's stock is traded on the New York Stock Exchange (NYSE: HD) and is included in the Dow Jones industrial average and Standard & Poor's 500 index.
About Lighting Science
Lighting Science Group Corporation (LSCG.PK) designs, develops, manufactures and markets LED lighting solutions that are environmentally friendlier and more energy efficient than traditional lighting products. LSG offers retrofit LED lamps in form factors that match the form factor of traditional lamps or bulbs and LED luminaires for a range of applications including public and private infrastructure for both indoor and outdoor applications. LSG's Custom Solutions business unit designs, develops and manufactures custom LED lighting solutions for architectural and artistic projects. LSG is headquartered in Satellite Beach, Florida; LSG's Custom Solutions business unit is based in Rancho Cordova, California; LSG's European operations are based in Goes, The Netherlands; and, LSG has sales offices in Tokyo, Japan, Buckinghamshire, England and Sydney, Australia. LSG has over 200 workers in its Satellite Beach, Florida manufacturing facility that build lighting products from domestic and imported parts. LSG is a Pegasus Capital Advisors portfolio company. More information about LSG is available at www.lsgc.com.
Be sure to visit Lighting Science Group at LightFair International 2010-- Booth # 2335
Footnotes
* Based on 50,000 hours of usage.
** Based on a usage of 6 hours/day, 7 days/ week, 365 days/year at an average utility rate of $0.10/KwH.
Contact
Lighting Science Group: Andrew Beck, MWW Group 202-585-2288 The Home Depot: Jean Niemi 770-384-3407 Jean_niemi@homedepot.com
E-mail:abeck@mww.com
Web Site:www.lsgc.com