HSL in the Passion Pit!
May 11th, 2010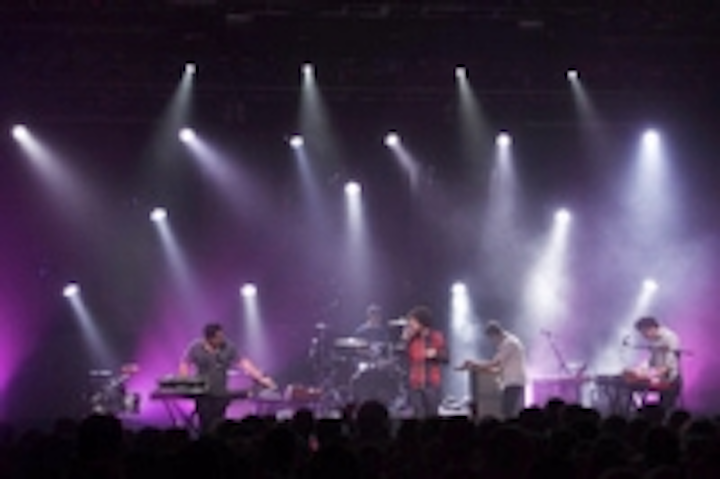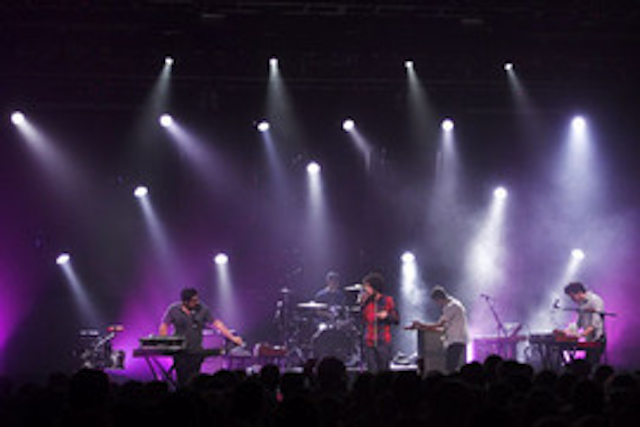 Date Announced: 11 May 2010
Blackburn UK based lighting rental company HSL were delighted to get involved in supplying equipment for the latest UK tour by cult US electronic band, Passion Pit.
HSL's Mike Oates was approached by Passion Pit's lighting designer, New York based Mike Janowitz, with whom they are working on various other projects. Janowitz asked if HSL could put together a good visuals package for the band's UK tour. Says HSL's Mike Oates, "It's very exciting working with cutting edge new artists, so we looked at Mike's design and approached XL Video to supply the video elements required. We also co-ordinated a trucking deal with Fly By Nite for the tour".
The two week UK tour encompassed a variety of venues including students unions and small to medium theatres and town halls including Rock City, Nottingham, Manchester Academy and The Forum in London. Passion Pit's lighting was looked after on this leg of the tour by lighting director Ryoji Suguro, who was joined by HSL technician Andy "Paris" Hilton.
HSL supplied a dynamic and flexible floor-based system which was integrated with the overhead house lighting rigs available at each venue.
The floor package was based around 7 vertical towers that formed an upstage semi-circle behind the band, built from A-Type trussing and mounted on X-bases. The outer 2 towers were 8ft high, the next two 10ft, then 12ft with a 14ft high section in the centre.
All towers featured a 120 x 120 cm square of PIXLED F40 LED screen attached the front and a Robe ColorWash 700E AT moving light on top. The two 12ft towers had 2 PIXLED F40 screens rigged top and bottom, with a Robe ColorWash 700E AT mounted in the gap between the two LED panels. The overall visual effect was that of a pyramid of screens.
On the floor were 6 Martin Atomic strobes with colour-changers, and tucked in the gaps between the towers, 6 Robe ColorSpot 1200E ATs were used for powerful back-beam effects. These were augmented with 4 x PixelPAR 90s also positioned upstage to give additional blasts of deeply coloured back light.
SGM Ribaltas along the front of the stage on the floor provided some off-beat footlights and key lighting.
Suguro controlled all the lighting from a Road Hog console, including the house lighting rigs, and also drove the Catalyst media server supplied by XL Video to feed the LED panels, loaded with content supplied by Mike Janowitz and the band. Andy Hilton tech'd the LED screens as well as the lighting each day.
It was a bit of a squeeze fitting the rig into some of the smaller spaces, but it was designed to be versatile enough to offer plenty of options and still look good.
The essentially expediently sized rig yielded plenty of imaginative scope, much of it was run 'live' on the beat, going with the rhythmic flow, with each song having its own strong colour theme. There was plenty of 'theatre' and a bit of edginess in the overall design, a tribute to the band's name which derives from a traditional slang reference to drive-in theatres.
It was the first time that Minneapolis-based Suguro, has worked with HSL, an experience that he has really enjoyed, "The service was great and everyone there is knowledgeable and helpful" he comments.
Contact
For more press info on the HSL Group, please contact Louise Stickland on +44 (0)1865 202679/+44 (0)7831 329888 or Email louise@loosplat.com. Contact HSL direct on +44 (0)1254 698808, 'info@hslgroup.com' or check www.hslgroup.com.
E-mail:info@hslgroup.com
Web Site:www.hslgroup.com