Daktronics will intstall networked LED displays in new Louisville arena
May 4th, 2010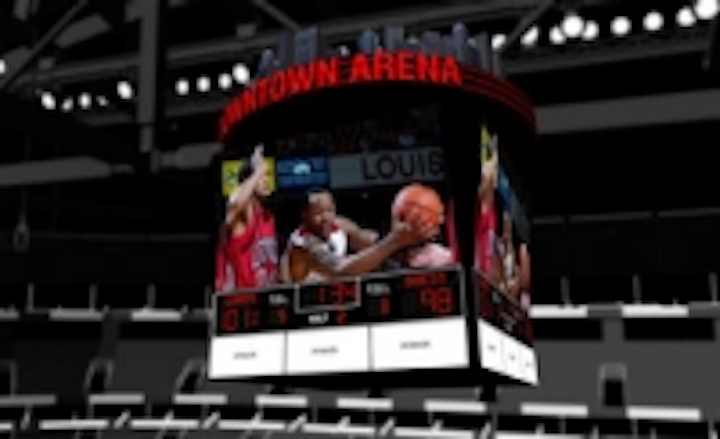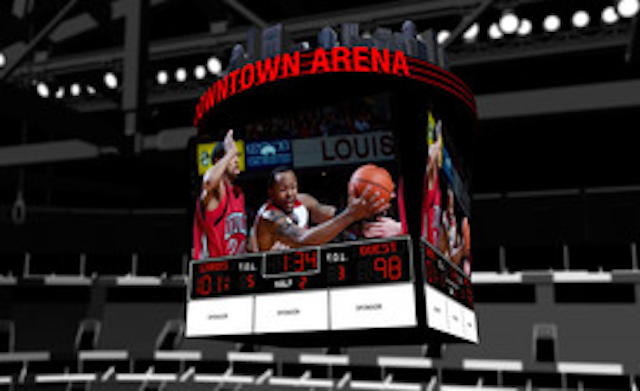 Date Announced: 04 May 2010
When the new Downtown Louisville Arena opens its doors in the fall of 2010, it will feature a venue-wide digital media display network provided by Daktronics Inc. (Nasdaq-DAKT) of Brookings, S.D. The new system will incorporate large screen LED displays, professional grade LCD screens, and a powerful control system that will deliver high-definition digital content throughout the venue. Installation of the various system components is scheduled throughout the summer.
Fans will enjoy dynamic content on large LCD screens in the suites, concourse and club areas. Over 400 LCD screens will be installed and controlled through a state-of-the-art internet protocol television (IPTV) solution, provided by Daktronics, that delivers multiple live content channels to any display in the arena. Channels can be formatted to feature an endless variety of digital content ranging from live video feeds to in-house events calendars. The new digital network can be expanded to accommodate nearly any form of digital media.
Engineered by an established leader in data integration, Daktronics IPTV systems enable users to connect to a complete collection of news wires, databases and scoring devices to instantly present up-to-the-minute scores, statistics, news and information. Different channels can offer different information simultaneously from live video to data focused for fantasy leagues.
Daktronics IPTV system also offers the unique opportunity to provide sponsor exclusivity. Operators will be able to override content on any or all displays in the arena to show a sponsor's logo or advertisement guaranteeing venue-wide exposure for marketing partners and increased revenue opportunities.
LED (light emitting diode) displays within the seating bowl include four large video displays mounted to a unique centerhung structure featuring downtown Louisville's skyline. These primary video screens utilize Daktronics popular 10 mm pixel technology with surface mount LEDs. Four other auxiliary scoring displays are located beneath the primary video displays.
A 360 degree ribbon board and two end zone ribbon displays will be fascia mounted inside the arena bowl. An additional four large LED displays will be mounted in the upper corners to provide in game statistics, video, and advertisements. Dedicated numeric scoreboards, shot clocks, and backboard light strips, all using the latest energy efficient LED technology, will also complement the in-bowl configuration. Six sections of Daktronics popular LED scorer's tables will provide additional information for fans and television exposure for sponsors.
Spectators will begin their immersion into the digital canvas outside the venue with a large outdoor LED video marquee display that will entertain approaching fans and inform other passers-by of upcoming events at the multi-use arena.
"We are extremely excited about providing the Louisville Arena Authority with our venue-wide solution," said Will Ellerbruch, Regional Sales Manager. "Daktronics will help to deliver unprecedented entertainment, information and revenue generation opportunities for the new arena. Our technology will turn their entire facility into one large digital display. We can deliver video, statistics and advertisements across a network of 18 large-format LED displays, 334 flat panel HD screens and 80 concession stand displays. It will be the most comprehensive digital signage system installed in the country."
At the center of the control solution will be the company's new Show Control system, with the ability to take in various video, scoring, timing, statistical data and out-of-town scores and even point of sale information.
With Daktronics complete, comprehensive control package, the display system features state-of-the-art control hardware designed to seamlessly drive LED displays and IPTV video encoders that push data to LCD screens. This integrated approach to media delivery provides for a fluid, user-friendly control environment that eliminates costs and difficulties associated with engineering across multiple, unrelated components. A fully integrated system allows users to deliver multiple content channels to any display in the arena, whether it's the main centerhung LED display, ribbon displays, or an LCD screen in a luxury or concourse area. One system will provide total integration with the click of one button which could display one message delivered anytime and everywhere throughout the new arena.
About Louisville Arena
Schedule to open in November of 2010, the new multi-purpose Louisville Arena will be one of the finest facilities in the country. Located in Louisville, Kentucky, the new facility will be home to the University of Louisville Men's and Women's Basketball programs. Additionally, it is designed to accommodate a wide variety of other events including NCAA championships.
About Daktronics
Daktronics is recognized as the world's leading provider of full-color LED video displays. Daktronics began manufacturing large screen, full-color, LED video displays in 1997. Since then, over 6,100 large screen video displays have been sold and installed in sporting and commercial facilities around the world. Since 2001, independent market research conducted by iSuppli Corp. lists Daktronics as the world's leading provider of large screen LED video displays. Daktronics designs, manufactures, markets and services display systems for customers around the world, in sport, business and transportation applications. For more information, visit the company's World Wide Web site at: http://www.daktronics.com, e-mail the company at sales@daktronics.com, call (605) 692-0200 or toll-free (800) 325-8766 in the United States or write to the company at 331 32nd Ave. PO Box 5128 Brookings, S.D. 57006-5128.
Cautionary Notice: In addition to statements of historical fact, this news release contains forward-looking statements within the meaning of the Private Securities Litigation Reform Act of 1995 and are intended to enjoy the protection of that Act. These forward-looking statements reflect the Company's expectations or beliefs concerning future events. The Company cautions that these and similar statements involve risk and uncertainties which could cause actual results to differ materially from our expectation, including, but not limited to, changes in economic and market conditions, management of growth, timing and magnitude of future contracts, and other risks noted in the company's SEC filings, including its Annual Report on Form 10-K for its 2009 fiscal year. Forward-looking statements are made in the context of information available as of the date stated. The Company undertakes no obligation to update or revise such statements to reflect new circumstances or unanticipated events as they occur.
- END -
Contact
Mark Steinkamp Marketing Manager Daktronics 605-692-0200
E-mail:mark.steinkamp@daktronics.com
Web Site:www.daktronics.com