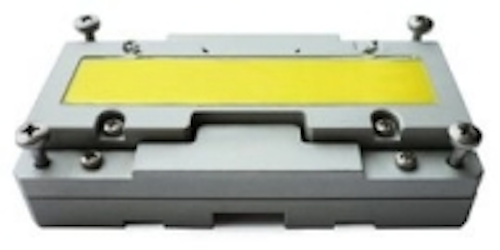 Date Announced: 11 May 2010
The next platform in Xicato's "Corrected Cold Phosphor Technology" family will be the Xicato Linear Module (XLM). It is set for a launch in the autumn of 2010.
New flux packages and a new form factor, with the same industry best light quality as the Xicato Spot Module, makes a raft of applications beyond accent lighting possible, including wall washing and recessed, surface and track mounted floods.
Lumen packages of 1300 to 2200 lm will initially be released: the Xicato LED module range enters compact metal halide territory.
Profile background
Xicato is a young Solid State Lighting company founded by seasoned industry professionals, with offices located in Silicon Valley, California (HQ), London and Tokyo.
Xicato develops, manufactures and globally markets LED modules that simply are functional replacements for traditional lamp technologies, offering all the life and energy-saving advantages of LEDs with no light-technical or aesthetic compromises.
Xicato provides industry best (plus) specifications via an open approach with a global circle of leading end-users, specifiers and
luminaire manufacturers.
Xicato is committed to address the whole broad sphere of the general illumination world, taking on segment by segment with
our annual new product launches. By 'Making sense with LEDs' TM Xicato will bring confidence in LEDs to the lighting market
and contribute to their widespread adoption.
Contact
For more information on Xicato contact: Roger Sexton on +44 7525715497 (EU) Noboru Kaito on +81 50 5534 3168 (Japan) Ron Steen on + 1 847 380 2773 (US)
E-mail:j@jkscomms.co.uk
Web Site:www.xicato.com