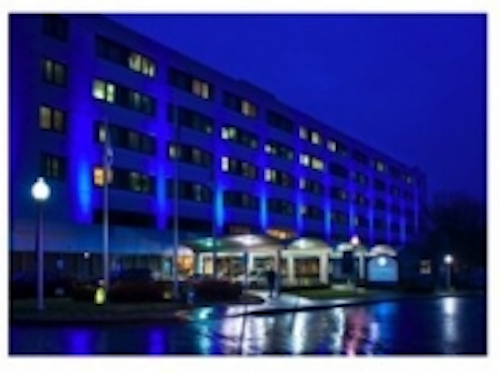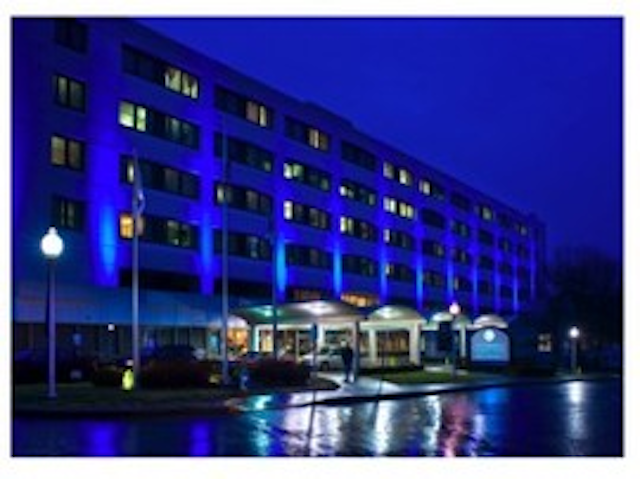 Date Announced: 19 May 2010
Saint Mary's Medical Center in Huntington, West Virginia just got a makeover, thanks to Elemental LEDs. When the hospital asked their landscape design company, Oasis Landscaping, to create a permanaent up lighting installation for the front of the building, Oasis owner Edison Adkins immediately called Elemental LED.
"I chose Elemental because I was impressed with their knowledge and willingness to help me and work with me a little bit. I'm a landscaper not a lighting expert, I didn't know what type fixture would do the job but I knew the look the hospital wanted. Elemental was very good at helping me pick what we needed to get the job done. They sent me demos and let me try out the products until we got it exactly right," says Adkins.
The product Adkins and Saint Mary's ended up choosing is our LED Par 64 waterproof spotlight – 30 of them in total! The lights, which turn on and off thanks to dusk-to-dawn sensors, shine beautiful columns of blue light all the way up the face of the building, drawing attention to the hospital from near and far. The lights are being used primarily for aesthetics, but Adkins says that once the installation is permanent, the hospital will be able to change the color of the lights, therefore using them to market different occasions. "They can change the color to pink for breast cancer awareness month, or to University's colors on game day, " says Adkins.
The lighting installation will be permanent as of May 2010. "The lights are up now, but we just have to go back and anchor everything in," says Adkins.
For our part here at Elemental, we're very pleased with the results and had a blast working with both St. Mary's and Oasis Landscaping.
About Elemental LED
Elemental LED is founded on the belief that everyone has the right to stylish, energy efficient LED Lights. LED lighting technology is the safest, hippest, and most energy efficient way to light up our world. Let us light the way! Visit us at www.elementalled.com.
Contact
Contact: Max Darling, CEO max@elementalled.com 877 564 5051
E-mail:answers@elementalled.com
Web Site:www.elementalled.com