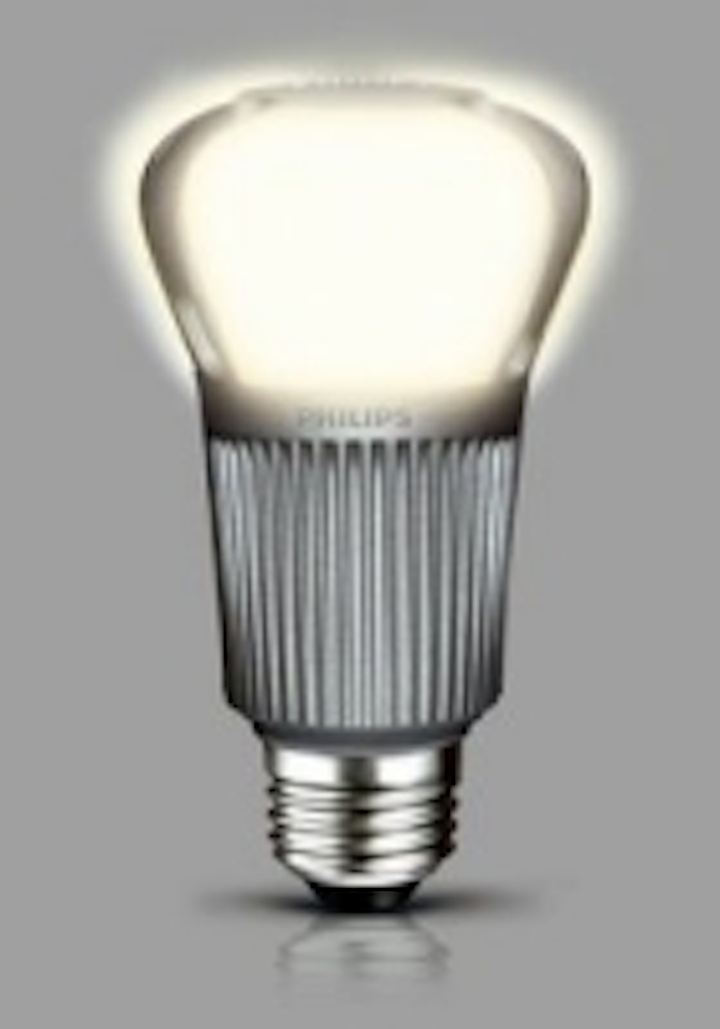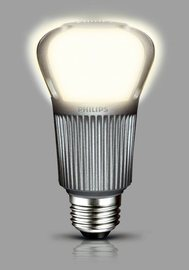 Date Announced: 14 May 2010
LAS VEGAS -- Royal Philips Electronics has unveiled its 12 watt EnduraLED light bulb, the industry's first LED replacement for a 60 watt incandescent light bulb. Shown for the first time here at the Lightfair International tradeshow, it marks an important breakthrough in the use of LED lighting technology in everyday applications. Consumers will now have an LED alternative to the most commonly used incandescent bulb, which will deliver up to 80% energy savings and last 25 times longer than its century-old predecessor.
The significance of developing an LED equivalent to the 60 watt has been recognized by many international organizations, including the U.S. Department of Energy (DoE), who created the L-prize competition to spur development of this highly sought after innovation. Philips' entry was the first, and to date remains the only submission for the L-Prize, which was used as the basis for the 12 watt EnduraLED. Exceeding the Energy Star specifications for a 60 watt bulb, the EnduraLED uses only 12 watts of power while delivering an industry benchmark of 806 lumens.
Every year more than 425 million 60-watt incandescent light bulbs are sold in the United States, representing approximately 50% of the domestic incandescent light bulb market. According to calculations by Philips, this LED replacement has the potential to save 32.6 terawatt-hours of electricity in one year, enough to power the lights of 16.7 million U.S. householdsor 14.4% of the total number of households in the entire US. It would also eliminate the generation 5.3 million metric tons of carbon emissions annually.
The new lamp uses an innovative design and remote phosphor technology to deliver the same soft white light and shape consumers are familiar with in an incandescent. The EnduraLED works with standard dimmers, further simplifying use and allowing consumers to enjoy an effective, low energy solution for lighting in the home. For business users, particularly those within the hospitality sector, the new lamp will provide instant plug-in savings, through extended life and reduced energy and maintenance costs, in comparison with traditional bulbs.
Expanding on the Philips EnduraLED family of replacement lighting solutions, the new lamp has a rated life of 25,000 hours, as opposed to a standard 60 watt incandescent bulb which is rated at about 1,000 hours. This means that over the course of the LED life, replacing a 60 watt standard bulb could save a business or household $120 per lamp. It will be available in the U.S. in the fourth quarter of 2010, well ahead of U.S. legislation requiring the use of more energy efficient lighting which commences in 2012. The retail price of this EnduraLED has not yet been finalized.
"We challenged ourselves to answer the consumer call for an LED alternative that can mimic the traditional incandescent in light quality, shape and use, in a timeframe most did not think possible," said Rudy Provoost, CEO of Philips Lighting. "This milestone is even more impactful because we have been able to show people around the world that LED lighting can deliver energy efficiency and the warm white light people desire for their homes, without compromise to quality. This new bulb not only underscores our commitment to sustainability, it is a clear example of Philips' global leadership in lighting innovation."
To accelerate the EnduraLED's development and introduction to the market, Philips leveraged the expertise of scientists and lighting designers from around the globe; Philips researchers in The Netherlands created a new remote phosphorous technology and light distribution design, LUXEON LEDs were integrated from Philips Lumileds in San Jose, CA, and electronics for the bulb were built at Philips Color Kinetics in Burlington, MA and Philips Lighting Electronics in Rosemont, IL. From there, the bulbs were then sent to the Philips Quality Assurance team in Shanghai to be rigorously tested, ensuring they met exacting quality and safety standards.
For video, interviews and images, please visit www.newsinfusion.com/philips
About Royal Philips Electronics
Royal Philips Electronics of the Netherlands /quotes/comstock/13*!phg/quotes/nls/phg (PHG 30.75, -1.08, -3.39%) is a diversified Health and Well-being company, focused on improving people's lives through timely innovations. As a world leader in healthcare, lifestyle and lighting, Philips integrates technologies and design into people-centric solutions, based on fundamental customer insights and the brand promise of "sense and simplicity". Headquartered in the Netherlands, Philips employs approximately 116,000 employees in more than 60 countries worldwide. With sales of EUR 23 billion in 2009, the company is a market leader in cardiac care, acute care and home healthcare, energy efficient lighting solutions and new lighting applications, as well as lifestyle products for personal well-being and pleasure with strong leadership positions in flat TV, male shaving and grooming, portable entertainment and oral healthcare. News from Philips is located at www.philips.com/newscenter.
SOURCE: Royal Philips Electronics
Contact
Philips Electronics North America Silvie Casanova, 781-418-7928 Senior Manager, Lighting Communications
E-mail:silvie.casanova@philips.com
Web Site:www.philips.com