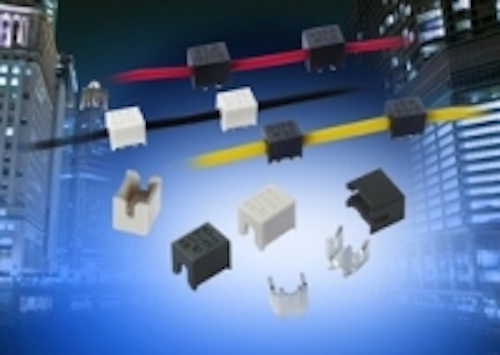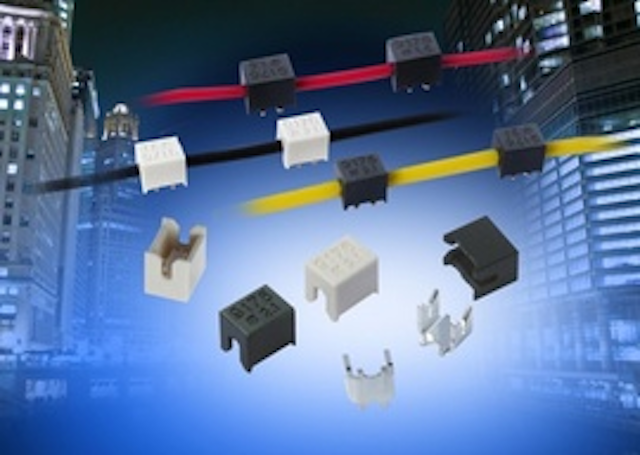 Date Announced: 13 May 2010
AVX Corporation, a leading manufacturer of passive components and interconnect solutions, has developed a standalone surface mount discrete wire IDC contact and cap component that allows a wide range of devices to be connected to the PCB without soldering. The 9176 Series connector eases design constraints by enabling wires to be simply inserted into the SMT contact with a small tool. In LED lighting applications, these contacts are used to bring power and signal onto the PCB and to enable lighting designers to daisy-chain multiple boards together in long strings to increase light output.
The new 9176 Series connector system reduces total applied cost when compared to either soldering or crimping, and increases design flexibility since individual contacts can be located anywhere on the PCB.
The 9176 Series of surface mount insulation displacement connectors were originally developed for harsh environment automotive and industrial market applications. This industry proven contact system is approved to automotive levels for shock, vibration, and temperature cycling, further underlining its reliability and robustness.
While the IDC contact provides a gas-tight connection to wire conductor for long-term reliability, the optional cap provides a positive strain relief even in the harshest conditions. To facilitate system repair, wires can be removed and replaced up to three times.
The single 9176 Series contact and cap accepts 18 to 24 AWG wires with an insulation diameter ranging from 1.1 to 2.1mm. Dual beam contacts support a 10A current rating and the large SMT solder base provides high levels of stability on the PCB. The optional locking strain relief cap acts as the termination tool for severe vibration applications.
Supplied on tape and reel and compatible with industry-standard SMT placement equipment, 9176 Series devices feature phosphor bronze contacts with tin over nickel plating, while the insulators are made from UL94-V0 Nylon 46. Operating temperature is -40ºC to +125ºC.
Typical pricing starts at $.08 in volumes under 10k with a lead time of 8 to 10 weeks.
For more information, contact AVX at 801 17th Avenue South, Myrtle Beach, S.C. 29578; by calling 843-448-9411; by fax at 843-444-2864; or on the Web at www.avx.com.
About AVX
AVX Corporation is a leading international supplier of electronic passive components and interconnect solutions with 24 manufacturing and customer support facilities in 15 countries around the world. AVX offers a broad range of devices including capacitors, resistors, filters, timing and circuit protection devices and connectors. The company is publicly traded on the New York Stock Exchange (NYSE:AVX).
Contact
Tom Anderson Product Manager 843-946-0351 tomand@avxus.com
E-mail:tomand@avxus.com
Web Site:www.avx.com