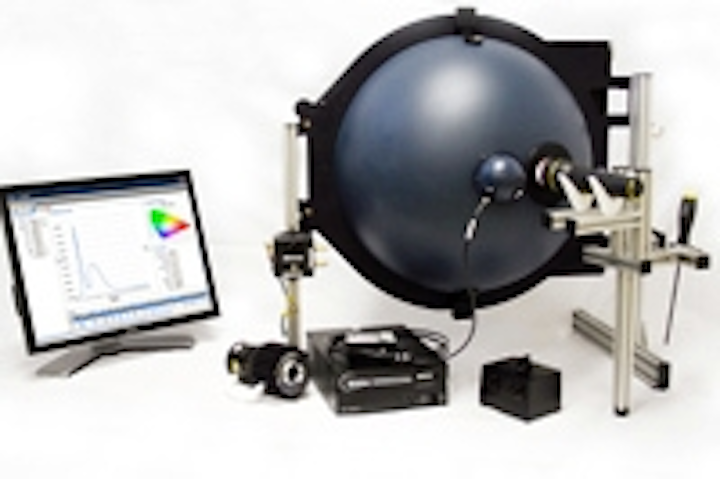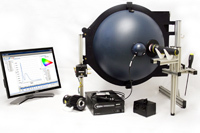 Date Announced: 11 May 2010
North Sutton, New Hampshire -– ANSI standard FL 1-2009, governing basic performance of hand-held/portable flashlights, spotlights, and headlamps providing directional lighting, is the first documented set of requirements for flashlight measurement.
Labsphere's FS2 Spectral Flux Measurement System facilitates accurate spectroradiometric, photometric and colorimetric characterization within the testing guidelines for conditions, run time and light output measurement. Designed specifically for this application, these turnkey systems evaluate lamp efficiency for development and manufacture of LED, tungsten, xenon and krypton lamp assemblies.
The FS2 System's integrating sphere, coated with Labsphere's proprietary highly reflective diffuse Spectraflect®, delivers exceptional spatial integration, critical for the uniform, repeatable and reproducible measurements required by the new standards. The system provides lab conditions as specified in the standards, including the ability to calibrate showing traceability to NIST standards.
ANSI FL 1-2009 requires manufacturers to determine and report Run Time–the amount of time elapsed (under continuous operation) at which the device's light output reaches a level when users will commonly replace the batteries. The FS2's unique V-block sample holder ensures the device mates with the measurement port easily, the same way, every time, complying with the requirement that the device to sensor distance be identical for initial and end point measurements. The system software gathers periodic light measurements and records corresponding time values during the Run Time testing.
Labsphere's FS2 system determines Total Luminous Flux (Lumens)–the total quantity of emitted overall light energy as measured by integrating the entire angular output of the portable light source, as required by the ANSI standard. In addition, the system assesses Total Spectral Flux (Watts/nm), Total Radiant Flux (Watts), Color (CCT), Lamp Performance vs. Time, Peak and Dominant Wavelength, Spectral Purity, Color Rendering Index (CRI), Chromaticity Coordinates and Half-Bandwidth.
The system's MtrX-Flashlight measurement software provides a user-friendly, intuitive platform for calibrating the system and analyzing measurements. All measurement results are captured instantly with real time graphics and the ability to generate and export reports.
Labsphere's experienced engineering staff is able to specifically address the unique needs of each customer, designing a custom FS2 system for the type of flashlight application under study. To speak to an applications engineer, send an e-mail to labsphere@labsphere.com, or phone +1 (603) 927-4266.
Labsphere,a Halma company, is a world leading designer and manufacturer of precision radiometric and photometric test and measurement products addressing the specific needs of the aerospace, electronic imaging, LED, lighting, medical imaging and optics industries. The company offers a broad line of integrating sphere systems, uniform calibration sources, spectroscopy accessories and diffuse reflectance materials and coatings.
Contact
Labsphere Inc. 231 Shaker Street North Sutton, NH 03260 USA Tel: +1 603.927.4266 Fax: +1 603.927.4694
E-mail:labsphere@labsphere.com
Web Site:www.labsphere.com