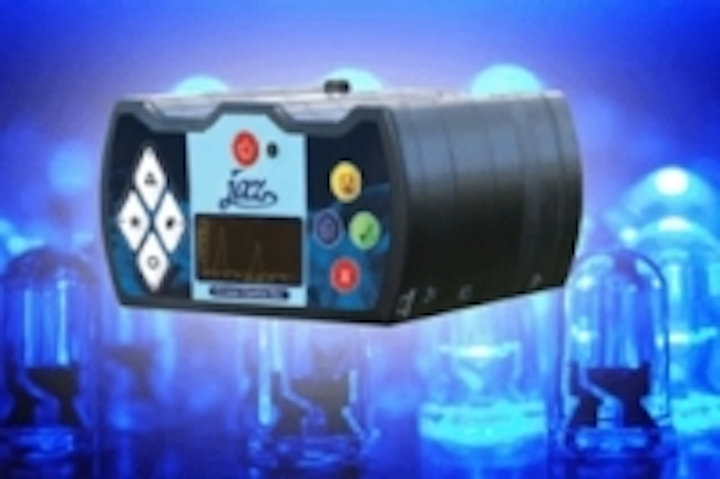 Date Announced: 05 May 2010
Ocean Optics, the leading supplier of solutions for optical sensing, will be showcasing its products at EuroLED 2010, stand number LED408, including its new light-measurement system Jaz-ULM-200 that provides spectroradiometric analysis of LEDs, lamps, flat panel displays and other radiant sources.
Jaz is a family of stackable components that share common electronics and communications and are configurable for a variety of applications. Included in the Jaz-ULM-200 stack is a CCD-array spectrometer that can be optimized for a variety of radiometric measurements and a microprocessor with onboard display.
Jaz provides functionality not found in traditional light meters, allowing users to capture, process and store full spectra without the need for a PC. With only three pushes of a button, the system's irradiance-measurement software, which is stored on an SD card, collects full spectral irradiance information from the selected light source. This data can then be post-processed to give the intensity parameter of choice, including W/cm2, lumens, lux, PAR (photosynthetically active radiation) or any other light intensity parameter.
Ocean Optics is the leading supplier of solutions for optical sensing. Recognized as the inventor of miniature fibre optic spectroscopy, Ocean Optics has sold more than 130,000 spectrometers worldwide since 1989.
Contact
Jessica van Heck Ocean Optics Geograaf 24 6921 EW Duiven The Netherlands Tel: +31 (0)26 319 05 00 Fax: +31 (0)26 319 05 05 E-mail: info@oceanoptics.eu Website: www.OceanOptics.eu
E-mail:info@oceanoptics.eu
Web Site:www.OceanOptics.eu