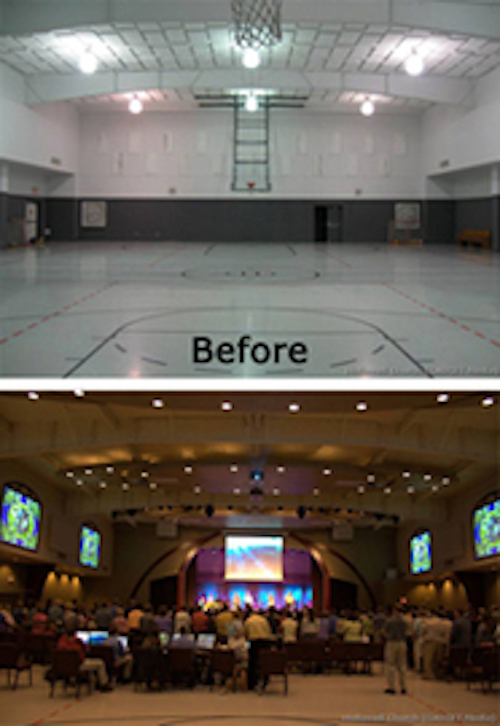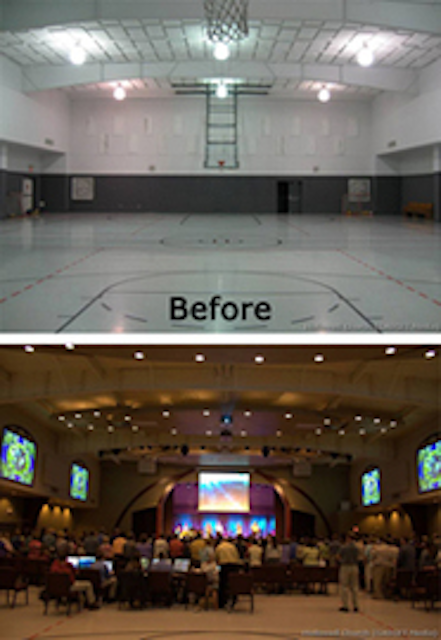 Date Announced: 17 May 2010
Like nearly everyone today, Hollowell Church had to make some tough financial choices when faced with a major capital expenditure. The Pennsylvania congregation had outgrown its main worship facility and needed more space. But the expense of constructing a new, larger facility would have seriously cut into the church's budget for its all-important community outreach programs and other essential activities.
What to do? Thanks to some help from Maryland-based Gadget Media (www.gadget-media.com) and Elation Professional lighting, Hollowell Church was able to convert its existing gymnasium into an adequately-sized part-time worship center at a fraction of the cost of constructing a new facility.
"The church had initially drawn up plans to build a larger worship facility, and it would have been a very nice building, but construction costs were skyrocketing at the time. What they conveyed to me was that if they built it, they wouldn't have had any budget left over to do the outreach programs they really wanted to do. So it made sense to remodel the gym instead," said Steve Christiano of Gadget Media, which handled the architectural design, as well as lighting, sound and video, for the 18-month project.
In addition to budget constraints, versatility was a key consideration in the remodeling plans, since the facility would have to do double-duty as both a gym and a place of worship. When designing the lighting system, Christiano found a solution that was both economical and flexible enough to handle the room's multipurpose requirements: LEDs and automated lights from Elation Professional.
The lighting system used in the church's new part-time worship facility includes the following Elation products: 18 x Opti Tri Par LED par cans; 6 x ELED Strip RGBW LED strip lights; 14 x Opti Par conventional stage pars; 4 x Design Spot 575 575-watt moving head spots; 4 x Power Spot 700 CMY II 700-watt moving head spots; and 2 x Design Spot 1400E 1400-watt moving heads.
Christiano had demo-ed the Elation LEDs shortly before being called in on the Hollowell project and, "I fell in love with them," he said. "I thought they were excellent, and looking at the church's needs, they just seemed like a perfect fit."
The stage lighting setup is "all-LED," built around the Opti Tri Par, an RGB DMX par can powered by 18 of Elation's revolutionary Tri-Color (red, green and blue) 3-watt LEDs, which provide smoother color mixing than single-color LEDs and do not create multi-color shadows. Christiano used 18 Opti Tri Par units running downstage and mid-stage. The Opti Tri Pars "have the right light output for the physical location we're using them in," he commented. Additionally, six ELED Strip RBGW units – a high-power color-mixing strip with 64 red, green, blue and white LEDs (16 each color) – serve as a color wash on the stage's back wall. "The ELED RGBW strips are a fantastic background wall wash – they're just beautiful for that purpose."
In addition to their great look on stage, the LEDs provide the versatility that the room demands, Christiano said. "With the RGBs and RGBWs, you can easily mix colors and create any mood or scene that you want. You get all the creativity and flexibility to do whatever you want color-wise – without any gels to cut, bulbs to replace or ladders to climb, as would be required with conventional pars."
With the church on a tight budget, the low energy requirements of LEDs were another factor in the decision to use them for stage lighting. Not only have the Opti Tri Par and ELED Strip RGBW helped the church save on its electric bills, drawing only 70W and 75W respectively at full power, they also helped hold down the initial cost of the remodel project. "Because LEDs drastically reduced the power requirements, they also substantially reduced the amount of work that needed to be done by an electrician, which was a big area of savings – and one that's often overlooked," Christiano pointed out.
The part-time worship center's front of house lighting is conventional, consisting of 14 standard Opti Par cans, each with its own individual Elation UniBar single-channel dimmer pack. Also on the FOH pipe are Elation DMX moving heads, including four 700-watt Power Spot 700s CMY color-mixing spots, and two 1400-watt Design Spot 1400E moving wash units. These fixtures, along with four smaller Design Spot 575s located downstage, are used for "spotlights, special effects and a little bit of eye candy," Christiano said. "Custom gobos with the church's logo were installed in the 700s just for fun."
Christiano said that he decided to use the Power Spot 700s after reading about them in a trade magazine. "They got high raves. The article said they were easily the match of lights twice their price – and they've lived up to that." All of the Elation lights were priced very economically, he added, commenting, "With Elation, I was able to give the church a much better lighting rig than they could have afforded with pretty much any other company out there."
Completed just in time for Easter 2010, the remodeling project has gone over extremely well with Hollowell church officials and members, Christiano reported. "They're tremendously happy with it. Plus, all the colored and moving lights are even attracting a lot of the young people to the church."
Contact
For more information, call Elation Professional toll-free at 866-245-6726 or visit www.elationlighting.com Gadget Media can be reached at 240-949-2688, visit www.gadget-media.com or contact steve@gadget-media.com
E-mail:abby@fucinipro.com
Web Site:www.elationlighting.com